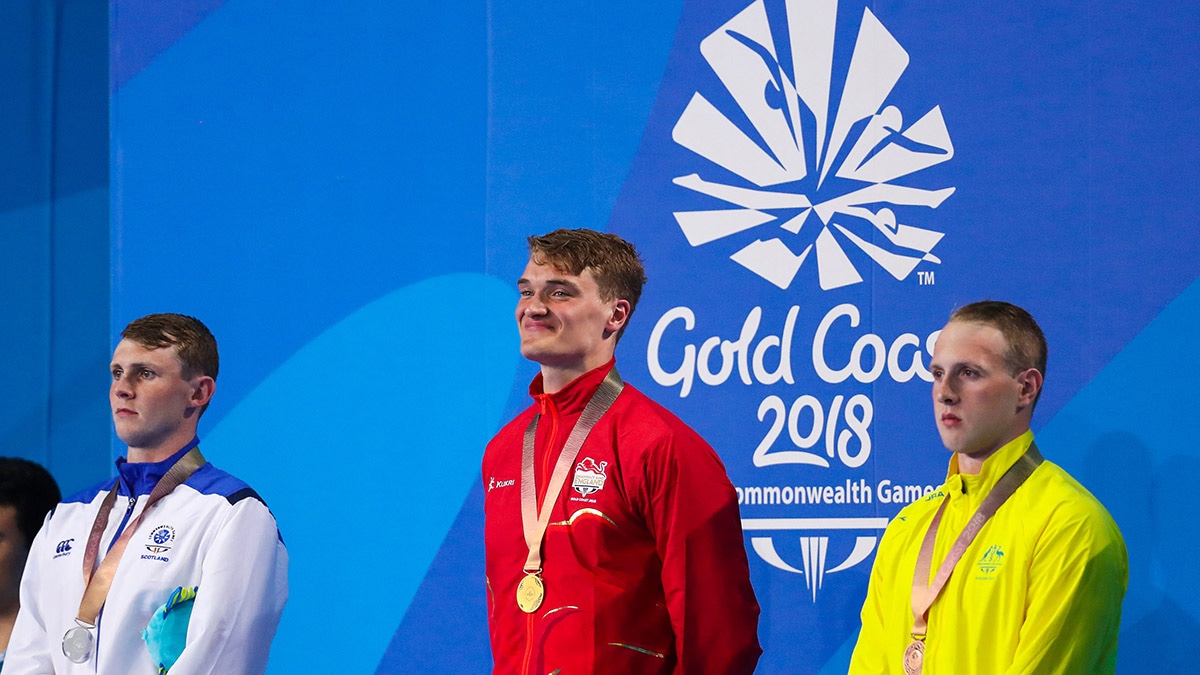 James Wilby looks back on his hat-trick of 2018 Commonwealth Games medals
April 6, 2020
It was the scene for 'one of his best swims to date' and his most 'surprising result'.
Two years on, James Wilby looks back on winning his first major individual title at the 2018 Commonwealth Games and how he became one of Team England's most decorated swimmers on Australia's Gold Coast after claiming gold, silver and bronze medals.
The Commonwealth Games 200m Breaststroke gold was your first major individual title. Talk us through your memories of the race and how it felt when you touched the wall and realised you had won.
Surprisingly, most people think I wasn't happy when the race had finished – I'm sure the photos explain why people think that! But to be honest, I wasn't entirely sure I had won initially. Once it had sunk in, it was a great feeling. I don't remember too much of the race, except the last 50m where I just kind of focused on the wall and gave it everything … sort of a tunnel vision, last ditch effort!
What were your expectations going into the event?
I had reasonable expectations of myself. I'd really given everything to the season so far and felt great in the water, so I was certainly going in to surprise a few people.
It was a terrific 200m Breaststroke swim considering you were seventh with 100m to go and third with 50m left – where does it rank in your all-time performances?
It's still one of the best swims I've done to date. I've been a little faster but this was the first time I'd gone under 2:10. I think strategy wise I might have left it a bit late, but I'm sure it made for a nail-biting last 50m for my coach, Dave Hemmings.
How long did it take for the achievement to sink in?
Well I'd say a minute or two after stopping the clock for sure. Then the rest of the evening was a combination of excitement and trying to re-focus for the coming events!
Can you remember much of the medal ceremony?
Yeah, that was the time when I was just completely lost in the moment and so incredibly happy. The stadium we were competing in made for an amazing competition venue as well as to just stand in awe of a crowd cheering a victory ceremony, anthem and parade too.
It was also the first time an Englishman had won Commonwealth gold in the 200m Breaststroke in 24 years – are you confident/hopeful of retaining your title on home soil in two years' time?
I'm definitely hopeful to retain the title but a lot of training and competitions are to be done before then! The event is so strong across the world and particularly in the Commonwealth, so it'll always be such a tough race for anyone to win.
Will there be added pressure as it's a 'home' Games?
I don't really see it that way, I get excited about the added advantage of a home crowd! The Australian crowd was amazing as they just love seeing fast racing but of course there was always extra buzz for their athletes. I hope that Birmingham will just be exactly the same… and a little bit more!
You followed the gold up with silver in the 100m race and bronze in the 50m competition. Had you envisaged going home with an individual medal of each colour when you arrived in Australia?
Absolutely not in the 50m. I was really excited about the 100m and 200m going into the Gold Coast but the 50m is always a tough event for me as I'm not as 'twitchy' as some of the other guys. That was certainly the most surprising result of the week for me!
What was the homecoming like? 
Of course there was plenty of requests for various media commitments but I tried my best to keep everything as grounded as possible. We still had European Championships later in the summer so I had to be back to training and focusing on that not long after returning!
How was it at events following the Commonwealth Games? Did you feel that you had to raise your game further as people were keen to say they'd beaten the Commonwealth champion?
I think my performances definitely put me on my competitor's radar but with so much depth in the breaststroke events around the world, it was just another name to add to the list. It's incredibly competitive at all the major competitions and it's just good to be amongst all that now.
Obviously, while the postponement of the 2020 Tokyo Olympics Games was the right decision, it's a huge disappointment for many. How has it changed your plans for the next 18 months?
It has obviously changed the plans considerably but the full year postponement was probably the best outcome we could have hoped for. Being unable to train in the water right now would definitely have impacted our preparation in the lead up to the summer. Having the opportunity to re-run the entire Olympic season again is fantastic. The squad I'm lucky to be part of was firing on all cylinders before we had to stop and now we have the chance to do all that again – maybe even a little better.