GB swimmers seal Olympic spot on opening day of World Championships
July 21, 2019
Great Britain's swimmers sealed an Olympics spot on the opening morning of the swimming competition at the 2019 FINA World Championships.
The new-look Men's 4x100m Freestyle relay team of Duncan Scott, James Guy, Ben Proud and Scott McLay qualified second fastest for the final to book Britain a place at Tokyo 2020.
They clocked an impressive 3:12.42 in the second of three heats in Gwangju, South Korea, with James Guy recording his fastest ever relay split time of 47.77.
He said: "I think that's the first 4x100m relay I've done, so to go 47 point is pretty cool.
"The main focus was to get top 12 and Olympic qualification for next year, but hopefully we can have a good one tonight and see what we can go."
Scott added: "That's top 12 and we've secured that Olympic spot for next year!
"All the boys swam incredibly well, with two of them producing the fastest relay splits they've ever done, so I think we can be very happy with what we did."
Peaty cruises through
Defending world champion Adam Peaty laid down a marker in the heats of the 100m Breaststroke.
He comfortably won his heat as he was the only man to go under 58 seconds.
Peaty clocked 57.59 which was 1.28 seconds faster than his closest semi-final challenger and he said: "That felt good.
"It's probably one of the best swims, in terms of feeling, that I've done and weirdly it felt very similar to the Olympics.
"I'm out here to have fun, put on a good show and see what happens."
James Wilby also qualified for the 100m Breaststroke semi-finals, finishing fifth fastest in 59.15.
He said: "It was a good start to the Worlds.
"Last time I was in a World Championships, I didn't make it through the heats, so I'm really happy to put out a good heat swim and there's still loads I can improve on tonight."
Proud aims to step it up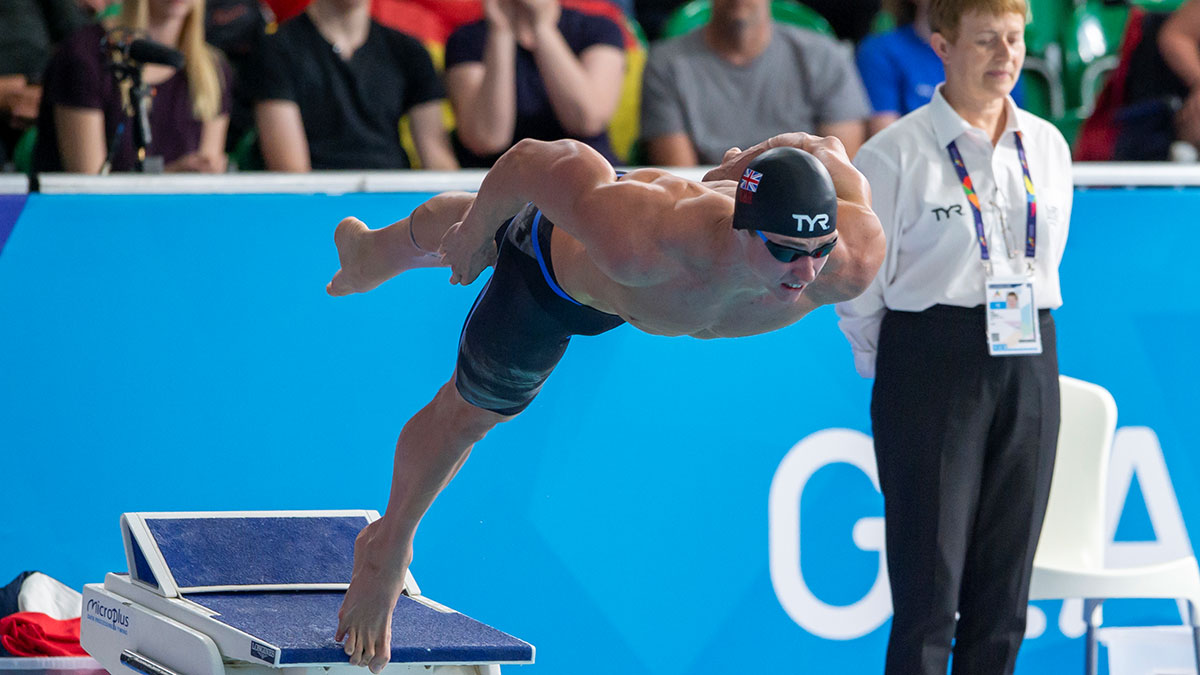 Ben Proud admits he will need to step up his game in the semi-finals of the 50m Butterfly after qualifying ninth fastest.
His time of 23.35 was 0.51 behind the quickest qualifier, America's Caeleb Dressel (22.84), but the reigning world champion is confident of reaching the final.
He said: "The race itself was okay.
"The first morning there's a lot to look out for and it went okay – I've made it through to the semi-finals but I'll have to step it up a bit to make sure I qualify for the final well.
"If I can do that, tomorrow night it's all about the race.
"I'm coming back as reigning world champion but, at the same time, I'm not the top dog as there are quite a few people who have been swimming really fast, who will put up a good race.
"At the same time I'm confident in myself and of my abilities, so I'll hopefully make it through and it'll be a fun race."
O'Connor pleased to progress
Siobhan-Marie O'Connor was 'pleased' with her performance as she progressed to the semi-finals of the Women's 200m Individual Medley.
She was second in her heat in a time of 2:10.99 to finish seventh fastest overall.
O'Connor said: "I'm pleased with that – it was a good first swim.
"I'm always nervous for the first one, so it's good to get it out the way and hopefully I'll just progress round to round now.
"I enjoyed getting out there and racing – it feels like we've been waiting a long time to race."
Meanwhile, Aimee Willmott was seventh in her heat and failed to reach the final.
However, it will have been a good preparation for Willmott ahead of her main event, the 400m Individual Medley.
Holly takes positives
Holly Hibbott was looking at the positives after missing out on a place in the final of the Women's 400m Freestyle.
She clocked a season's best of 4:07.92 but that was 0.82 seconds behind the eighth quickest qualifier for the final.
She said: "I'm a little bit disappointed as I'd have liked to get in that final and I was only 0.8 off making it.
"It is the fastest heat swim I've ever done, so I've got to take the positives and see what I can work on for next year, which is obviously the big one.
"It's a season's best and I wish I had the opportunity to go and do it again tonight, but I haven't quite managed to make it back."
Picture: British Swimming Twitter