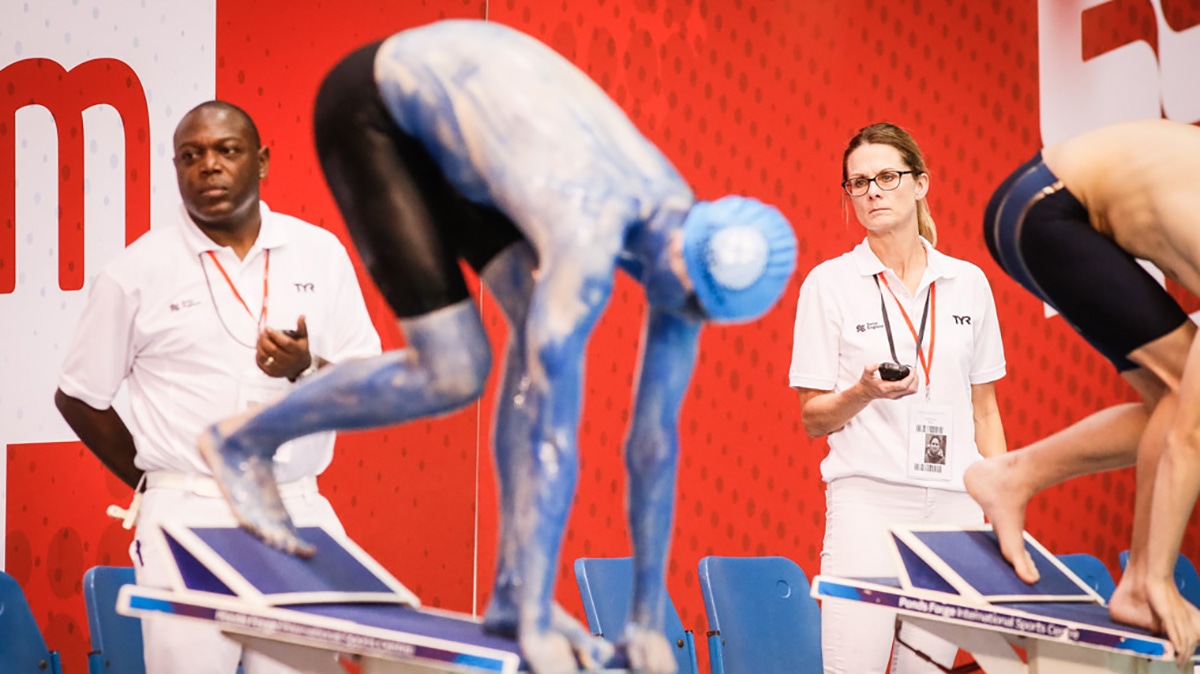 Online learning course aims to help improve recruitment of technical officials
January 27, 2020
A new online course to help improve the recruitment of pool Judge 1 technical officials has been officially launched.
Candidates taking the Swimming Technical Officials – Judge 1 Theory will be able to understand the roles of timekeeper, chief timekeeper, inspector of turns and chief inspector of turns.
They will also be introduced to the relevant FINA rules along with video footage.
The theory element is now available through online learning rather than a face-to-face course to help volunteers start the training at their own pace.
Once completed, candidates will be provided with local contacts to guide them through their practical assessments.
The course has been developed by the Institute of Swimming working in partnership with Swim England and British Swimming.
Claire Coleman, Swim England Head of Volunteering and Pathways, said: "Whilst the content of the training remains largely unchanged, the move to an online format will allow the volunteers to start the training at their own pace and to fit with all the other lifestyle commitments we know our volunteers have.
"This is a product developed by volunteers for volunteers and I would like to say thanks to Helen Whittle, chairperson of the British Swimming Group, and Mark Davies, chairperson of the England Officials' Group, for all their work on this."
The online course was further developed by the Institute of Swimming working in partnership with Swim England and British Swimming and was trialled during a pilot scheme held in the South West Region between September and December last year.
Positive comments
A total of 84 per cent who took part in the pilot said they would recommend the course to a friend following feedback submitted to the Institute of Swimming.
Jill Beard, the South West Technical Officials Coordinator, said: "Despite some initial concerns from current officials about the change to the training, I have received many positive comments about the trainee officials and the level of knowledge they had before going poolside.
"I have been involved in the recruitment and training of officials in the region for some time and I'm pleased to see a process which can engage volunteers from initial theory to fully licensed in a period of 12 weeks.
"I feel this will improve our recruitment of officials."
The training resources have been updated and clear guidance is now included on suggested timescales for completing each element – with a time limit of 11 months being introduced.
A dedicated email address – swimmingofficials@swimming.org – has been set up to provide ongoing additional support
Upon completion of all Judge 1 training, individuals will be automatically issued with their first licence, which will be valid for four years.
It will enable them to apply to volunteer at all events, up to, and including, national level.