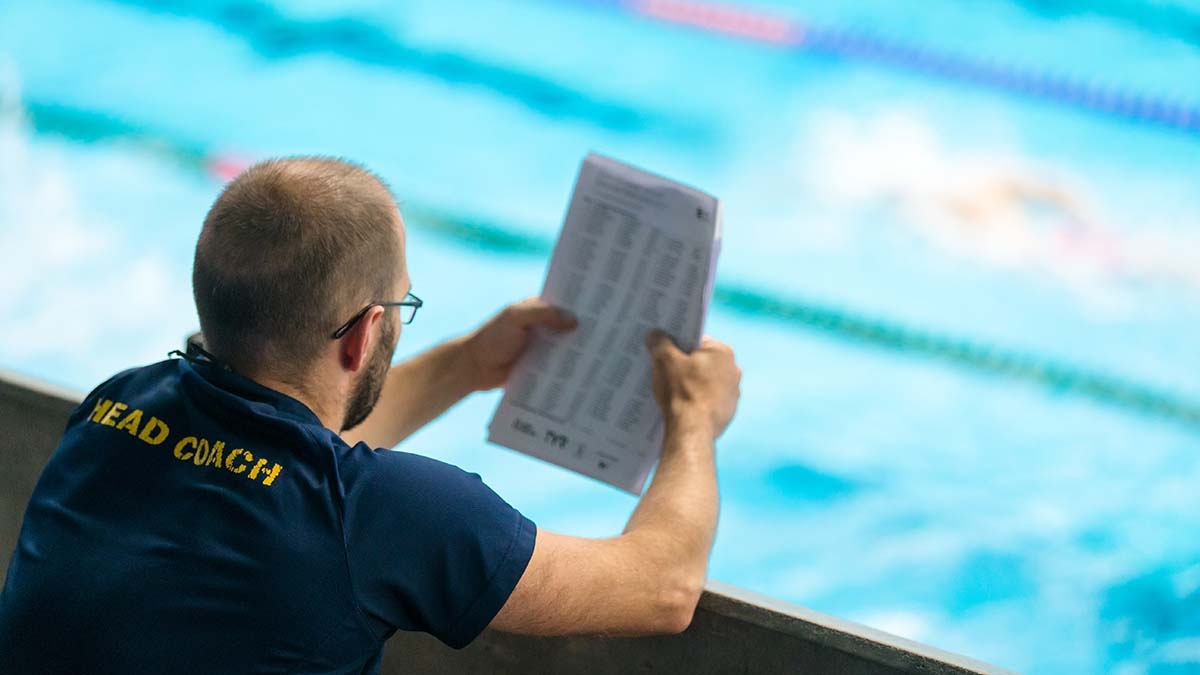 Swimming coaches are selected for 'exciting and innovative' programme
October 14, 2021
Swimming and para-swimming coaches are taking part in an 'exciting and innovative' year-long journey to boost their development.
A total of 18 swimming coaches have been selected for the Swim England Pathway Coach Programme 2021-2022 – with a further 14 chosen for the Swim England Para-swimming Coach Development Programme.
The Pathway Coach Programme  – which also includes two diving coaches and one water polo coach – comprises of six workshops, immersive fieldwork and one-to-one guidance from a mentor on the Swim England Coach Developer team
It will also include a blend of technical and non-technical information, delivered through both online and face to face interactions.
The programme is specifically aimed at coaches who are predominantly working with age-group and early youth level athletes within the Swim England Talent Pathways.
The Para-swimming Coach Development Programme includes a number of online workshops and practical coaching experiences at England Talent Camps.
Useful tool
Lindsay Trimmings, Swim England coach development manager, said: "We're delighted to see so many coaches from our disciplines taking part in the Pathway Coach Programme.
"It is an exciting and innovative course which will help enhance the skills of the many talented coaches selected for the programme and we hope they find it informative and a useful tool in their development."
The swimming coaches have so far completed the first workshop about developing self awareness and reflective practice.
They are now working towards workshop two which focuses on creating and nurturing an effective talent development environment.
Glenn Smith delivered session one to the para-swimming coaches where he outlined the training changes he put in place between 2012-2016 to develop the 400m Freestyle race performance of Paralympic champion Ollie Hynd.
Coaches selected on the Swim England Pathway Coach Programme
Diving: Ben Carman (Corby Steel Diving Club), Brandon Foster (Southampton Diving Academy).
Swimming: Patrick Blake (City of Hereford Swimming Club), David Cousins (Bristol Penguins Olympic Swimming Club), Joe Evans (Wycombe District Swimming Club), Jamie Fowler (Team Luton), Gerry Gillespie (Enfield Swim Squad), Rob Hudson (Nova Centurion Swimming Club), Kyle Hudson (City of Derby), Gary Inch (Brentwood SC), Ian Jones (Tiverton Swimming Club), Pat Leaman (Clevedon ASC), Stuart McCrea (Leatherhead Swimming Club), Becki McGuire (Morpeth ASC), Laurence Mills (Modernian Swimming Club), Lawrence Palmer (Putteridge Swimming Club), Will Philpot (Crawley Swimming Club), Matt Smart (Guildford City Swimming Club), Zoe Stemp (Havant & Waterlooville), Matt Turner (City of Manchester Aquatics).
Water polo: Richard Cousins (Sedgefield WPC).
Coaches chosen for the Para-swimming Coach Development Programme
Phil Balcombe (Alsager SC), Tom Baxter (Crawley SC), Zoe Bell (Blyth Swimming Club), Zoe Cowan (Richmond Dales), Wayne Davies (City of Derby), Keith Hall (Richmond Dales), Neil Hamp (Swim Bournemouth), Andy Harley (Tidworth Congers), Emma Harper (Leicester Penguins), Nic Piper (Mid Sussex Marlins), Alice Pugh (Maldon Sharks), Josh Surgeoner (Boldmere), Robin Surgeoner (Orion SC), Sue Thorpe (Newcastle SC).
Coaches on the Swim England Coach Developer team
John Adye (Repton Swimming), Russ Barber, Amanda Booth (Headington), Kevin Brooks (Wycombe), Dave Champion (Ipswich), Paul Connolly (England Hockey), Euan Dale (Millfield), Richard Denigan (City of Leeds), Janko Gojkovic (Hatfield), Jo John (Exeter City), Chris Leighton (Borough of Stockton), Ryan Livingstone (Millfield), Kim Longland (Greenwich), Jamie Main (Derventio Excel), Tom Owens (Leeds Diving), Mark Rose (City of Manchester), Marc Spackman (Royal Wolverhampton), Ian Wright (Glasgow), Paul Woodley (Derwentside).