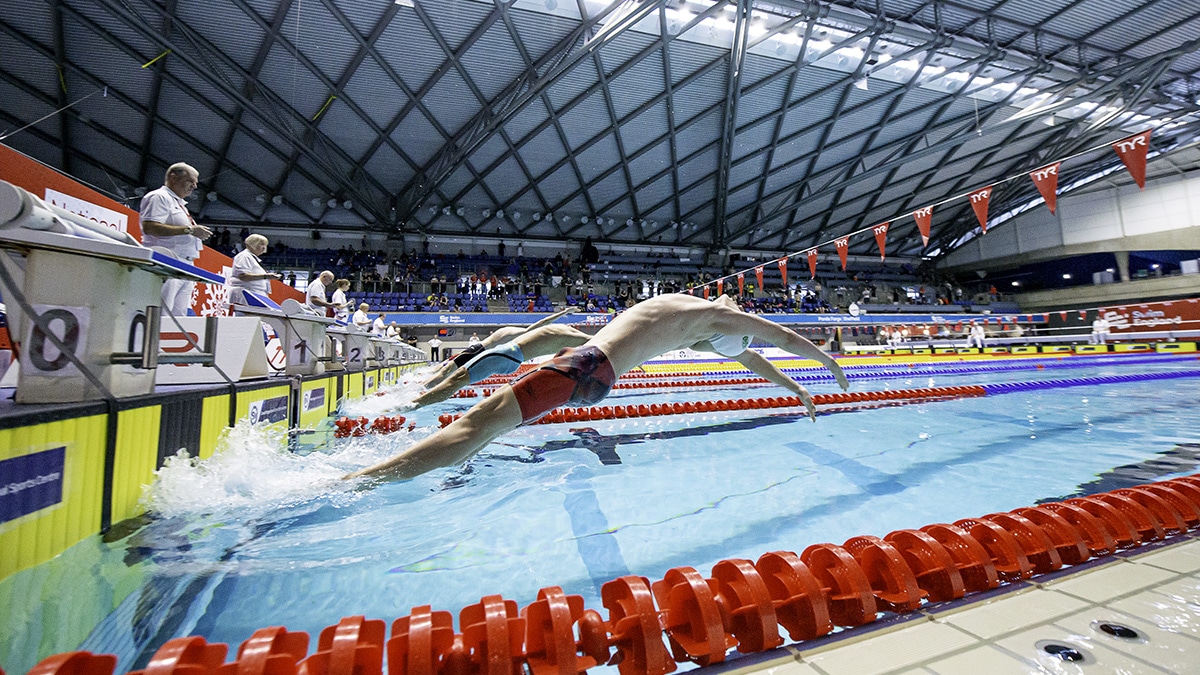 Phase 2 selections named for Swim England National Event Camps
January 14, 2022
A talented cohort of 100 swimmers and para-swimmers have been selected for Phase 2 of the Swim England National Event Camps.
The group of 15-16-year-old athletes were selected based on their performances from the Festival of Swimming and the 2021 Swim England National Winter Championships.
The selections have been described as a 'significant step towards creating an inclusive and fully integrated talent pathway'.
The athletes will now experience a mixture of training sessions, educational workshops and physical screening, as well as an event-specific camp to be held in Birmingham later this year.
There will also be an exciting opportunity to race at the Commonwealth Games Test Event at the Sandwell Aquatics Centre which is planned for May 2022.
The youngsters selected will receive bespoke training support and athlete development from a number of specialist head coaches. These are Dan Pilbrow (form & individual medley), Emma Collings-Barnes (freestyle), and Marc Foster (open water).
Additionally, 15 skills coaches will accompany the head coaches and assist in the delivery of the event camps to the athletes.
'Fully integrated talent pathway'
Tom McManus, Swim England national talent officer, said: "These selections include swimmers and para-swimmers which is a significant step towards creating an inclusive and fully integrated swimming and para-swimming talent pathway ahead of the new season in September 2022.
"Phase 1 of the National Event Camps saw a selection of 161 athletes access an interactive online education last November which was led by our practitioners and supported by our talented coaching team.
"All athletes showed fantastic engagement and willingness to learn and develop themselves both as athletes and individuals.
"The camps in Birmingham will be held in February and consists of pool and land training sessions as well as educational workshops and physical screening.
"Attendees will learn more about themselves, both as athletes and as people, and apply these learnings back into their daily training environments to support the remainder of their swim season."
Athlete Selections – Phase 2
Jessica Arundale, Barnet Copt
Louise Ashford, Maidenhead
Ashleigh Baillie, Co Sheffield
Joshua Bailey, Repton Swim
Matthew Baker, West Suffolk
Oscar Barlow, Taunton Deane
Evangeline Belt, Carn Brea
Tsala Bernholt, Barnet Copt
Charlotte Bianchi, Co Sheffield
Oscar Bilbao, Co Hereford
Ella Blocksidge, Co Salford
Matilda Bogle, TeamIpswich
Merissa Booth, Wycombe District
Vadim Bosc, Co Liverpool
Balthazar Bradshaw, Brompton
Louise Bressler, Guildford City
Amelia Brian, Ellesmere College
Sophie Bromley, Co Sheffield
Lucy Buckingham, Millfield
Finley Bunhejee, Derventio Excel
Matt Burrows, Sevenoaks
Matthew Cairns, Millfield
Cameron Carlos, Barnet Copt
Conor Cherrington, Millfield
James Cleaver, Beckenham
Eja Coe, Derventio Excel
Iona Colbert, Nova Centurion
Alexander Cooper, Wycombe District
Phoebe Cooper, Co Sheffield
Emma Croker, South Lincs
Henrietta D'Ammassa, Repton Swim
Liam Dawson, Royal Wolv
Josh Denholm, Newcastle
Laura Dickinson, Mount Kelly
Evie Dilley, Bo Stockton
Oscar Dodds, Ellesmere College
Christian Duetoft, Leatherhead
Anna Farrow, Ellesmere College
Nicholas Finch, Chelsea & West
Libby Freeman, Morpeth
Kennedy Gordon, Natare W Lon
Reece Grady, Stockport Metro
Adam Graham, Millfield
Kieran Grant, Bev Barracuda
Henry Gray, Chelsea & West
Ruby Griffiths, Mount Kelly
Chloe Harris, Royal Wolv
Archie Hawkins, Thanet Swim
Jake Hutchinson, Ellesmere College
Charlotte Hyde, Enfield
Lewis Jones, Littlehampton
Sophie King, Woking
Livia Kingsland, Nova Centurion
George Lambert, Fareham Nds
Caitlin Lansom, Co Manchester Aquatics
Erin Little, Mount Kelly
Holly Marshall, Lincoln Vulc
Poppy Maskill, Alsager
Ella McEver, Camden Swiss
Luke McGee, Co Sunderland
Mark Milburn, Colchester
Aimee Monks, Royal Wolv
Dominic Morgan, Leatherhead
Archie Neaves, Ellesmere College
Eva Okaro, Sevenoaks
Harriet Oxley, Co Leicester
Erika Pasakinskaite, Bark & Dagen
George Pearson, Wycombe District
Constance Phillips, Nova Centurion
James Plant, Bo Kirklees
Oliver Pope, Thanet Swim
Luke Poulton, Wycombe District
Matilda Ransome, Co Cambridge
Dylan Reeve, Mount Kelly
Darcy Revitt, Guildford City
Georgia Robertson, Co Sheffield
Sienna Robinson, Co Sheffield
Reuben Rowbotham-Keating, Co Manchester Aquatics
Leah Schlosshan, Co Leeds
Rafael Shafi, Co Peterborough
Samuel Smith, Northampton
Fern Sneddon, RTW Monson
Joseph Stout, Co Salford
Lara Thomson, Co Leeds
Ella Turner, Plymouth Leander
Olivier Vedrenne, Co Norwich
Alexander Volkovoy, Co Salford
Lewis Warner, Bassetlaw SS
Kaiden Welsby, Stockport Metro
Jacob Whibley, Plymouth Leander
Anthony Whittall, Co Manchester Aquatics
Edward Marcal Whittles, Chelsea & West
Hollie Widdows, Mount Kelly
Jess Widdowson, Co Leeds
Annabelle Wilkinson, Co Sheffield
Kieran Williams, Newquay
Elliot Woodburn, Millfield
Callum Woolfenden, Beckenham
Harry Wynne-Jones, Co Milton Keynes
Beth Young, TeamIpswich