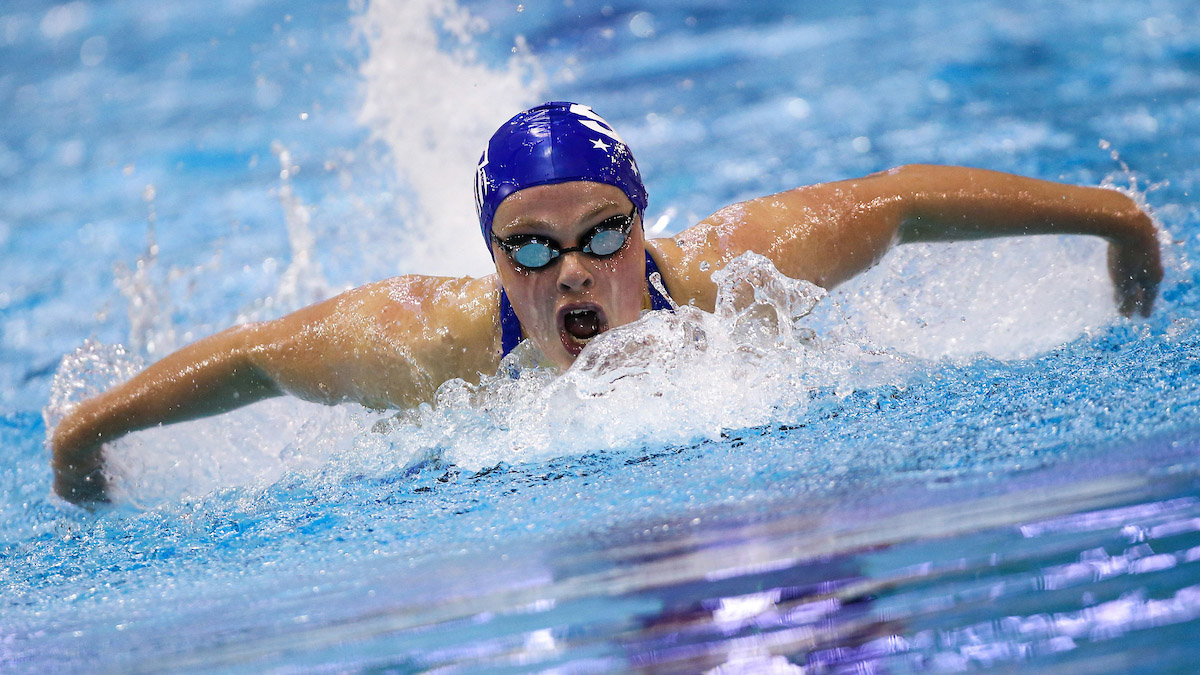 English athletes selected for Podium Potential programme
October 21, 2016
A group of 33 English athletes have been selected for British Swimming's Podium Potential programme for 2017, and will begin training with a goal of Tokyo 2020.
British swimming have spent some time analysing the form of athletes at the moment and their part performances, and categorise the best into two groups. Those that have potential to reach the podium at the Olympic Games in 2020 will be added to the Podium Potential programme. Those that are already at the level at which they could make the podium are added to the Podium programme.
The athletes selected for the Podium Potential programme for 2017 include Danielle Huskisson, Holly Hibbott and Cameron Kurle.
Hibbott of Stockport Metro has been making some progress on the International stage over the last 12 months. She landed a silver medal in the 400m Freestyle at the 2016 European Junior Championships. She also secured a 400m Frestyle gold at the British Summer Champs in July.
Millfield's Kurle secured his spot on the Team GB Olympic Swimming Squad in 2016. He competed in the 200m Freestyle after being awarded a place at the discretion of the British Head Coach and National Performance Director. The 19-year-old won silver in the Target Tokyo 400m Freestyle final at the British Summer Championships. He finished fifth place overall and beat some highly experienced senior swimmers.
Huskisson is a rising star on the open water scene, and looks to have plenty to offer in the coming cycle. She won the elite race at the 2016 Great East Swim earlier this year, before finishing ninth at the Rio 2016 open water qualifying tournament. She won a 5km gold medal at the European Open Water Championships, the biggest prize of her career.
The swimmers who are selected for either of the World Class Programmes receive advanced training camp and competition opportunities. They also have access to sports science services and British Swimming performance staff.
British Swimming's Head of Elite Development Tim Jones said: "The past year has been great with some strong performances from a number of our young and talented swimmers. As we begin the new quadrennial we have used this opportunity to make some obvious investments into a new generation of athletes with a clear focus on Tokyo and beyond.
"Through membership of the World Class Programme we believe we can help all of our athletes on their journey by providing a comprehensive support package to help further nurture their talent. All swimmers have been set clear personalised outcome and process goal for the coming season. We will be monitoring more closely than ever the successful completion of these targets."
Athletes selected for the Podium Potential programme are:
Abbie Wood (Loughborough University)
Alice Dearing (Loughborough University)
Anna Maine (Woking)
Caleb Hughes (Loughborough University)
Cameron Kurle (Millfield School)
Charlie Attwood (University of Bath)
Danielle Huskisson (University of Stirling)
David Murphy (City of Oxford)
Edward Baxter (City of Derby)
Emily Large (Newcastle Swim Team)
Freya Anderson (Ellesmere College)
Georgia Coates (City of Leeds)
Georgina Boyle (Chelsea and Westminster)
Harriet Cooper (City of Derby)
Holly Hibbott (Stockport Metro)
Imogen Clarke (Derventio Excel)
Jesicca Fullalove (University of Bath)
Joe Hulme (University of Bath)
Joe Litchfield (City of Sheffield)
Katie Matts (Stockport Metro)
Kyle Chisholm (Borough of Kirklees)
Laura Stephens (Plymouth Leander)
Layla Black (City of Leeds)
Luke Greenbank (City of Derby)
Luke Davies (City of Birmingham)
Nicholas Grainger (City of Sheffield)
Rosie Rudin (City of Sheffield)
Sarah Vasey (City of Derby)
Tazmin Pugh (Ellesmere College Titians)
Thomas Fannon (Plymouth Leander)
Timothy Shuttleworth (Loughborough University)
Toby Robinson (Loughborough University)
Tom Derbyshire (University of Bath)