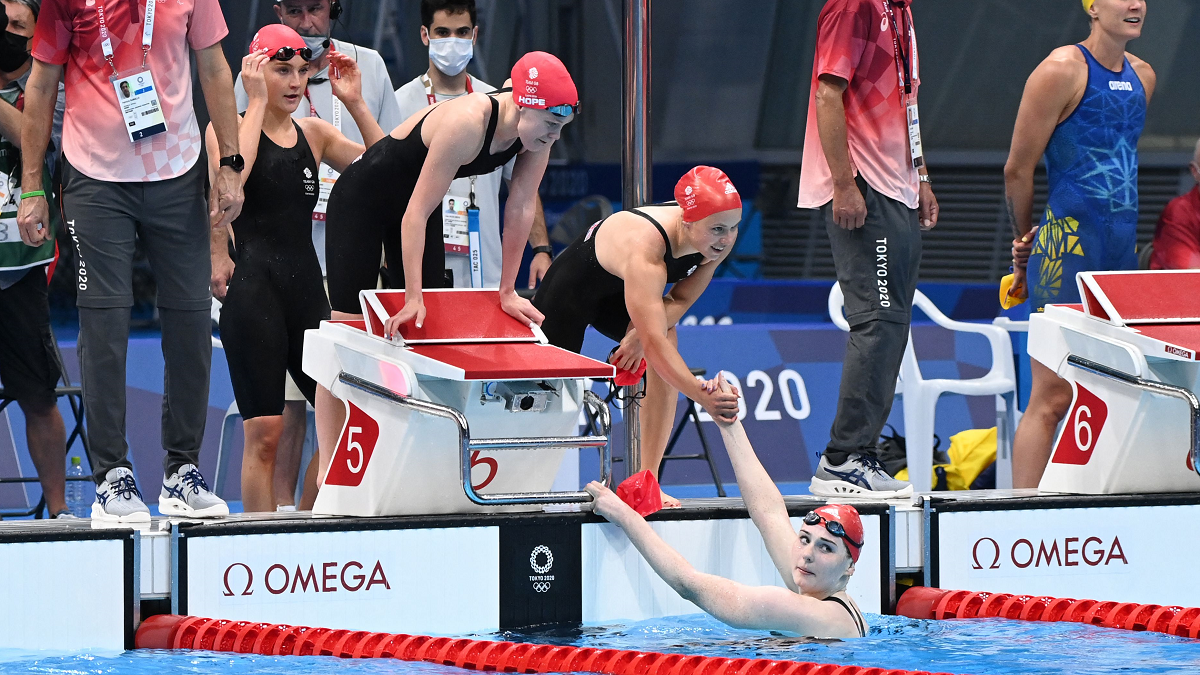 New British relay record and four more progress through the heats in Tokyo
July 24, 2021
There was a new British relay record and four more swimmers progressed through the heats in an exciting opening session of swimming action at the Tokyo 2020 Olympics.
The Women's 4x100m Freestyle Relay team of Freya Anderson, Abbie Wood, Anna Hopkin and Lucy Hope broke the British record back in May at the European Aquatics Championships.
In their first race in Tokyo, the quartet lowered the record once again, this time by 0.14, after finishing in 3:34.03 to win heat one.
This sees the European champions through to Sunday's Olympic final as the fourth fastest team, with Australia, Netherlands and Canada going quicker in heat two.
It was a slow start off the blocks for Team GB, but they were able to come back from behind to touch the wall first.
Lucy Hope was first up, followed by Loughborough swimmers Anna Hopkin and Abbie Wood.
The British team were in third as Wood took the plunge and managed to gain a place before Wood handed over to Freya Anderson.
Anderson chased down the Swedish team and was just 0.39 behind at the turn. A strong finish from Anderson saw Great Britain come out on top.
"It was really good," said Anderson. "It was a really good way to kick off this meet with these three girls.
"Couldn't ask for a better start really. All the support from home has been amazing, it feels like the whole country's behind us which is really nice."
Wood also says the relay event was the 'best way' to start off her Olympic campaign. She said: "I think a relay with the girls is the best way to kick it off and it's just a good one to start off with.
"It's nice having a girls relay in the mix because usually it's just boys all the time."
Hopkin added: "We've been itching to get going and I think it was just good to get a swim out on the first day and get comfortable with the arena, so I think we did a good job there.
"They weren't even considering us for a relay here until we did so well at Euros, so I think we just proved to everyone that we're here to do something good for GB."
On her Olympic debut, Hope said: "It's kind of different to what I expected. There's no spectators but the crowd here still managed to make an atmosphere so, we'll see what we can do in the morning."
Peaty and Wilby through to semi-final
Both Adam Peaty and James Wilby progressed through to the semi-final of the Men's 100m Breaststroke event.
Peaty goes through with the fastest time of 57.56, just 0.43 outside his Olympic record (57.13) set in Rio.
European bronze medallist, James Wilby, was the sixth fastest in the 100m Breaststroke, clocking in at 58.99.
The pair will feature in Sunday's semi-final as they aim for a place in the final on Monday.
Speaking of how he felt about his opening swim, Peaty said: "Very fast, very solid. You know it's a bit weird when you come to an arena like this, you never know where you're going to be.
"You can do all the preparations you can do but tonight it was all about shaking the cobwebs out, and I haven't done something like that in a long time so I'm looking forward to seeing where we can build off that."
Impressive Willmott
The Women's 400m Individual Medley heats saw Aimee Willmott touch in second place after an impressive performance in the final heat.
Her time of 4:35.28 was the second fastest heading into the final behind the winner of the same heat swim, USA's Emma Weyant (4:33.55).
Willmott's heat time was just 0.24 slower than the time she swam in the final of this event at the Rio 2016 Olympics.
On her performance, the 28-year-old said: "Mad! I was quite, not nervous, but I just wanted to do myself proud here and have loads of fun with it.
"I'm really happy with that to be honest. That's the fastest I've been in a couple of years I think, so I'm actually really really happy with that.
"I could feel myself starting to tie up a little bit but I guess I've just got to recover now and who knows what will happen in the morning."
Litchfield makes final but Williams misses out
Max Litchfield and Brodie Williams were the first English swimmers in action, the pair featured in heat three of the Men's 400m Individual Medley.
With a strong field in this event and only the top eight going through to the final across the four heats, Litchfield and Williams had work to do.
The Loughborough National Centre swimmer, Litchfield, had a strong finish to touch the wall in 4:10.20 which was enough to secure a place in Sunday's final.
After his swim, Litchfield said: "Fast heat, I knew it would be obviously being evening heats and that was the case.
"I would've liked to be in the top three there to be a bit more secure but we'll see how these boys go here and hopefully slip in there for the morning."
Williams of the Bath National Centre made his Olympic debut and put on a determined performance.
He missed out on a place in the final after his time of 4:17.27, but will look ahead to the 200m Backstroke event on Wednesday.