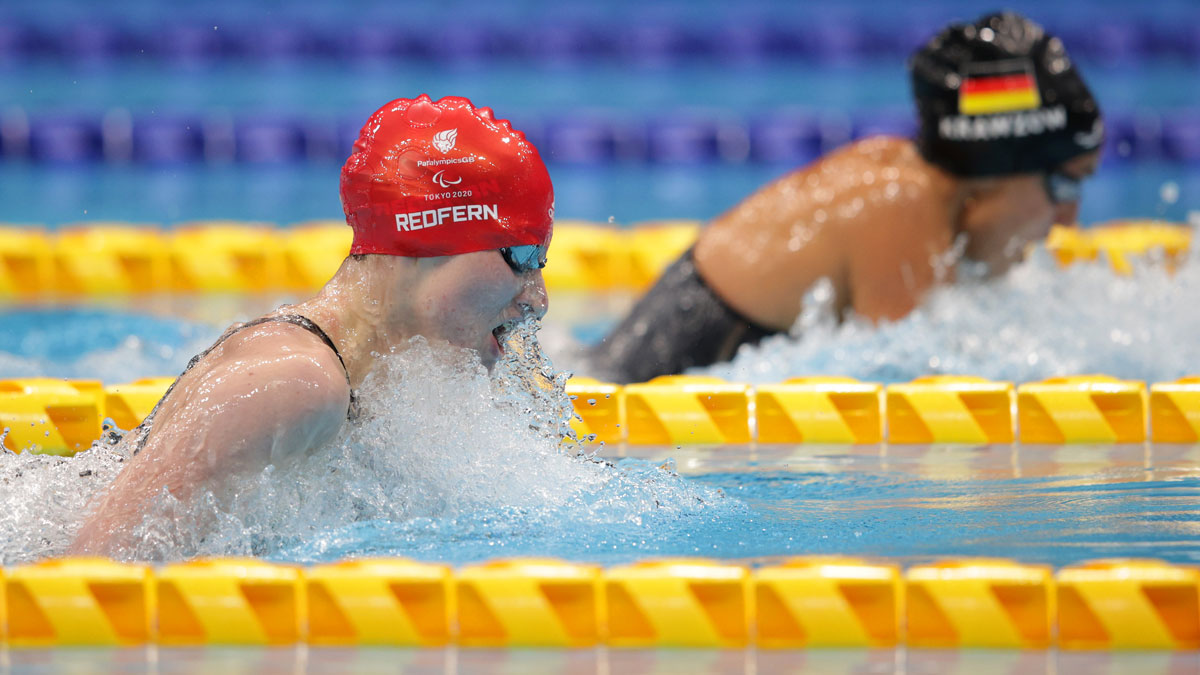 'Dream come true' for Redfern as she wins Paralympic silver
September 1, 2021
Becky Redfern has won silver in the Women's SB13 100m Breaststroke final and has described the achievement as 'a dream come true'.
The 21-year-old also won a silver medal in the same event at the Rio 2016 Paralympic Games, making her podium-finish in Tokyo even more special.
Her time of 1:14.10 was just behind the winner Elena Krawzow of Germany who won gold in 1:13.46. Third place went to Colleen Young of the United States in 1:15.69.
Speaking after her race, she said: "I'm really emotional, I'm just so proud of myself. Tokyo was always the goal and then when I got pregnant, it wasn't the goal anymore and now, it's my dream and it's come true. I'm just really happy.
"It's been a really tough couple of years, mentally and physically. I put myself through so much and I just can't thank my family enough.
"My coach at home has been amazing and the coaches here, I couldn't have got here without them – they've just been so supportive and I'm so grateful to be standing here."
'Blowing my mind'
Redfern spoke warmly of the support she has received as well as how achieving her dreams after having a baby has made her 'proud'.
"I can't put it into words, it's so overwhelming. The support that I've had to get here and all the messages of support is just amazing. I know I've done myself proud today and I hope I've done everyone else proud too.
"It was just 'go out hard and stay as close as I could', it's the fastest I've been since Rio so to do that after having a baby is kind of blowing my mind a little bit."
When asked about her son, Redfern said: "I just want to give him a cuddle. I've missed him so much, it's been so hard being away but I know he's proud of me.
"Being a mum is so hard, it's the hardest thing I've ever had to do. He's just turned one so he's not sleeping through the night still so I'm not recovering properly.
"It takes a village to raise a child and to raise a child and train for the Paralympics is just insane. The amount of support I've had is just incredible."
When asked if her medal means more to her now that she is a mum, Redfern said: "Yeah, I've done all of this to make my little boy proud.
"It's been three very long weeks away from him and I just can't wait to go home and give him a massive cuddle.
"I thought that once I found out I was pregnant, that was it, that was my journey over.
"I hope that now I've proved to a lot of people that just because you're a mum, it doesn't stop you from achieving your dreams, you can still get there."
Fourth for Mullooly
After a fourth-place finish in the final of the Women's S10 400m Freestyle, Zara Mullooly has said she is 'excited' for the medley relay that is still to come in Tokyo.
The Northampton swimmer said that despite some strong swims and reaching multiple finals, she is 'not happy' with her performances in Tokyo.
"I wasn't expecting that to be honest. I wasn't really fussed about a medal tonight, I just wanted to PB and to be plus 10, I don't know. I just felt like I couldn't move.
"I always go out fast on a 400 so I just went out at a pace that felt comfortable and then I just couldn't hold on at all."
Some difficulties in the run-up to the Games posed unexpected challenges for Mullooly as she explained: "I had a pretty tough lead into the competition, I had to isolate in our rooms for the whole holding camp.
"That probably affected my 400 more than it affected my 50 and 100 because we were just sat in our rooms for a whole week.
"Obviously, it was hard physically getting back into the pool but I would say it was definitely mentally harder to get over what had happened, we couldn't believe it at all.
"It was a big shock and it got in the way of all of our training sessions with everyone else.
"I'm not really happy with any of my swims this week, to be honest, but we've still got the IM relay tomorrow and I'm definitely excited about that and if that goes well for everyone, it'll be a great way to finish.
"I hope that this doesn't get in the way of that tomorrow and I can still do a good swim tomorrow night."