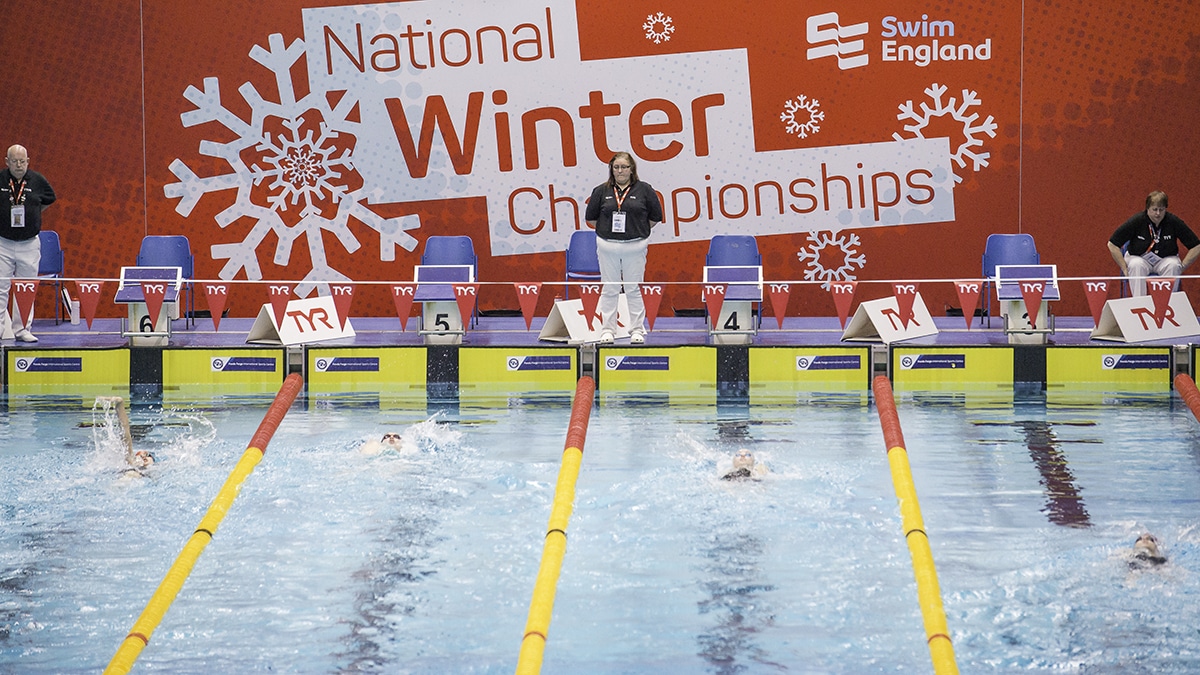 Win hundreds of pounds in Challenge 68 at National Winter Championships
September 26, 2018
Hundreds of pounds will be up for grabs in an exciting new competition – Challenge 68 – at the Swim England National Winter Championships.
Entries are now open for the championships, which take place at Sheffield's Ponds Forge International Pool between 14 and 16 December.
The three-day championships will feature the new Challenge 68 relay race, which gives entrants the chance to win cash prizes.
Mixed teams of four from the same club with a combined age of up to 68 years can take part in the races, with the overall winning team collecting £400.
The second-placed quartet will earn £320, third £280 while the heat winners will also collect £140.
Challenge 68 will take place on the final day of the National Winter Championships and promises to be a thrilling end to the event.
Each race will begin with backstroke but the order of the next three legs will be drawn after teams have confirmed their line-ups before the race start.
There is no limit to the amount of times each stroke could be drawn out, meaning there could, for example, be two legs of butterfly and one breaststroke.
Meet Director Neil Booth said: "The National Winter Championships is our biggest swimming meet of the winter months and we're looking forward to an excellent few days of fast swimming.
"The introduction of Challenge 68 gives the championships an added level of excitement – and the chance to win some cash just before Christmas is an added bonus.
Fun, unusual, challenging competition
"As the event is based on the total age of the participants, it means clubs face a dilemma to pick the right team.
"It promises to be a fun, unusual, challenging competition and I'm sure clubs will relish the opportunity to take part in it."
This year's National Winter Championships revert back to a short course 25m event. 
In 2017, they took place in the long course 50m pool as England's top swimmers fine-tuned their preparations for the 2018 Commonwealth Games on the Gold Coast.
The National Winter Championships features the full range of individual Olympic swimming events, as well as 50m competitions for breaststroke, backstroke and butterfly.
When the Championships are held over short course, there are also 100m Individual Medley events for men and women.
There are also 4x50m Freestyle, 4x100m Freestyle and 4x50m Medley Relay events held for both sexes.
Medals are given to the fastest senior swimmers in the 'A' final of each event as well as the fastest three junior swimmers (15 years old or younger) from the heats or finals.
Tickets on sale
Tickets for the National Winter Championships are available at a reduced rate if purchased online in advance.
Online advance tickets
Heats: Adults £5; Concession £4
Finals: Adults £5.50; Concessions £4.50
All heats: Adults £12; Concessions £10
Full event: Adults £26; Concessions £21.50
Tickets on the door
Heats: Adults £6; Concession £4
Finals: Adults £6.50; Concessions £5.50
All heats: Adults £13; Concessions £11
Full event: Adults £28.50; Concessions £23.50