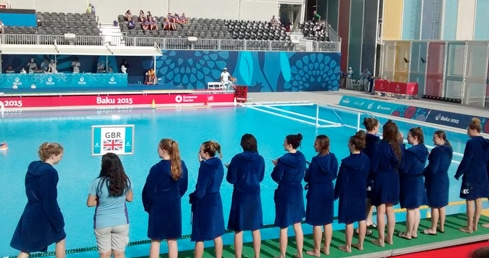 British women set for Serbia clash after final group match
June 16, 2015
Great Britain's women's water polo team have set their sights on their first knock-out game of the Baku 2015 European Games after bringing their group stage campaign to a close with a defeat against Hungary.
After a tight first half, the experienced Hungarians ultimately pulled clear with a second-half shut to record a 16-4 (5-2, 2-2, 5-0, 4-0) victory.
"We were trying to be confident and more positive and I think that really helped because we played our best, especially in the first half," – Izzy Dean.
But the Brits will approach tomorrow's first classification match with confidence, having recorded their first win against Israel yesterday then impressing in the early stages today, trailing by just one goal at 5-4 down with less than three minutes to go in the second quarter.
And while Hungary ultimately proved their class, their final tally of 16 was their lowest against any of the three Group A teams heading into the 7-12 classification matches, having notched up 21-4 and 23-3 defeats of Germany and Israel respectively.
"As a team together, we were a lot more positive and confident coming into the game because we knew it was likely we were going to lose because Hungary are such a hard and tough opposition," said captain Izzy Dean.
"But we were trying to be confident and more positive and I think that really did help because we just played our best, especially in the first half."
Grace Rowland and Kathy Rogers converted for Team GB in the opening quarter as the Brits kept themselves in the game, trailing 5-2 after conceding three penalties.
After five minutes of the second period, the Brits were just one goal behind and threatening to pull off the biggest shock of the tournament as Rogers scored her second of the game and fifth in two matches before Dani Brazier also found the net, maintaining her record of scoring in every match so far in Baku.
Hungary piled on the pressure in the third and fourth quarters to avoid the upset but the Brits emerged with plenty of credit, keeping their opponents' scoreline below 20.
After finishing fifth in Group A, Team GB will now face Serbia – who finished bottom of Group B after five defeats – in their first knock-out match at 06:30 UK time on Wednesday 16 June.
The winners be guaranteed a top 10 finish as they move to the 7-10 classification semi-finals while the losers will play off for 11th place.
"We're definitely going to be a lot more positive against Serbia like we were today," said Dean. "There was a lot more of a chilled atmosphere today. Nobody was too panicky about the result.
"Obviously we're going in wanting the win tomorrow and we're going to try our hardest. But we're going to do that in a much calmer and more positive way."
 Click here to view the match stats on the official Baku 2015 website.
Team GB water polo:
Dani Brazier (Chelmsford)
Izzy Dean (captain) (London Otter)
Hannah Edwards (Menzieshill Whitehall)
Sophie Jackson (Leeds)
Fleur Kennedy (City of Coventry)
Verity McCoy (vice captain) (Liverpool)
Mhairi Nurthen (London Otter)
Lara Partridge (Crawley)
Hayley Price (Tyldesley)
Kathy Rogers (London Otter)
Grace Rowland (Liverpool)
Lucy Shaw (Liverpool)
Beth Ward (Devonport Royal)