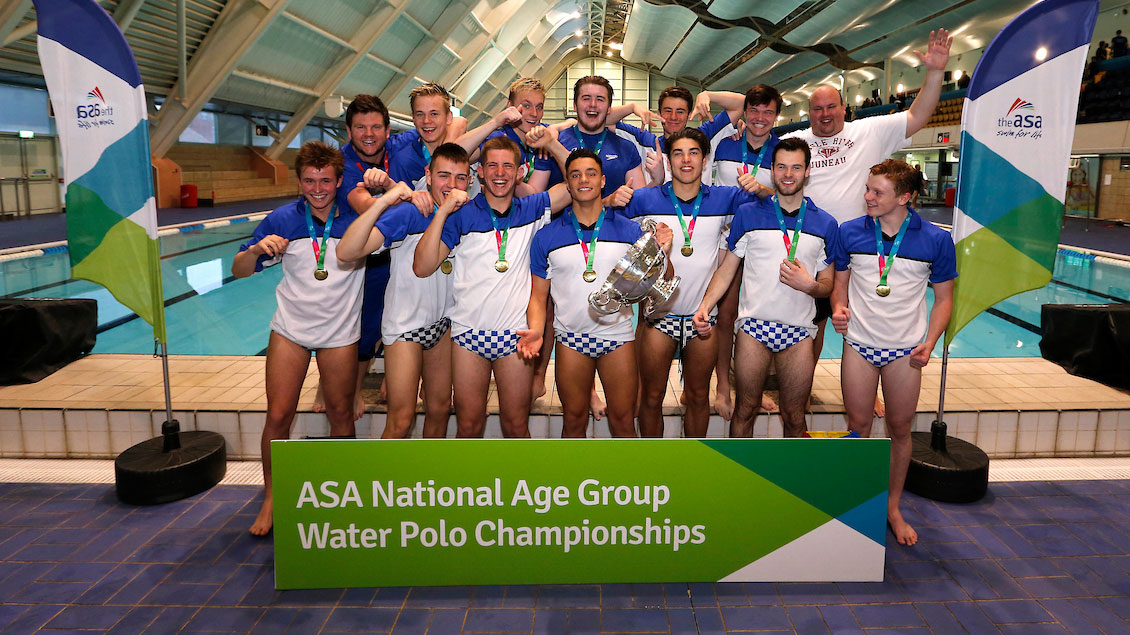 Exeter hold off determined Manchester to land first title
April 24, 2016
Exeter held off a determined Manchester side to land their first ASA National Age Group Water Polo Boys' U19 title in the club's history.
The two sides played out a thrilling final at Manchester Aquatics Centre, and while neither team was ever more than two goals clear, Exeter ultimately saw out an 8-7 (1-2, 3-2, 2-2, 2-1) win.
The South Coast side had gone unbeaten throughout the Preliminary and Qualification stages of this year's tournament, recording wins over Manchester in both stages.
But Exeter were made to fight all the way by the defending champions, finding inspiration from a partisan crowd at their home pool.
And Exeter captain Kamz Powell admitted he wouldn't have expected anything less from the North West giants.
A nervy final but a massive result
"It was a nervy final but a massive result for us," said Powell, who scored two crucial penalties in the third quarter.
"Everyone was feeling the nerves but we managed to pull on through and did it.
"We knew we'd beaten them this year but you've just got to forget about those kind of things when you get to a final. It's a new day and a new game and you've still got to come and play your game."
After a goalless first five minutes, Manchester's Ben Ray finally broke the deadlock with a powerful bounce shot from the edge of the arc on a man-up.
Powell restored parity, also on a man-up, less than a minute later, but Manchester claimed the initiative again as Haydn Wilkins rose high in front of the cage to tap in Ben Riding's cross for a 2-1 lead.
Ray fired home his second to start the second quarter on the front foot but it was Exeter who took the initiative to level the tie at 3-3 with Tom Hutchens and Sam Alberici finding the net on man-ups.
Will Plant put Manchester ahead once again with 53 seconds left on the clock but a spectacular shot across the goal from Exeter's Brad Watts saw the game tied at 4-4 at the middle interval.
Both teams take lead in third quarter
A rollercoaster third quarter saw both teams leading at one point, initially Exeter after a Powell penalty, then Manchester after two goals from Riding.
But it was to be a tied game going into the fourth as Powell kept his cool to fire home a second penalty and restore parity at 6-6.
Two goals from Jack Cutting gave Exeter some breathing room in the final quarter but it didn't prevent a nervy final few minutes, particularly after Harrison Barker-Smith found space on a man-up to pull Manchester back to 8-7.
But while the defending champions had another powerplay in the final minute, the Exeter defence remained firm to secure their historic win.
Lancaster repeated their result from 2015 to take bronze in the Boys' U19 competition with a 13-10 victory over Watford.
Boys' U19 Finals
Semi Finals

Lancaster
6 – 7
City of Manchester
FT
Exeter
11 – 10
Watford
FT
Bronze Medal Match

Lancaster
13 – 10
Watford
FT
Final

City of Manchester
7 – 8
Exeter
FT