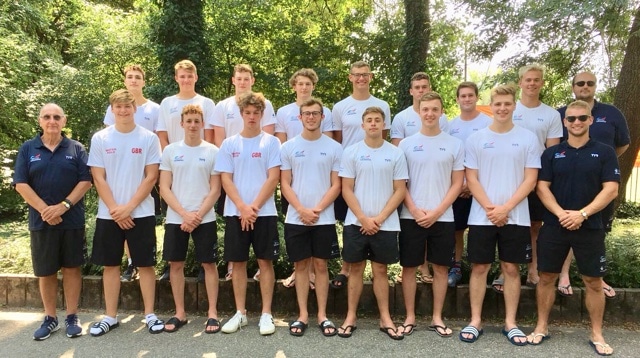 Great Britain U19 men head to Euro champs
August 24, 2018
News and Blogs
The Great Britain U19 men's water polo team are making their final preparations for the LEN European Championships.
Head coach Sean King will lead 13 players at the competition in Minsk, Belarus from 26 August to 2 September.
After an action packed three-match qualification round in Manchester in May, the squad became the first British men's side to reach a European water polo championships in 10 years.
They have been drawn in Group D alongside Russia, Serbia and the Netherlands. The first match will see them play Russia on Sunday at 12.20pm.
On Monday Great Britain face the Netherlands at 9.00am, followed by Serbia at 8.40pm the following day.
Great Britain U19 men's squad for European championships
Thomas Manley (Newton Abbot/Bristol)
Bill Moores (City of Manchester)
Matthias Madden, captain (Solihull)
Connor Carpenter (Sheffield)
Michael Patterson (City of Manchester)
Ben Ray (City of Manchester)
Ben Riding (City of Manchester)
Christopher Sturtevant (Del Mar WP club)
John Pratt (Sedgefield/Durham Palatines)
Isaac Wass (Castleford/City of Manchester)
Tom Hutchens (Barnstable/Exeter)
Nick Bond (Cheltenham)
George Davies (Solihull)
Team Manager: Colin Walsh
Head Coach: Sean King
Assistant Coach: Andy McGinty
S&C Coach: Tom Richmond
Image credit: England Water Polo Twitter