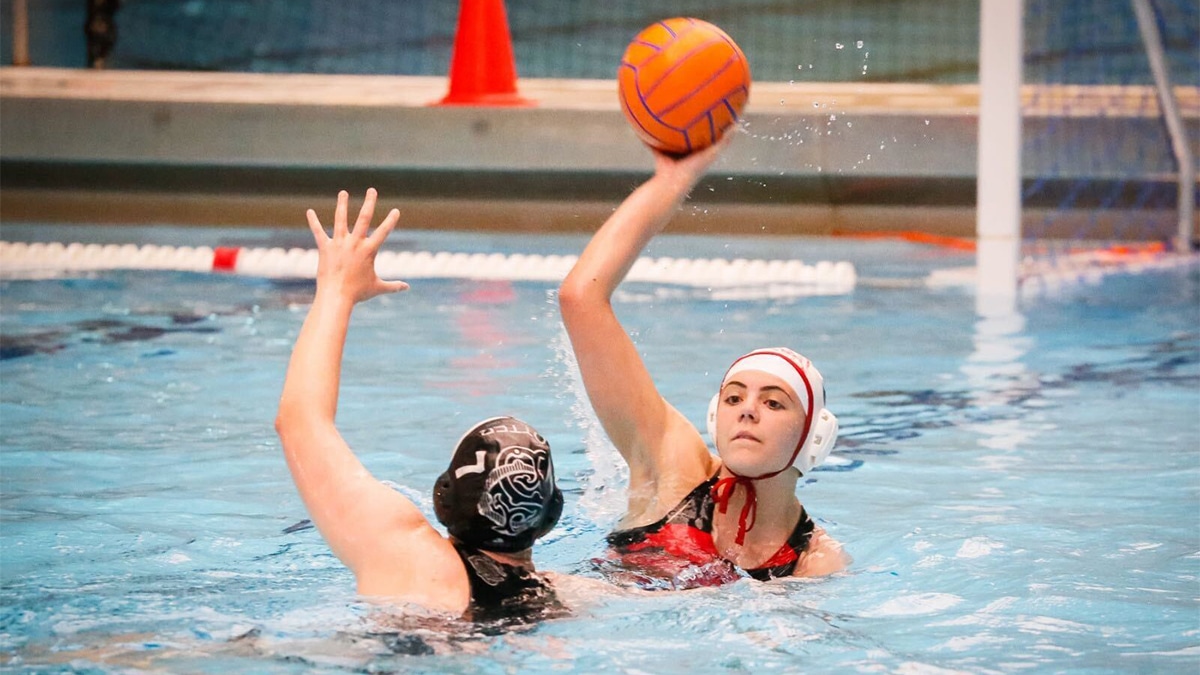 Cheltenham hold off Sedgefield and Otter in semi-final epics
April 29, 2023
Cheltenham's U19 boys and girls teams held off Sedgefield and Otter respectively in two closely fought semi-finals at the 2023 Swim England Water Polo National Age Group Championships.
A tense battle between Cheltenham and Sedgefield in the U19 boys semi-final stole the show at the Sunderland Aquatics Centre.
The game was on a knife-edge throughout the 32-minute contest with both sides worthy of a finals place but ultimately it was Cheltenham that ended up coming out on top.
They led for the majority of the match but Sedgefield kept battling back before eventually succumbing to a 13-12 defeat.
Only Worthing stand in Cheltenham's way of retaining their U19's boys title after they defeated Caledonia in the second semi-final.
Cheltenham's U19 girls had a close match of their own as they fended off a late Otter comeback to book a match-up with the City of Manchester in the U19 girls final.
Two final quarter efforts from Pippa Danielson and one from Lucy Bullock put Otter on the brink of an epic comeback but Cheltenham held on to secure a 12-11 victory.
The result means that Cheltenham will face City of Manchester in the U19 girls final – after they defeated the City of Liverpool – on a day the two clubs will also meet in the U17 girls gold medal match.
In the bronze medal matches, Otter will take on City of Liverpool in the U19s girls whilst in the U19s boys Sedgefield take on Caledonia.
Resilient Cheltenham hold off talented Sedgefield side
In a feisty affair, Cheltenham were forced to dig deep to see off a talented Sedgefield team.
A tense final quarter saw tensions rise as both sides picked up cards in the hunt for a winner.
But it was a goal from Toby Chilcott with just over a minute on the clock that gave Cheltenham the victory.
Chilcott's strike was Cheltenham's only goal in the fourth period as Sedgefield scored three unanswered goals as we entered the closing stages.
In the end, their first half display was enough to see Cheltenham through as they return to the U19 boys final for a second consecutive year.
Louie Mckie led their scoring charts with four whilst Aaron Downer netted a hat trick.
Chilcott added to his late winner with a goal in the second quarter with Reuben Powell (2), Will Thompson, Harrison Walsh all contributing to the team's tally.
Henry Jackson and Ben Alderson each grabbed three for Sedgefield as Cayden Down and Hamza Tran scored two each.
Ryan Griffiths and Will Hartshorn both scored in the final quarter but the team couldn't quite force a leveller.
Cheltenham fend off late Otter surge
In a repeat of the bronze medal match up from 2022, Cheltenham got revenge for last year's defeat as they thwarted Otter's late surge.
Heading into the final quarter, Cheltenham held a 11-8 lead in what was a tight affair throughout.
The edged each of the opening three periods by a goal each, before Michela Totolici added their only goal of the final quarter.
Otter on the other hand pushed to get back into the match and managed to bring the scores back to 12-11 thanks to a goal from Danielson just 40 seconds from time.
Despite an impressive display, they couldn't quite draw themselves level meaning it's Cheltenham that advance to Sunday's final.
Amelie Perkins was once again the star in attack for the Gloucestershire based side.
She netted six times with three in each of the first two quarters. Totolici scored three in total with a double in the third adding to her final quarter strike.
Lilly Ross (2) and Freya Webster completed the scoring for Cheltenham.
Bullock and Danielson led Otter's scoring with four goals apiece. Mimi Anderson, Audrey Tala and Isobel Haslock also opened their weekend's goal account.
Manchester see off rivals Liverpool
City of Manchester reached their third final of the weekend after their U19 girls defeated rivals City of Liverpool 21-9.
It was another Manchester performance where the club got off to a strong start and made it to the halfway stage with a healthy 12-2 advantage.
From then on it was about managing the game well and they did just that, matching their opponents goal tally in the third period to put an end to any hope of a comeback.
The Liverpool side fought on and had the better of the final quarter by five goals to three which will give them a boost ahead of their bronze medal match tomorrow.
Harriet Dickens and Lucy Blenkinship terrorised the Liverpool defence with Dickens scoring six and Blenkinship five as they pulled into an unassailable lead.
Izzy Robb also grabbed a hat trick whilst Evie Brown got two and Charlotte Pritchard, Abigail Colson and Amelia Crompton all got a goal each.
Isabella Ibbs and Hannah Pyper scored two each with Darcey Lawrenson and Harriet Ornsby also getting on the scoresheet.
It was the second time that Manchester had beaten Liverpool on the day after their U17 girls booked their finals place earlier on.
Worthing book finals place
It will be Worthing that will take on Cheltenham in the U19 boys final after they beat Caledonia 10-7.
Caledonia struck early, thanks to an early Murray Dickson penalty, but the Sussex based club battled back to move into a 5-4 lead at the halfway point.
It was in the third quarter that made the difference as Worthing netted five compared to Caledonia's two to move themselves into a strong position ahead of an 11-7 victory.
The result means Worthing advance to their second national final in as many years as they look to add to their U17 boys crown from 2022.
If they are to get past Sedgefield it will likely be in part due to Harry Broadhursts form in front of goal.
He scored five of Worthing's 11 goals to help send his team to the final. Nickolas Karamanlis (2), Tumay Evcimen Junior, Indy Nash (2), Ethan Lecuyer also netted for the club.
Caledonia's scorers were Dickson (2), Alex De Gaetano, Nathan Campbell and a trio of strikes from Ali Shippey.
You can keep up with all the action from the Swim England Water Polo National Age Group Championships here.