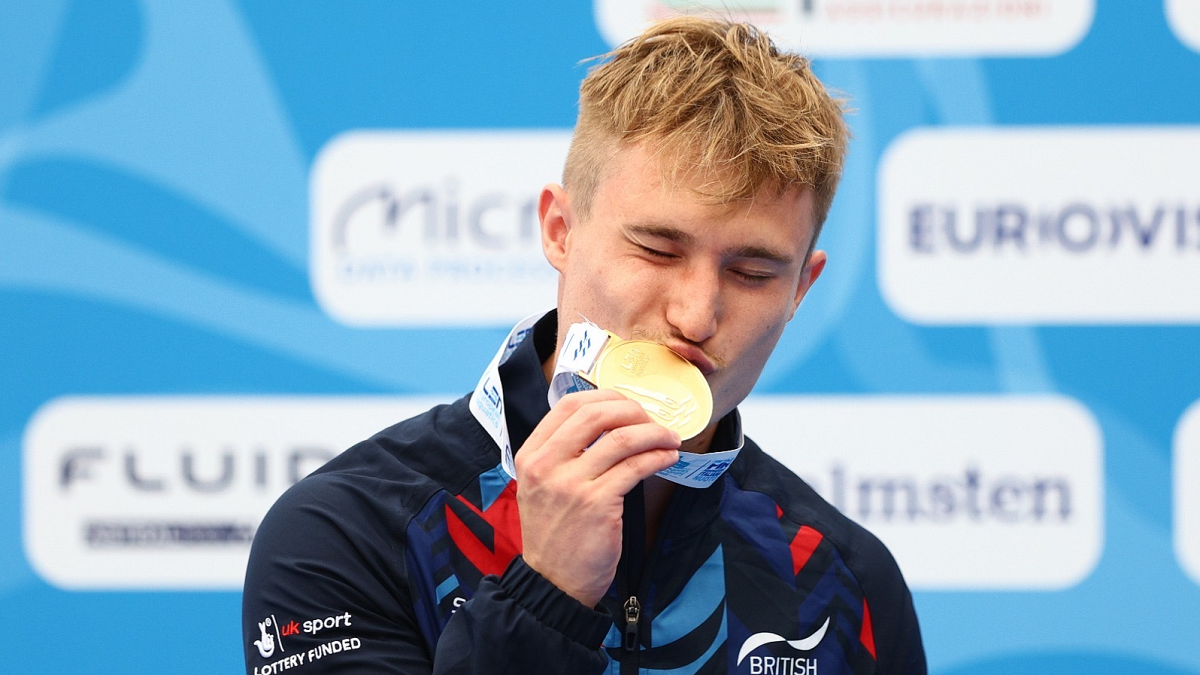 Jack Laugher won gold as he returned to the top at European Championships
August 18, 2022
Commonwealth champion Jack Laugher continued his success from the 1m Springboard to take gold at the European Aquatics Championships.
After qualifying for the final with the second highest score, Laugher didn't disappoint in the Men's 1m Springboard final with an impressive performance in Rome.
He went one better than last year's silver to get his hands on the gold medal this time around and return to the top of the podium where he proudly stood at the 2018 championships in Edinburgh.
Laugher started strongly and scored 67.50 for his opening back 2 ½ somersaults in tuck and sat in third place after the first round.
His teammate, Jordan Houlden, was in second after his inward 2 ½ somersaults in pike was awarded 68.00 – making it a great start for Great Britain.
However, after a sensational second round dive Laugher cemented his place at the top of the standings and it was there he stayed.
Laugher gets the gold! 🥇

Springboard master @JackLaugher 🇬🇧 claimed gold in the Men's 1m Springboard with a grand total of 413.40 👏#LENRoma2022 continues with High Diving, LIVE NOW on https://t.co/dmQwGBKtOzpic.twitter.com/ffAFAjMo4W

— LEN – European Aquatics (@LENaquatics) August 18, 2022
The 27-year-old's best dive came in round four as he racked up 76.50 for his inward 2 ½ somersaults in pike to extend his lead to almost 20 points.
Laugher finished with a total of 413.40 points to add another gold to his medal tally.
Houlden, the Commonwealth Games bronze medallist in this event, looked to be taking home another bronze from this evening's final.
He maintained third place heading into the fourth round but struggled with his reverse 2 ½ somersaults in pike which played a part in Houlden eventually dropping to fifth.
The diver from City of Sheffield scored highest in the opening two rounds and finished with a total of 372.05 points.
Italian divers Lorenzo Marsaglia and Giovanni Tocci completed the podium alongside GB's Laugher, taking silver and bronze respectively.
Great Britain top the diving medal table after day four of the action in Rome with a total of five medals – three gold, one silver and one bronze.
Fantastic final from Bent-Ashmeil and Rollinson
It was a very close finish in the Women's 3m Synchronised Springboard final which went right down to the final dive.
Great Britain's duo of Desharne Bent-Ashmeil and Amy Rollinson followed on fantastically from their display at the Commonwealth Games to take another fourth place finish on their European debut.
The youngsters were just 0.30 away from claiming a medal but were pipped to bronze by the Swedish pairing of Emilia Nilsson Garip and Elna Widerstrom.
Bent-Ashmeil and Rollinson scored 60.30 for their forward 2 ½ somersaults, 1 twist in pike in round four which proved to be their highest scoring dive of the final.
Their overall score was 257.40 points. The defending champions Germany retained their title and the 2018 champions Italy took silver.