Incredible Imogen completes clean sweep of national titles with springboard success
July 3, 2022
Imogen Poole rounded off an incredible National Age Group championships campaign by completing a clean sweep of the Girls' Group D medals.
Southampton Diving Academy's Poole was a huge 22.45 points ahead of her nearest rival following another consistent display in the 3m Springboard.
She had already claimed the 1m and Platform titles in style – and showed her class again with a number of impressive dives.
Her best came in the second round when she scored 44.10 for her inward one-and-a-half somersaults in pike.
She finished with a total of 165.60, with Southend Diving's Alice Murphy taking the silver on 143.15.
Poole's Southampton team-mate Ella Swete was a further 9.10 points adrift of Murphy in third.
Bruce delivers in second half
City of Sheffield's Lois Bruce produced a brilliant second half of the Girls' Group C Platform event to be crowned national champion.
Bruce was in contention throughout the competition but was outside the medals in fourth at the halfway stage and had climbed to third with two dives remaining.
She then delivered her best dive of the event in the penultimate round, scoring 48.60 for her inward two-and-a-half somersaults in tuck to lead the 20-strong field.
Bruce added another score of 40.00 in the last round to hold off the challenge from Luton's Olivia Sykes and take the gold medal with a total of 217.85.
That was 3.25 ahead of Sykes's score of 214.60.
City of Leeds Diving Club's Kate Gardner had made a promising start to the competition but two scores in the mid 30s in the final two rounds left her in third place with a total of 209.15.
Mille beats stacked field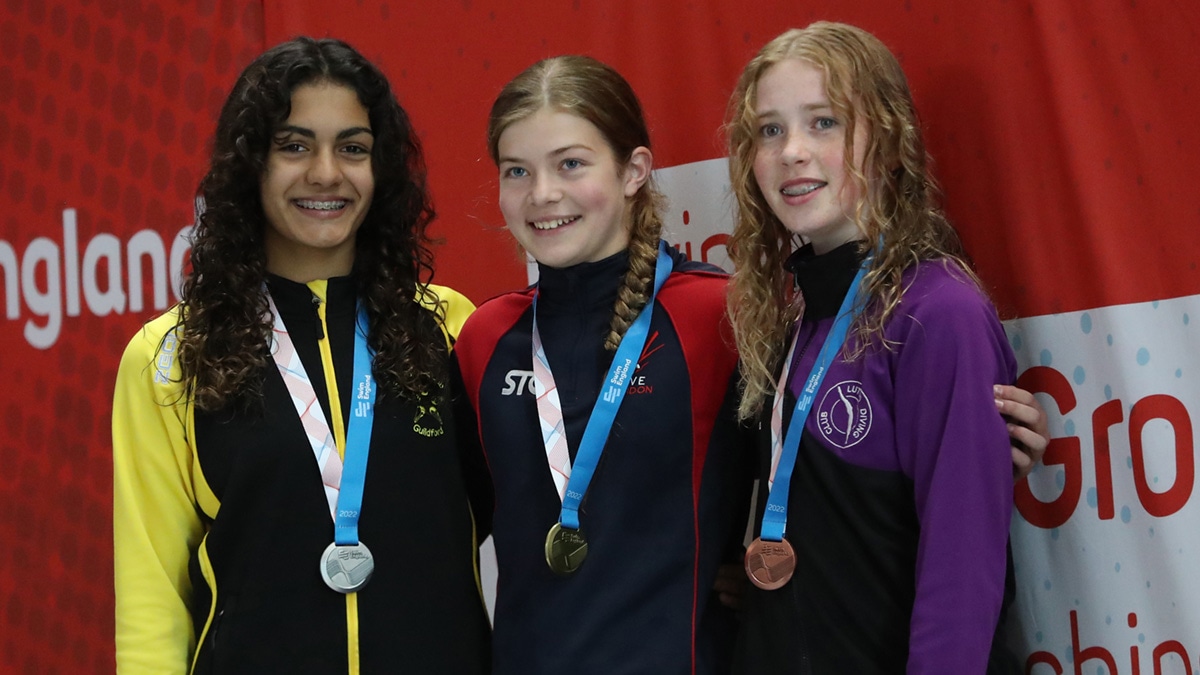 Millie Rowell was triumphant in a packed field to land the Girls' Group B 1m title.
A total of 31 divers were battling for the crown but it was Dive London Aquatic Club's Rowell who topped the podium with a total of 243.05 points.
The lead changed hands a number of times throughout the event and Rowell was second with two dives to go.
However, she scored 42.55 for her back one-and-a-half somersaults in pike to climb to the top of the summit.
Another solid dive followed in the final round and she finished with a total of 243.05.
That was 5.75 ahead of the 237.30 scored by the silver medallist, Star Diving Club Guildford's Lyra Guise Tucker.
The bronze medal was won by Luton Diving Club's Hannah Brockie on 232.35 points.
Pictures: Morgan Harlow