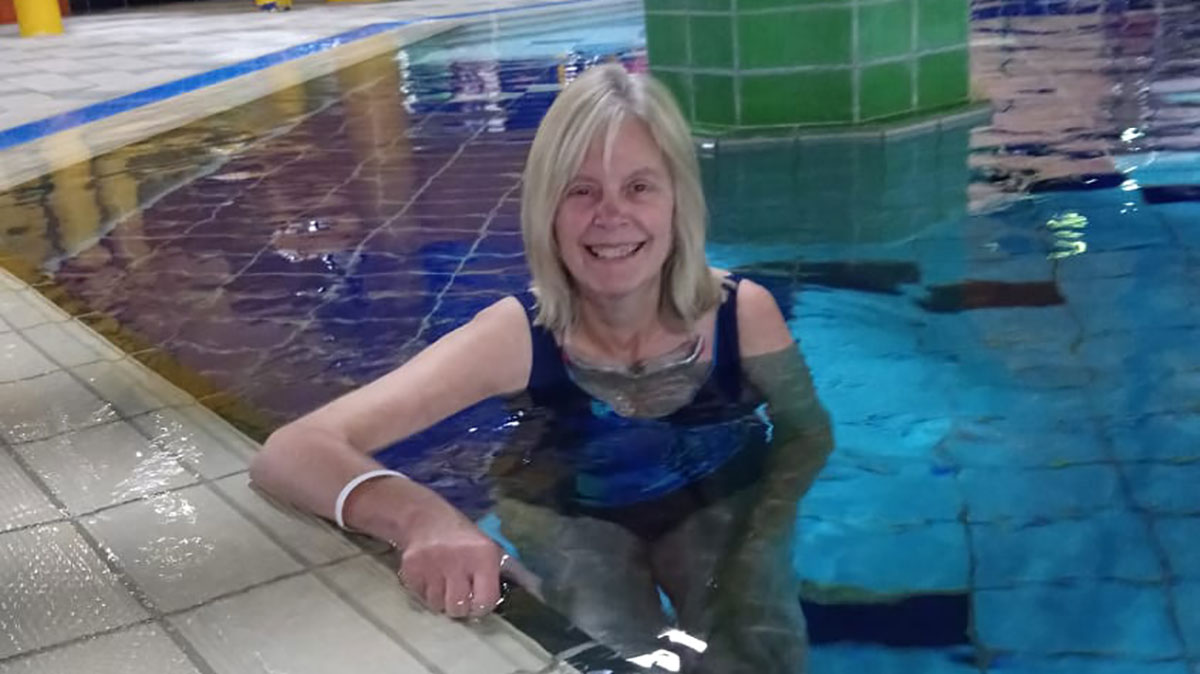 'I always wanted to be able to swim and was cross at myself for not being able to'
24/10/2019
Love Swimming
Gillian Mullins was terrified of water and as a result, never learned to swim as a child. But since retiring she has been determined to learn, finding that swimming has helped with all aspects of life.
This is Gillian's #LoveSwimming story.
I didn't swim very much at all when I was young. I was a very thin child and got very cold in the pool.
One memory I have is of me being at the pool with my friends and someone dunking my head in the water. I think this experience may have affected me in relation to swimming.
I always wanted to be able to swim and was cross at myself for not being able to. But I was never taught as a child and this really stumped me when I got older.
Through the years, I'd tried on occasions to learn but never really progressed so gave up each time I gave it a go.
Even though I was terrified of water, I taught my children to swim which they always laugh about.
I didn't want them to be in the same situation as me and be scared of the water and swimming.
Once I retired, I moved to Felixstowe and I saw a sign for adult swimming lessons at a pool just down the road and thought this was my time to give it another go.
I told myself I had the time now and I would have a keen attempt to do it.
One of my friends, who doesn't live close by, is also learning how to swim which helped and we egged each other on.
The first lesson
I was petrified but I joined the group lessons and I was able to go at my own pace.
It was not too serious and there was no expectation and pressure.
It was terrifying. I was happy in the water as long as I could keep my feet on the ground.
Seeing others progressing around me gave me confidence that I could do the same thing one day which was great.
I did a few one-on-one lessons as well just to get my feet off the ground and I've progressively built my confidence up as I go.
I'm better at swimming on my back and can do a whole length but still don't feel completely confident on being in the deep end.
I'm still working on my strokes and my teaching instructor at the moment is brilliant and has been pushing me slowly out of my comfort zone into the deep end.
They swim with me which is great and that way I don't feel alone.
She's been instrumental in my next steps.
I have also suffered from severe back problems in the past and it's definitely had a benefit physically.
It uses all of my muscles and I just find it very relaxing and chilled after my lesson. It's all very beneficial.
I've been learning to swim for four years now but even though I'm not the strongest swimmer I love going to the lessons and when I have some free time I just head down to the pool.
Socially, our swimming group have a laugh and we chat. It's lovely as we are in it together.
Even when I head down to the pool for a swim I can chat to people there – it's brilliant.
Feeling now and message to others
I feel a lot more relaxed about it. Before I had to psyche myself up to go and do it.
Now I view it as time that I can go to the pool and have some time to myself and improve.
My message to others is give it a go!
It's worth trying and keep at it because it didn't happen immediately for me – do just keep at it.
It's something you can enjoy and it makes you feel healthier which is great.
If you have been inspired to swim by Gillian's story, use Swim England's Poolfinder to locate your nearest centre.