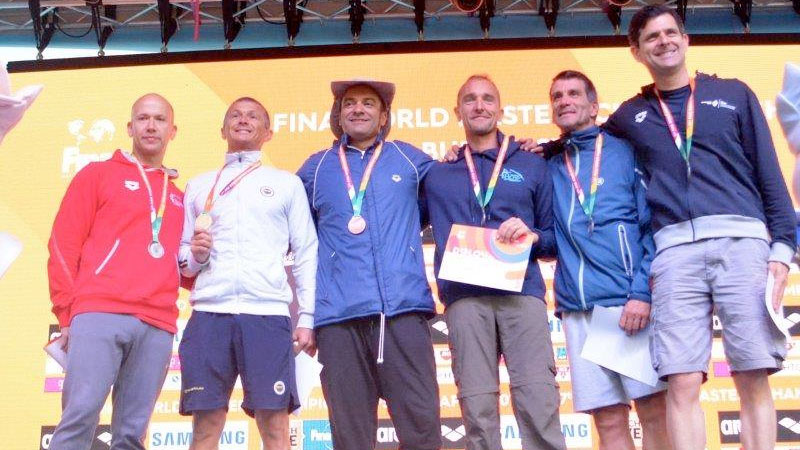 Greg Kahn lands fifth medal of World Masters
August 20, 2017
Greg Kahn landed his fifth medal of the 2017 World Masters Championships with 50m Backstroke silver on the final day in Hungary.
The Spencer swimmer has been one of the star performers from the British clubs in Hungary, picking up 200m Back gold as well as 100m Back silver, 100m Fly bronze and 4x50m silver with the men's medley relay quartet.
And Kahn completed his set of individual backstroke prizes with a 29.25 effort in the one-length event.
Turkey's Serkan Atasay blitzed to a world record 27.67 in the lane next to Kahn, but the Brit held off the rest of the field to take the second place on the podium.
Michelle Ware and Grace Isaac win 50m Back silvers
While there were no golds across the age groups, five British women reached the podium.
Guildford's Michelle Ware and Spencer's Grace Isaac both won silver.
Ware, who was part of Guildford's world record-breaking mixed 4x50m Medley Relay quartet earlier in the week, clocked 32.19 for second place in the 40-44 Yrs age group.
Meanwhile, Spencer swimmer Isaac came home in 1:08.38 to touch second in the 85-89 Yrs event.
There were also bronze medals for Jo Corben, Julie Hoyle and Kath Tunnicliffe.
Fareham Nomads swimmer Corben added to her 100m and 200m Back golds in the 45-49 Yrs age group with a 32.97 effort.
East Leeds' Hoyle clocked 36.32 in the 55-59 Yrs while Etwall Eagles swimmer Tunnicliffe was home in 40.28 in the 65-69 Yrs.
Click here for full results from the FINA World Masters Swimming Championships 2017.
Image credit: Budapest 2017 Facebook