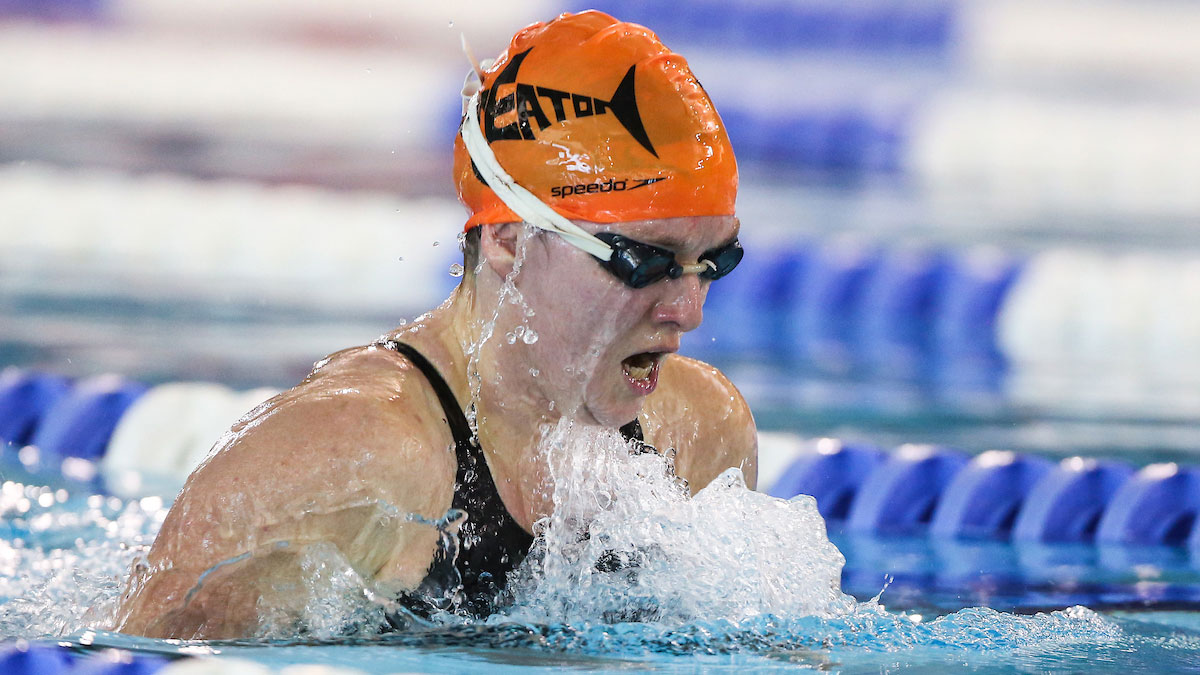 Why Masters swimmers should wear modern textile bodysuits
November 12, 2014
British and European Masters record holder Helen Gorman gives her thoughts on why Masters swimmers should wear modern textile bodysuits for competitions.

Textile bodysuits are faster than skin
Textile fabrics are faster than skin in the water.
Add the compression benefits of streamlining the body into a technical suit, and racing with as much skin covered as possible becomes faster than swimming with exposed skin. However, plenty of Masters swimmers don't wear the latest textile suits.
The key reasons swimmers don't wear technical suits seem to be price and the time it takes to get into them.
With price tags ranging anywhere from £100 to more than £350, swimmers want to know that the benefits promised by a manufacturer will actually make a difference, and what will you get for £350 that you don't get in a £100 suit. You can potentially 'try-before-you-buy' if a teammate has an old suit, or one that no longer fits them, but note that swimwear is highly individual, and what works for someone else, might be different to what works for you.
When it comes to selecting the right suit for you, look for the following features and benefits that mean you're getting a high-quality suit:
6 benefits of a high-quality suit
Compression: A key one for Masters swimmers who can effectively make themselves smaller and more streamlined in the water with the help of compressive fabrics. Suits can take up to 20mins to get on when they are new, but they do stretch as they get older. And not all technical suits offer the same level of compression, so some are easier to get on than others and are potentially more comfortable.
Welded/bonded seams: This means the suit is virtually stitch-less and reduces points of resistance. A bonded suit should be faster than a stitched one, but it will also be more expensive.
Lightweight and quick drying fabric: A lighter weight suit will dry quicker if you want to wear it for more than one race. Never use a hand dryer, it can melt the bonding. Heavier fabrics tend to offer more compression but are aimed at the bigger, faster more muscular swimmer and could actually slow some swimmers down. The most compressive suits will also take longer to get on.
Nonslip gel leg grippers: Leg grippers circle the inside of each leg opening and hold your suit in place, preventing it from riding up or creating drag-increasing ripples in the fabric. Ensure the suit is tight on your legs, to avoid it slowing you down.
Hydrophobic treatments: The best suits will repel water for a certain amount of time. They shouldn't become heavy or waterlogged by the end of your race. This coating will wear off eventually, technical suits don't last forever.
Comfort: Compressive suits won't be the most comfortable necessarily, but shouldn't be uncomfortable to the point of affecting your swim. If you wear a suit too big you'll lose the benefits of wearing it, but most brands or swim stores offer really good advice on sizing over the phone or in store.
What are the rules?
FINA rules state that suits with zips are not allowed, and neoprene coated suits from 2007-2009 are also banned. Suits cannot cover the arms or shoulders and must not extend below the knee. Men can wear jammers, no body suits. For women, open and closed back textile suits are allowed.
There seems to be no immediate chance of men's suits reverting to torso coverage, so the current format of jammers and kneeskin suits are here for a while.
Summary
There are no rules that say you have to wear a technical suit suit, but if you can swim faster by investing in a bit of technology, it has to be worth it considering the amount of time, money and energy spent going training and to meets.
Just remember to rinse your suit in cold water, let it dry naturally and keep it somewhere safe. It won't last forever, but any suit you buy now, should be legal for many years to come.