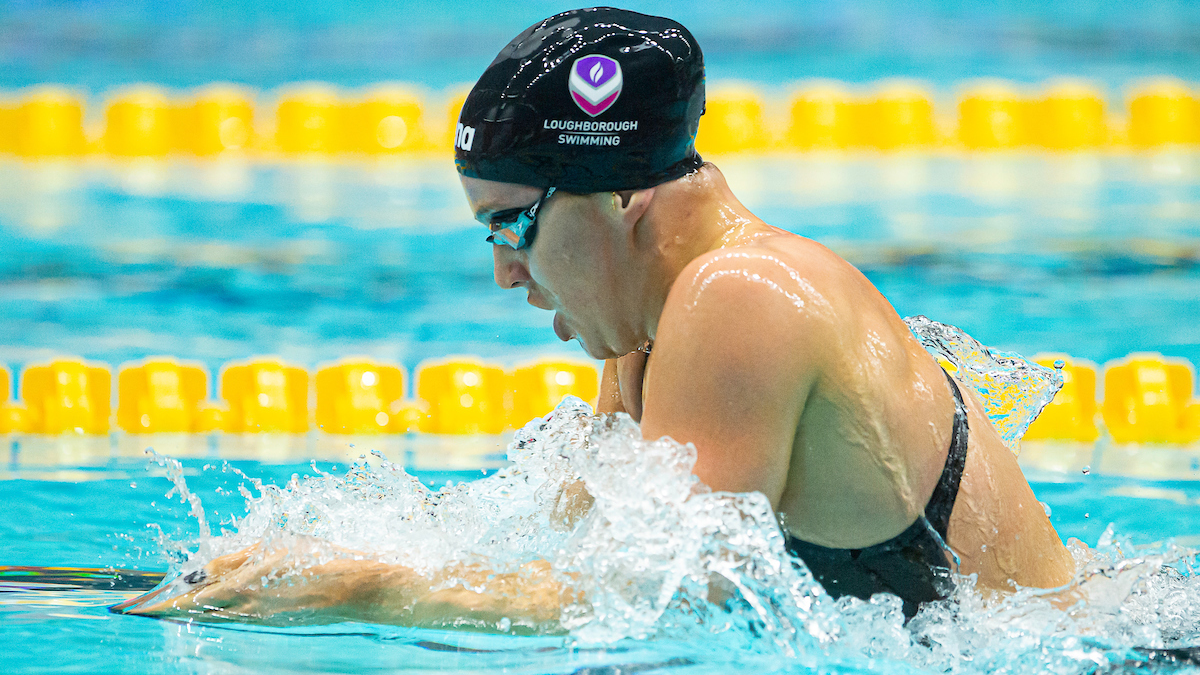 Abbie Wood resets Olympic dream after entering 2020 in 'shape of her life'
May 20, 2020
It looked as though Abbie Wood had perfectly timed her charge towards the Olympic trials.
The Loughborough University swimmer was ready to peak at the British Swimming Championships, which would have taken place from 14-19 April.
In December, she won a hat-trick of individual titles at the Swim England National Winter Championships, swimming a short course personal best in the 200m Freestyle.
Wood carried that form into 2020 and a fortnight in February would have had her brimming with confidence approaching her 21st birthday.
Another hat-trick of gold medals, this time at the BUCS Long Course Championships, featured another PB and a BUCS record.
The following week, Wood edged out Olympic silver medallist Siobhan-Marie O'Connor to win the 200m Individual Medley title at the McCullagh International in Bangor, going within a second of her lifetime best.
Although her Olympic dream has been halted at a time when it felt within reach, Wood remains upbeat as she adjusts her plans for the season.
"Tokyo being delayed for a year is a bit annoying, but I've just got to think I have another year to prepare," she told Loughborough University.
"It's kind of frustrating that I was getting such good momentum and I was basically in the shape of my life going into Olympic trials.
"But I've just got to think that I've got another year to build even more momentum now."
Staying in shape
Wood is spending the lockdown in her hometown of Buxton, keeping her Olympic ambition in tact thanks to support from her British Swimming teammates and coaches from the National Centre in Loughborough.
With no pool access, like many swimmers across the country, the 21-year-old is using the garden as her new training base.
"We're being sent a weekly plan by our coach and that includes a lot of cardio, a few weights sessions – because we managed to get some equipment before this all happened, from the English Institute of Sport," Wood added.
"We do the bodyweight circuits on a conference call, so everyone in our group can do it together, which is really fun. We do them twice a week.
"I'm still technically doing ten sessions a week, like I would at Loughborough, but you can't really replicate swimming unless we get a massive paddling pool, or I decide to go swim in the reservoir in Buxton, which I'm definitely not going to do.
"We're just trying to get our land fitness as high as possible, so the transition when we go back into the pool is as smooth as possible."
Discipline is key
The lockdown presents a new challenge for swimmers who are so accustomed to a regimented training lifestyle.
For Wood, the key has been to stick as closely as possible to her traditional routine.
"I've got to stay in a good sleeping pattern, so I'm not waking up and leaving all my training until later," she said.
"That would be easy because you're on your own time and can do it when you want. So you have got to be disciplined.
"You've just got to take it in your stride and just know that everyone is going through the same thing."