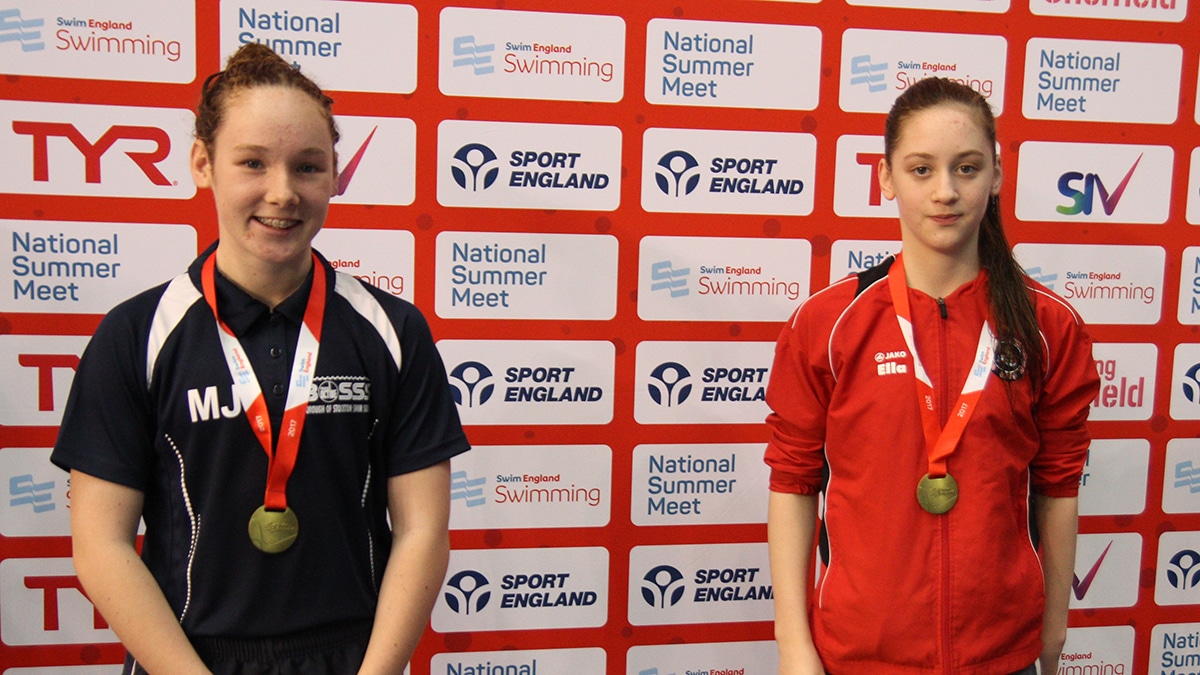 Ella Bainbridge adds gold to her silverware collection
August 5, 2017
Ella Bainbridge claimed a long awaited gold medal in the women's 12/13yrs 200m Butterfly on day four of the Swim England National Summer Meet 2017.
The 13-year-old has collected three silver medals over the course of the competition, but the gold had eluded her until this final.
She ducked under her personal best time to finish a second ahead of Emma Erskine from Nova Centurion. The Cleethorpes swimmer touched in 2:23.72 for the title.
Bainbridge commented: "I was shocked to get the three silvers to be fair because I was ranked fifth a lot. I worked so hard not to get silver again, I really went for it and it paid off.
"It's end of season for me now, and I have three weeks off and then back to training. I'm going to try and train one more session a week next season."
Erskine put in a tremendous performance for silver, slashing her personal best time by over four seconds. She touched in 2:24.84. Jo Hobsley and Sophie Murray, both of Barnet Copthall, claimed joint bronze. They touched in 2:26.21, which was a personal best for Murray.
Tai leaves field in his wake in men's 16yrs event
Christian Tai of Bournemouth Collegiate School claimed the men's 16yrs 200m Fly title in style, touching over three seconds ahead of the field.
He was unstoppable down the final 50m, touching in a new personal best time of 2:11.01. Tai's sister Alice secured a gold and a bronze medal at the Rio 2016 Paralympic Games.
Tai commented: "I took three seconds from my heat and four seconds from the entry time. I feel so proud. I've had a pretty up and down season so far, so to get a PB makes me very happy.
"I'm not sure what gave me the edge today. My coach has been unreal helping me throughout the season and obviously the other swimmers from my club have really helped me.
"I've got the 50 Fly tomorrow, and today has given me a lot of confidence, so I'm hoping for another PB tomorrow."
Northampton's Billy Pettit took silver with 2:14.14 and Issac Von Fintel of Leicester Penguins took bronze in 2:14.43.
Click here to see full results from the Swim England National Summer Meet 2017.
Other 200m Fly gold medallists
Jay Cushen (Winsford) men's 13/14yrs – 2:15.40
Callum Rusham (Leek) men's 15yrs – 2:13.65
Jack To (City of Sheffield) men's 17yrs – 2:08.27
Luke Gunning (Beckenham) men's 18yrs/Over – 2:04.79
Melody Jones (Stockton) women's 14yrs – 2:23.59
Faye Rogers (Borough of Stockton) women's 15yrs – 2:24.56
Katie Laybourn (Hartlepool) women's 16yrs – 2:22.16
Kate Mills (City of Oxford) women's 17yrs/Over – 2:22.86