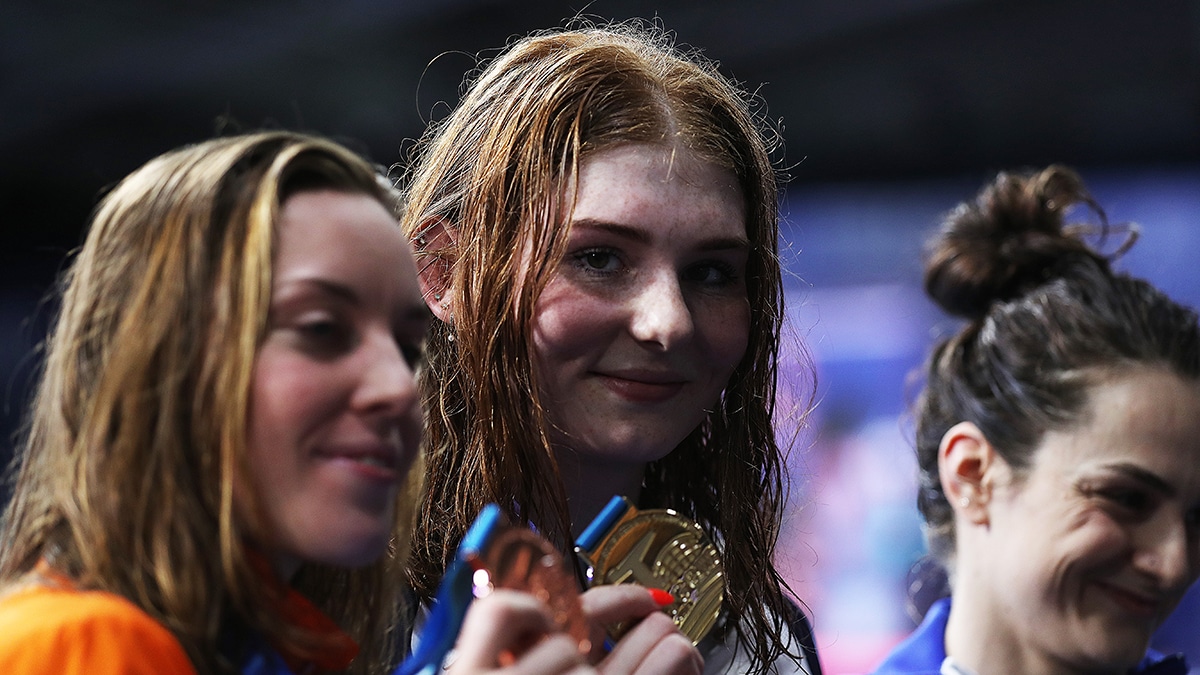 Just champion! Freya Anderson storms to first solo international title
December 6, 2019
Freya Anderson produced a stunning last 50m to land her first individual international title at the European Short Course Championships.
The 18-year-old Ellesmere College Titans swimmer clocked a lifetime best at the Tollcross International Swimming Centre in Glasgow to touch home first in the 100m Freestyle in a time of 51.49.
She was in joint sixth place at the halfway stage but the rising British star recorded the fastest final 50m time of any swimmer in the field to win by 0.39 seconds from France's Beryl Gastaldello.
Anderson said: "It feels amazing – I definitely didn't expect it!
"I came into this meet not expecting anything, so to come away with a gold, I can't believe it.
"I was nervous before the final as being the fastest in the heats and semis was quite daunting, especially being in lane four surrounded by all those big names, but I could hear the crowd down the last 25 and I just thought come on, get your head down."
Holland's Femke Heemskerk was the bronze medallist after recording 51.88 – only 0.02 seconds ahead of Great Britain's Anna Hopkin, who swam a personal best of 51.90 as she took fourth place.
Hopkin said: "I'm gutted not to get a medal as it was so close for silver and bronze.
"I could only really see the girl to the right of me but I figured it'd be pretty close for the medals, but it's annoying when you're on the wrong side of it."
Laura so close to podium spot
Laura Stephens also finished agonisingly outside the medals in the Women's 200m Butterfly.
The Plymouth Leander swimmer was 0.05 seconds off a podium place after finishing fourth in a time of 2:06.05.
Hungary's Zsuzsanna Jakabos just pipped Stephens to the bronze medal after touching home in 2:06.00.
Stephens was in third spot at the halfway stage but the 20-year-old couldn't hold on and was denied her first senior international medal.
She said: "That was better than this morning – I managed to move it on, which is a positive. I'll speak to my coach but I think my skills have improved – but fourth is a bit annoying!
"It would have been nice to have made the podium and maybe swum a bit of a faster time, nearer to my best, but I'll keep on pushing."
Agony for O'Connor
Siobhan-Marie O'Connor was the third British swimmer to miss out on a medal by the narrowest of margins.
The National Centre Loughborough swimmer finished fourth in the 100m Individual Medley – only 0.06 seconds adrift of bronze medallist Jenna Laukkanen, of Finland, who finished in 58.62.
The gold was won by Hungary's Katinka Hosszu in 57.36, while Russia's Maria Kameneva took the silver in 57.59 – the same as O'Connor's career best she set in 2015.
O'Connor said: "Obviously it's disappointing to come fourth as I'd have liked to get on the podium.
"It's a bit of a scrappy event, but I'll try and put it right for the 200m tomorrow, which is more my thing. Ultimately it's a similar swim to this morning so I can't be too disappointed with myself."
Relay team set another record
Great Britain's Women's 4x50m Freestyle Relay team broke the British record again but had to settle for fifth spot in a thrilling final.
Holland and France tied for the gold medal in a time of 1:35.21, with Denmark third in 1:35.24.
The British team of Anderson, O'Connor, Hopkin and Georgia Davies had set a new British record that had stood for 19 years in the semi-final as they qualified second fastest in a time of 1:36.20.
And they knocked a further 0.02 seconds off that in the final, clocking 1:36.18 to finish 0.19 seconds behind fourth-placed Russia.
Hopkin said: "It was a lot of fun to swim in front of this crowd with these girls.
"It's obviously not an event we'd usually do, so there was no pressure, it was just about having fun and seeing what we could do."
No joy for Joe or Duncan
Joe Litchfield clocked a lifetime best to reach the 200m Individual Medley final but couldn't reproduce that performance as he finished in last place.
The Loughborough University swimmer finished in 1:53.93 in the semi-final, which was 1.61 seconds quicker than the personal best time of 1:55.54 he set at the 2018 Swim England Winter Championships.
However, Litchfield could only record 1:54.55 in the final for eighth spot, while Duncan Scott was fourth in a time of 1:53.30.
Career best for Luke as he finishes fifth
Luke Greenbank lowered his personal best in the 100m Backstroke for the second time in a day but missed out on a second medal of the championships.
After winning bronze in the 200m race on the opening day, Greenbank had qualified for the 100m final in a personal best time of 50.50.
And he shaved a further 0.11 off that time to clock 50.39, which sealed fifth spot.
James misses out but Ross goes through
James Wilby failed to qualify for the Men's 100m Breaststroke final but Ross Murdoch will be representing Great Britain after winning his semi-final race.
Wilby clocked 57.76 to finish joint fifth in his semi-final and joint 10th place overall.
Murdoch was the fourth fastest qualifier for Saturday night's final in a time of 56.83 – winning his semi-final by 0.03 seconds from Turkey's Emre Sakci.