Swim England Talent youngsters to take on Olympic champions in Luxembourg
January 22, 2020
Young swimmers on the Swim England Talent Pathway will gain valuable international experience this weekend as they compete against some of the sport's biggest stars in Luxembourg.
Fifteen members of the Swim England Performance Squad are set to take part in the Luxembourg Euro Meet 2020.
They will be joined by 23 representatives from the Swim England South East region, including a number of athletes who recently impressed at Swim England's National Event Camps.
Performance Squad swimmers Lily Booker, Emily Barclay, Sophie Freeman, Amy Bell, Lauren Cox, Chloe Golding, Honey Osrin, Isabel Goodwin, Leah Crisp and Mia Slevin will have the chance to compete against Olympic champions Katinka Hosszu and Sarah Sjostrom.
Crisp is the third seed in the Women's 800m Freestyle and second seed in the 1500m Freestyle, while Barclay will be hoping to challenge Sjostrom for a medal in the 50m Freestyle, heading in with the third fastest qualifying time.
Meanwhile, 20-year-old Brodie Williams is the fastest qualifier in the Men's 200m Backstroke.
Grant Robins, Swim England Head of Talent – Swimming, said it was an important meet for the swimmers ahead of the British Championships and Olympic trials in April.
"For the majority of our swimmers, it will be their first long course swims of the season," he said. "They will be aiming to get a second swim in the evenings and that final experience.
"It will be great if they all swim well [in Luxembourg] but that's not the be all and end all. The primary objective is to use it as preparation for the Olympic trials.
"It's a strong entry list and it will be a pretty challenging meet but we're looking forward to it."
Proud and van der Merwe lead the way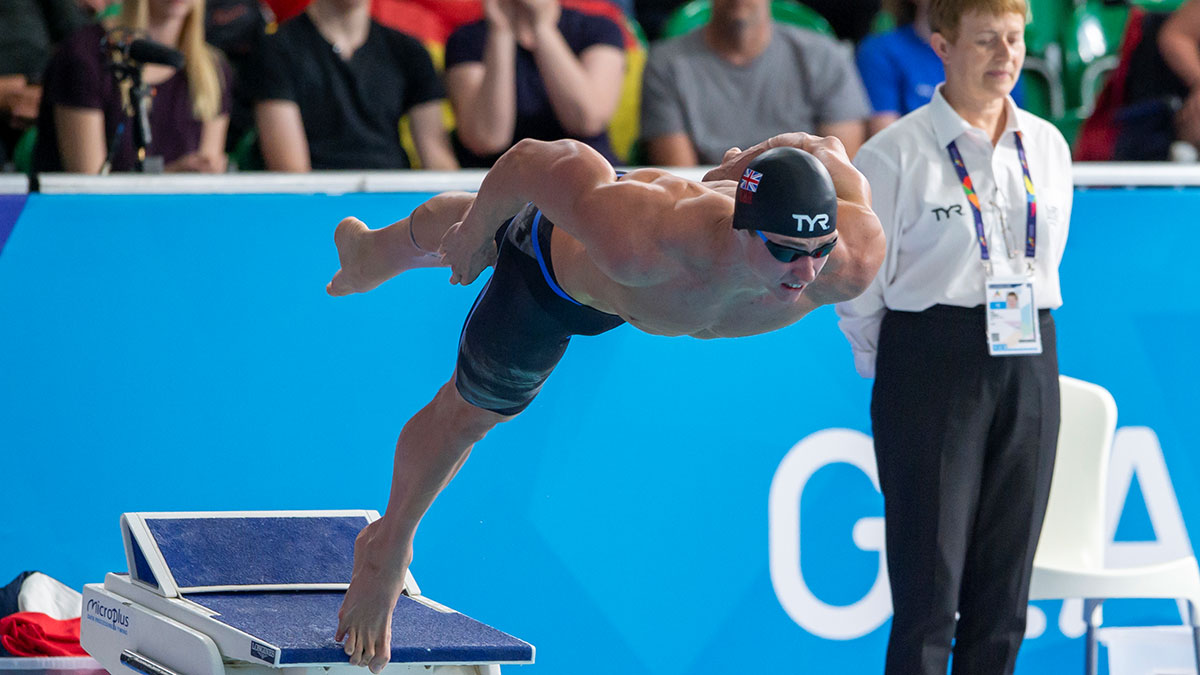 There will be a strong British contingent in Luxembourg, headlined by Kayla van der Merwe and Ben Proud.
Van der Merwe – who won multiple junior international medals in 2019 – is the top seed in the Women's 100m and 200m Breaststroke.
Proud will continue his preparations for the 2020 Olympic Games in Tokyo as he looks to defend his titles in the 50m Freestyle and 50m Butterfly.
The 2017 world champion – who will represent Energy Standard – holds the meet record in both events.
Imogen Clark heads in as favourite for the Women's 50m Breaststroke title, while Michaella Glenister (Leicester Sharks) and Freya Colbert (Nova Centurion) are also in action.
The Swim England Performance Squad athletes will be supported by head coach Kevin Brooks (Wycombe District) and coaches Adam Ruckwood (City of Coventry), Robin Armayan (Plymouth Leander) and Jamie Main (Derventio eXcel).
Swim England squad for Luxembourg Euro Meet 2020
Amy Bell (Swim England Performance Squad)
Caitlin Mackay (Swim England South East)
Cameron Brooker (Swim England Performance Squad)
Caroline Laursen (Swim England South East)
Chloe Golding (Swim England Performance Squad)
Chris Finch (Swim England South East)
Ella Dyson (Swim England South East)
Elliot Clogg (Swim England Performance Squad)
Emily Barclay (Swim England Performance Squad)
Eva Okaro (Swim England South East)
Honey Osrin (Swim England Performance Squad)
Illizane Pinfold (Swim England South East)
Jacob Greenow (Swim England Performance Squad)
Jakob Goodman (Swim England Performance Squad)
James Baxter (Swim England South East)
James McFadzen (Swim England Performance Squad)
Jamie Owen (Swim England South East)
Jamie Robertson (Swim England South East)
Jemina Hall (Swim England South East)
Joshua Press (Swim England South East)
Joshua Weston (Swim England South East)
Lauren Cox (Swim England Performance Squad)
Leah Crisp (Swim England Performance Squad)
Lily Booker (Swim England Performance Squad)
Lottie Wynne-Jones (Swim England South East)
Maise Thorton (Swim England South East)
Mia Slevin (Swim England Performance Squad)
Millie Emmans (Swim England South East)
Moritz Hoogers (Swim England South East)
Neil Redman (Swim England South East)
Olivia Tatton (Swim England South East)
Philip Ross (Swim England South East)
Sam Neeld (Swim England South East)
Sammy Tucker (Swim England South East)
Sophie Freeman (Swim England Performance Squad)
Sophie Shaw (Swim England South East)
Tegan Drew (Swim England South East)
William Bell (Swim England Performance Squad)