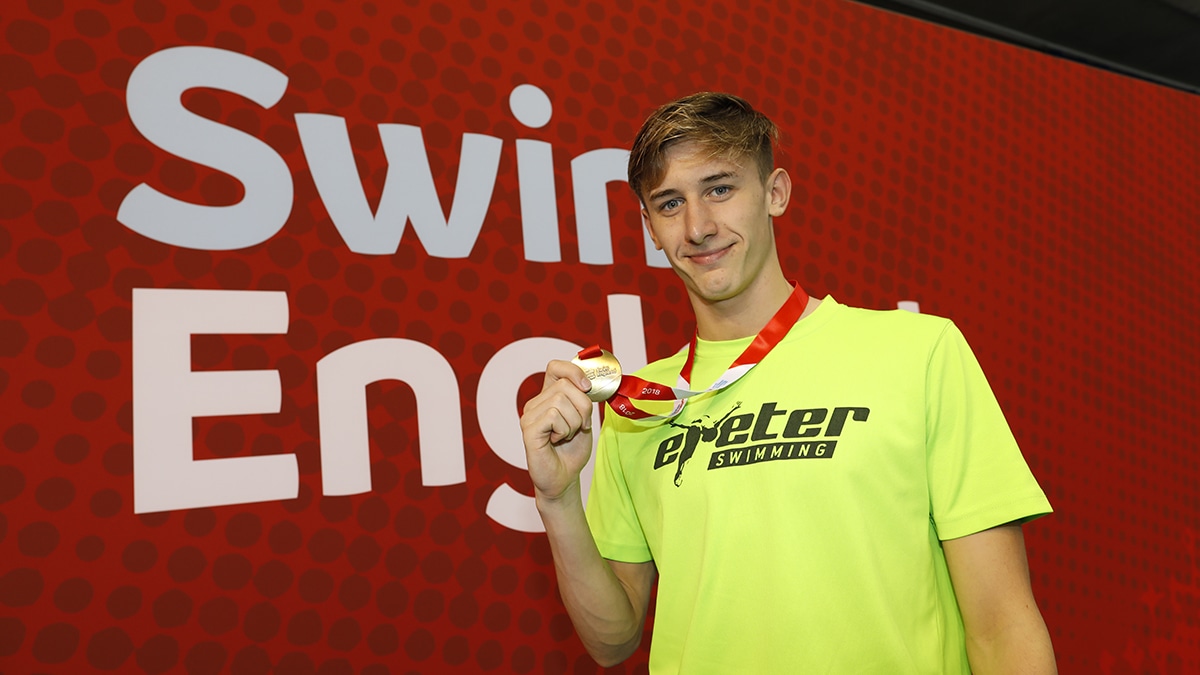 All White for Alec as he wins second gold of night
August 2, 2018
Swimming News
Alec White won his second gold medal of the evening at the Swim England National Summer Meet as he triumphed in the 17 Years 50m Backstroke.
The Exeter City swimmer won the 100m Freestyle title during the day three finals session and then added the 50m Backstroke gold to his collection as he finished in a time of 26.94.
Warrington's Alex Watkinson was second in 27.35, while Leatherhead's Cameron McKay took bronze in 27.42.
In the 13-14 Years race, Plymouth Leander's Hubert Gdaniec was the gold medallist in a time of 29.16.
That was 0.31 seconds clear of Colchester's Naythan Aung who won the silver in 29.47.
Watford SC's Benjamin Green was third after clocking 29.70.
Jacob Armon, Seals RSA,  picked up his second commemorative gold medal of the night as he finished first in the 15 Years race in 28.14.
The Swim England National Summer Meet gold went to Worcester's Louis Doyle who finished in 28.60.
Nova Centurion's Joshua Skinner was the silver medallist in a time of 28.68, while Fareham's Joseph Davies took the bronze in 29.02.
Portsmouth's Filip Fraczek-Krygier triumphed in the 16 Years race – and was the only man in the field to break the 28-second barrier.
He clocked 27.91 to finish 0.26 seconds clear of Wycombe District's Cameron Brooker (28.17).
Chelsea and Westminster's Jeremy Kemp was the bronze medallist in a time of 28.25.
Alexander Gilese, of Denmark, won a commemorative gold medal in the 18 Years race.
He finished in 25.96 to comfortably win ahead of the Swim England National Summer Meet gold medal winner Nathan Wells, of Loughborough University, who clocked 27.00.
Mount Kelly's Samuel Pease was the silver medallist in 27.09, while Thomas Garden's time of 27.30 was enough for bronze.
Women's 50m Backstroke
Chesterfield's Amber Downham was victorious in the 12-13 Years race which saw the top five separated by half a second.
Downham clocked 31.30, with Eva Okaro, of Sevenoaks, the silver medallist in 31.40.
Borough of Waltham Forest's Neha Pillai won the bronze in 31.50.
In the 14 Years race, Gloucester's Zea Levy won the gold in 31.09.
She was 0.22 seconds ahead of City of Salford's Lauren Bradey-Holt (31.31), who claimed the silver in front of City of Peterborough's Sophie Griffin (31.35).
Caitlin Cambrook finished under 31 seconds to be crowned 15 Years champion.
The City of Sunderland swimmer clocked 30.94, with Ellesmere College's Gerda Vasiliauskaite second in 31.07.
Derwentside's Annabel McCrory was the bronze medallist after recording a time of 31.13.
In the 16 Years race, City of Derby's Sophie Yendell topped the podium in a time of 30.40.
RTW Monson's Francesca Whiting was second in 30.53, with Gates and Whickham's Sarah Wright third in 30.65.
A commemorative gold medal was presented to Denmark's Sara Sylvest who was victorious in the 17 Years and over event in a time of 29.54.
Newcastle's Jane Brown won the Swim England National Summer Meet gold medal in 30.09, with Loughborough University's Kate Mills' time of 30.48 good enough for silver.
Jasmine Iley, Borough of Waltham Forest, won the bronze in 30.55.