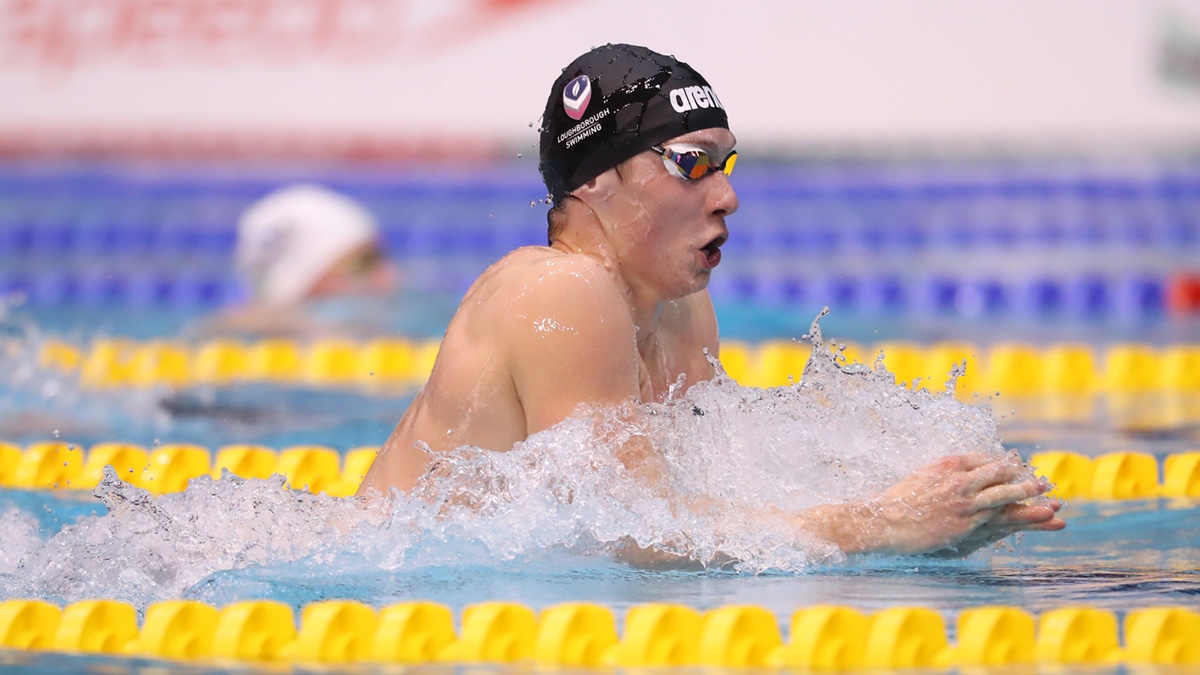 Butler's breaststroke brilliance earns him second Winter Championships gold
December 4, 2022
Greg Butler's breaststroke brilliance wowed the Ponds Forge crowd as he was crowned Swim England National Winter Champion.
The 22-year-old, who represented Team England at the 2022 Commonwealth Games led from start to finish, led from start to finish in the Men's 200m Open Breastroke.
Butler was just off his personal best time as he clocked 2:07.50 as he eased his way to victory, adding to his 100m Breaststroke gold and 50m silver he's already won at this year's championships.
A double podium for Bromley followed Butler as Pravin Mahendrakumar finished ahead of his club mate Matthew Rodgers to round off the medal places.
Mahendrakumar touched the wall in 2:10.81, with Rodgers only 1.22 seconds further back.
The junior gold medal went City of Norwich swimmer Oliver Vedrenne, who finished fourth in the open race.
Vedrenne, 17, clocked 2:12.80, which was more than four seconds quicker than silver medalist Oliver Munn.
Munn added to his British record he set on Friday with the silver medal as Mount Kelly's Donatas Dragasius completed the junior podium.
Plymouth Leander swimmer Ronny Hallett edged a close finish with Mount Kelly's Vadim Bosc in the junior race.
Hallett was only 0.32 ahead of Bosc as the pair dashed to the wall in a thrilling finish.
Confident Colbert wins second race in a night
Loughborough's Freya Colbert won her second race of the night as she became the Women's 200m Freestyle champion.
Adding to her season's best in the 400m Freestyle earlier in the evening, Colbert put in another confident performance as she stormed to victory.
The field once again had no answer to the 18-year-old who finished nearly two seconds ahead of silver medallist Jemima Hall.
Bath University's Hall won the sprint to the line for silver as she edged ahead of City of Sheffield's Charlotte Berry by only 0.11 seconds.
Hall's time was 1:57.42 as she won her first medal of the championships.
The junior title went to Mount Kelly's Erin Little after her impressive display saw her finish fourth in the open final.
Her time was  1:59.35 which was more than a second faster than junior race winner Amelia Brian, who became the junior silver medallist.
Beckenham's Brian performed well to win the junior race by almost a second ahead of Repton's Laurie Devine.
Magnificent Matt impresses again
Matt Richards continued his fine form as he smashed his personal best time to win gold in the Men's 200m Freestyle.
In the final race of the championships, Richards put on a show as he dominated the race to win by nearly four seconds.
It was a new personal best time for Richards who set a 1:41.50.
That is more than two seconds faster than his previous best he set back in 2019.
Finishing best of the rest behind Richards were two Loughborough University swimmers – Charlie Hutchinson and Charlie Brown.
Hutchinson and Brown put in strong displays of their own to claim the silver and bronze respectively as Hutchinson won the battle of the team-mates by only 0.19.
To cap off their incredible meets Alexander Painter, Tyler Melbourne-Smith and Reuben Rowbotham-Keating were back on the podium as they won the junior medals.
Painter came off the best of the three on this occasion as the Millfield swimmer set a 1:46.26 to become the junior champion.
City of Liverpool's Melbourne-Smith wasn't far behind, finishing in 1:46.92 with Rowbotham-Keating just a second further back as he won junior bronze.
Repton's Jacob Whibley won the junior race in a time of 1:48.08 in a field where the top five swimmers were separated by less than a second.
Joint silver in the 100m Backstroke
Matthew Ward and Robbie Hemmings were joint silver medallists in the Men's 100m Backstroke final.
The duo set an identical time of 52.37 after 100m as they both also become the joint junior champion.
Hemmings took the early lead between the pair but Ward fought back and the duo couldn't be separated as they touched the wall.
Neither of them were quick enough to catch Oliver Morgan, however, as the Birmingham University swimmer finished 0.18 ahead to become the Open champion.
Jack Skerry was the next man over the line in fourth place, setting a 52.50 which earned him the junior bronze medal.
A strong swim from Millfield's Conor Cherrington saw him win the junior race in a time of 53.88.
Double podium for Sheffield
There was a lot to celebrate for the City of Sheffield inside their home pool as their swimmers secured a double podium in the Women's Open 200m Breaststroke final.
It was a new personal best time from Abigail Miles that won the event for the club as she set a 2:27.36 to become the national champion.
Her team-mate Carys O'Reilly added to the success as she came home for bronze after finishing only 0.69 off Miles.
Only Millfield swimmer Charlotte Hardy could split the pair as the 14-year-old's impressive swim won her both the open silver and junior gold medals.
Hardy's time was 2:27.77 as she added to her junior title in the 100m event on Friday.
The junior silver medal went to Repton's Hannah Bowley (2:28.14), with 13-year-old Theodora Taylor (Torfaen Dolphins) collecting the junior bronze.
Team Ipswich's Beth Young (2:31.35) won the junior race ahead of Plymouth Leander's Evie Floate and Gabrielle McCulloch (City of Salford).