Magnificent Matthew breaks British record twice in one day on way to glorious gold
December 3, 2022
Matthew Richards broke two British records in the same day as he continued his fine run of form at the Swim England National Winter Championships 2022.
The heats session of day two saw the first record tumble, as Richards produced a stunning 45.94 in the Men's 100m Freestyle to knock 0.03 off the previous best, which was held by Ben Proud.
The Millfield athlete later broke his own record, which was the second British record to fall in the finals after Imogen Clark's performance in the Women's Open 50m Breaststroke.
Richards looked a class above his rivals as he raced away to clinch the national title and open gold medal in a brilliant 45.85.
That made it two golds in two days, following his victory in the Men's 50m Freestyle final on the opening day of action.
City of Manchester's Jamie Ingram was the best of the rest, clocking in at 47.53 for the open silver, followed by Leeds University's Jordan Cooley (47.65).
It was also a second junior title of day two for Millfield's Alexander Painter, who stepped up to the top of the podium to collect another gold after a time of 47.77.
There was more medal success for City of Manchester as 17-year-old Reuben Rowbotham-Keating took the junior silver medal.
Bath University's Aiden Symons-Brown finished on top in the junior final and was awarded the junior bronze.
Two golds in 12 minutes for Clark
Imogen Clark won a second gold medal in the space of 12 minutes in the Women's Open 50m Freestyle.
After setting a new British best time of 29.35 in the Women's Open 50m Breaststroke, Clark was victorious again only four races later at Sheffield's Ponds Forge International Pool.
The Derventio swimmer clocked 24.84 to take top spot by the margin of 0.18 seconds from Mount Kelly's Leah Wittaker.
Her time of 25.02 secured the bronze medal and also saw her win the junior gold.
Sevenoaks's Eva Okaro was third – and junior silver medallist – after clocking 25.09.
The junior bronze medal was claimed by Repton's Laura Devine, who finished sixth in the open final in a time of 25.52
In the 17 Years and Under race, Plymouth Leander's Evie Floate was first home, clocking 25.58.
Mount Kelly's Josephine Klein was second in a time of 25.74, 0.10 ahead of City of Birmingham's Alice Toon who took third spot.
Colbert close to new PB
Freya Colbert was agonisingly outside her lifetime best as she celebrated victory in the Women's 400m Individual Medley.
The Loughborough swimmer triumphed by more than four-and-a-half seconds in a time of 4:43.37.
That was only 0.16 outside her best of 4:34.21 which she set at the Irish Short Course Championships in Dublin last year.
It was a very accomplished swim from 18-year-old Colbert, who lead from start to finish and lowered her morning heat time by more than 12 seconds in the process
Plymouth Leander's Beatrice Varley was the silver medallist in 4:38, while the bronze went to City of Sheffield's Abigail Miles in 4:44.95.
Basildon's Ruby Wheeler took the junior gold after finishing fifth in the open final in a time of 4:47.66.
She was closely followed by City of Leicester's Anna Farrow who was junior silver medallist in 4:51.52 and Wycombe District's Merissa Booth, who clocked 4:51.52 to take the junior bronze.
Budd edges his way to victory
There was almost nothing to separate the athletes in the Men's 50m Backstroke – with less than a second between the entire field.
Taking the win in his home pool was Sam Budd. The City of Sheffield swimmer managed a time of 24.21 to grab the gold.
Poole swimmer Robbie Hemmings was the next to the wall in 24.23 – a time that clinched him the junior gold and open silver.
Jack Skerry of New Hall was another to feature twice on the podium in this event, once to collect his junior silver medal and then again for the open bronze.
And after winning bronze not much earlier in day two's finals, Mount Kelly's Matthew Ward was back amongst the medals in the Men's 50m Backstroke with his 24.26 finish.
Success for Spinner
Bath University's Jana Spinner took the Women's Open 100m Individual Medley title – winning gold in 1:01.50.
The 23-year-old was 0.61 ahead of Mount Kelly's Leah Whittaker, who was also the junior gold medallist, in 1:02.11
Canada's Kennedy Loewen won a commemorative bronze, finishing in 1:02.24.
The national bronze medal went to Pershore's Hannah Woodcock, who clocked 1:02.57.
Two other open swimmers also took the remaining junior medals.
Mounty Kelly's Hollie Widdows took silver after finishing fifth overall in 1:02.69, while Millfield's Lucy Buckingham was seventh and third junior in 1:03.60.
Golden Gammon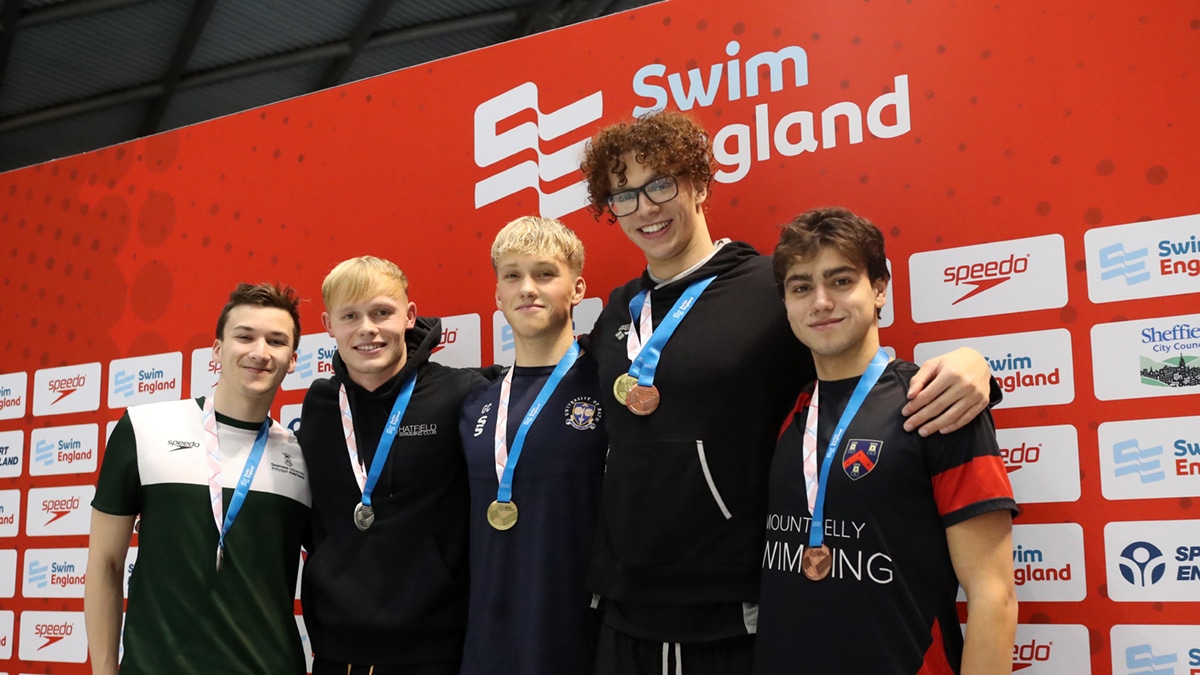 In the Men's 200m Butterfly final, Joshua Gammon of Bath University finished 2.60 ahead to get his hands on the gold medal.
Gammon (1:54.31) began to extend his lead after the halfway mark, pulling away from Hatfield's James Woodward and City of Manchester's Rowbotham-Keating – who continued to battle it out for the remaining podium places.
It was a tight finish between the pair, but silver went to Woodward in 1:56.91, closely followed by Rowbotham-Keating in 1:56.92 for the open bronze medal and another junior gold.
Swansea's Antonio Rodriguez and Mount Kelly's Riccardo Lucarelli took the junior silver and bronze medals respectively.