Mixed Relay Magic as Britain retain 4x100m freestyle S14 title
June 15, 2022
Great Britain retained their 4x100m freestyle Relay S14 crown on day four of the World Para Swimming Championships in Madeira.
The British team had to come from behind after Australia came out of the blocks quickly, front loading their team with their male swimmers.
Thomas Hamer swam the opening leg for Britain before strong performances from both Bethany Firth and then Jessica-Jane Applegate helped the British team climb back into second place.
That left Reece Dunn with a 5.30 gap to catch the Australian Madeleine Mcternan in the final leg which he did in some style, storming to the wall with an advantage of 4.33.
Britain finished with a time of 3:44:03, just four seconds off their world record effort from the Tokyo Olympics.
After the race Hamer said: "I think the victory was nice, but it was nice to be here again too.
"From winning it in 2019, it means a lot. Out of everyone, I had the most faith in Reece. Coming home, he is the best anchor man we could have."
Applegate added: "It was really good, it's so amazing to be a part of such a great team. No matter how much of a hard time one of us has, we always seem to bring it back."
In the mixed 4x100m Medley Relay 49pts, Great Britain's team had to settle for fourth in a back and forth contest.
Matthew Redfern swam the opening leg for the British team and handed over to his younger sister Rebecca in second place after a strong start from the Spanish team saw them go into an early lead.
Rebecca Redfern did well to close the gap on Spain before the Brazilian team came past them both to gain the lead before Stephen Clegg powered his way through the penultimate leg to edge put Britain in front.
Teenager Scarlett Humphrey swam the final leg for the British team but just couldn't hold onto a medal place in a close run final.
Great Britain's time of 4:39:67 was just a second behind Japan who snuck into the final medal spot.
Another gold for Masie
Masie Summers-Newton added another gold to her tally after an expert display in the Women's S6 400m Freestyle.
Summers-Newton battled for the lead with Brazilian Laila Suzigan Abate and Olympic bronze medallist Nora Meister of Switzerland throughout the early stages, with the three separated by less than a second after the first 150m.
Britain's 19-year old swimmer just kept getting stronger and stronger however and took control in the second half of the race, powering home in a time of 5:27:97.
On her victory Summers-Newton said: "I definitely wanted to try to stay up with the girls for as long as I can and then see where I could go.
"I haven't really trained the 400m Free so I'm happy to come away with the gold and a fast heat to final, which is all I can ask for."
It's the Paralympic Champions second gold of the competition after her victory in the 200m Individual Medley SM6 event on day three.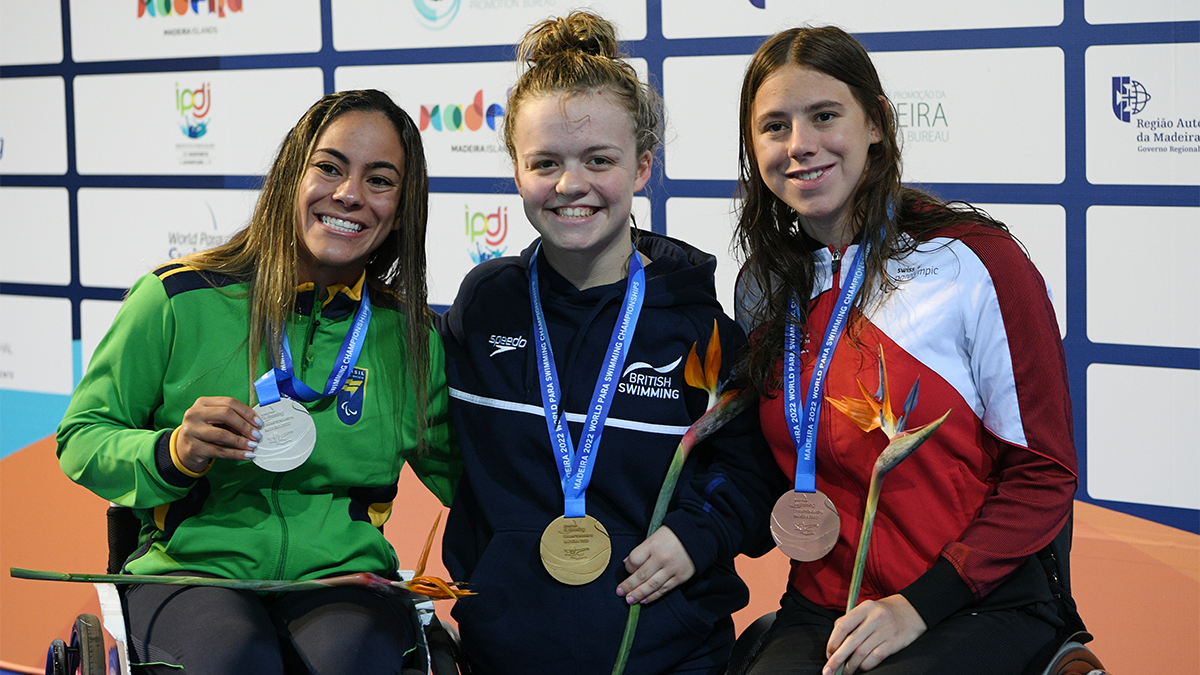 Tai back with a bang
Reigning world champion Alice Tai announced her return to the pool in style to take silver in the Women's 100m Freestyle S8 final.
Tai is competing in her first major competition since undergoing surgery to have the lower part of her right leg amputated in January and has impressed in her comeback.
The world record holder started well and was second after the first 50m behind Brazilian Cecilia Jeronimo de Araujo but ahead of the eventual winner Xenia Francesca Palazzo of Italy.
The trio then dashed for the line in a thrilling finish but Tai just lost out in the race to the wall finishing just 0.23 off Palazzo in a time of 1:07:16.
Tai was in tears at the end of the race and explained how happy she was to be back in the pool.
She said: "I've never been on the brink of tears before following a medal but this one means a lot. It's so nice to be back racing and seeing everyone, I'm so happy with that."
"I messed up my turn, which I also did in the heats, so I still need to figure out my race pace stroke count into the wall.
"Someone mentioned to me today that it's not even been a year since I pulled out of Tokyo, so in that time I've had three surgeries and the amputation.
"I'm really proud of myself, I can't wait to get back into training and have never been happier with a silver."
A Silver Challis
Ellie Challis took silver in the Women's 50m Backstroke S3 after a close fought final with America's Leanne Smith.
Challis and Smith asserted themselves well clear of the rest of the field right from the off with the pair the only two swimmers to finish in under a minute.
The British record holder battled hard with her impressive stroke rate but Smith was just too strong in the end, pulling clear in the final metres to take gold in a time of 55:08.
Challis took second with a time of 57:03, over five seconds clear of third place Maiara Regina Pereira Barreto from Brazil (1:02:98).
"I'm very pleased with that, I would have liked a faster time definitely but I've got such a packed racing schedule I can't expect PB's every race. This is like my fourth or fifth event and I've still got two more to go so it been very tiring." said Challis
"I tried to stay with Smith as much as possible but she pulled away a bit at the end – it was a really good race for me, I enjoyed it and racing her is fun."
It was Challis' second medal of the competition after beating her own world record in the Women's 50m Breastroke SB2 final on day one.
Humphrey twins just miss out on medals
Twin sisters Scarlett and Eliza Humphrey both just missed out on a bronze medal in the 200m Individual Medley SM11 final.
The 17-year olds from Northampton Swimming Club are both making their World Championships debut in Madeira and Scarlett was just over a second off Mexican Matilde Estefania Alcazar Figueroa who took the bronze.
Scarlett finished fourth with a time of 3:10.16 with Eliza in fifth spot, just over two seconds behind, finishing in 3:12:44.
Fourth for Shaw
Toni Shaw was an agonizing 0:12 off a medal in the Women's 100m Freestyle S9.
In an incredibly tight final Shaw swam well but despite being less than half a second off the eventual winner Mariana Ribeiro (Brazil) she missed out on a medal.
The 18-year old swimmer from the University of Stirling finished with a time of 1:03:52 and would've claimed a medal if it wasn't for an impressive comeback swim from Australia's Emily Beecroft.
Beecroft took silver despite being fifth at the 50m point, finishing in 1:03:35 with Spain's Sarai Gascon in third with a time of 1:03:40.