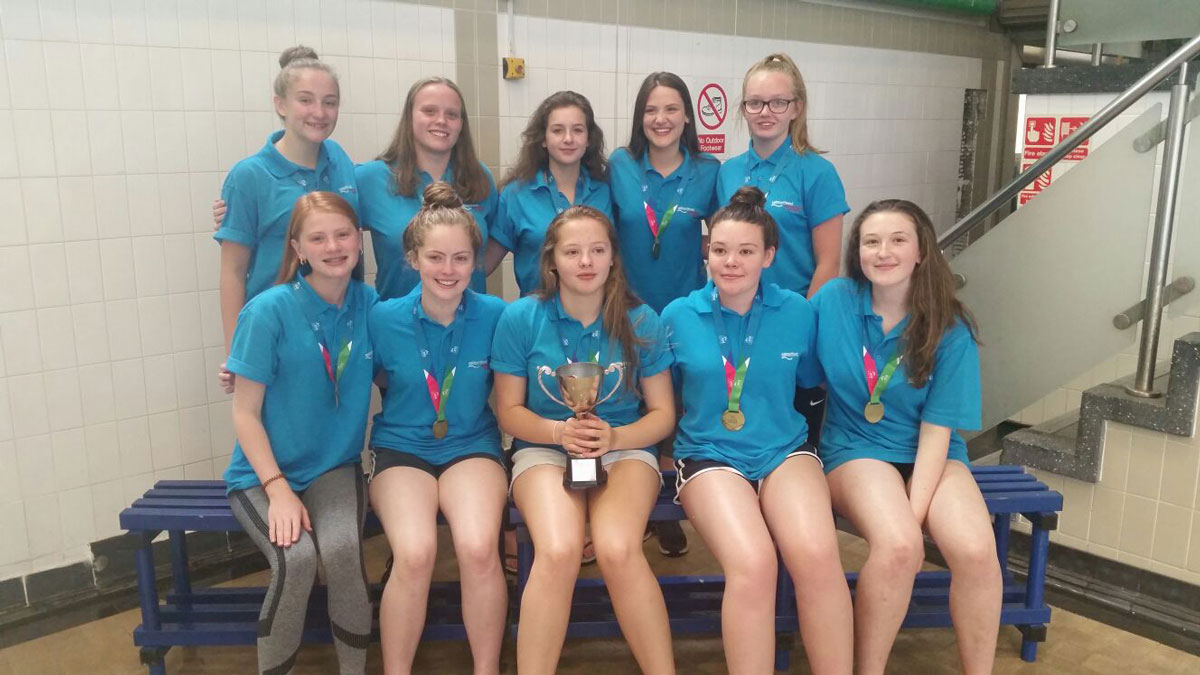 North West Thunder storm to U16 Inter Regional title
July 13, 2017
North West Thunder stormed their way to the Girls' U16 Inter Regional title at Walsall Gala Baths.
The Thunder won all four of their matches across the two-day event to lift the Perpetual Challenge Trophy.
Commanding victories over the Midlands (18-6) and Wales (19-5) on the opening day were followed by another win over East Angels (16-9).
A winner-takes-all match against London awaited, with both sides carrying perfect records into the match.
North West had the upper hand throughout the tie, leading 4-2 at the first interval and 9-3 at half time.
London closed the gap to just four goals in the third period, trailing 11-7.
But four goals in the fourth quarter from Kelsy Evans – taking her tally in the match to eight – saw the Thunder keep their noses in front, emerging 15-13 winners.
Thunder's Lucy Mills was voted their MVP, scoring 20 goals over their four matches to finish second in the hot shots leaderboard, just one behind London's Erin Andrew.
North West Thunder head coach Alice Byrne said: "I was really pleased with the girls' performance at the weekend.
"The girls have had a lot of support from the NW Water Polo Group who have put a development plan in place across the region.
"The benefits of this were evident in the consistent performance the team showed in all four matches at the weekend.
"I was very impressed with the cool focus and determination all the girls showed in executing our game plan even when faced with some strong opposition, particularly against a tough London side."
South West win Division Two title
South West earned promotion to Division One as they clinched the Division Two title with five wins from five.
The competition came down to the wire at Liverpool Aquatics Centre with Ireland – whose boys won Division Two of U16 Inter Regionals a week earlier – also unbeaten through their opening four matches with three wins and a draw.
A hard-fought match saw Ireland recover from 3-0 down to tie the match 3-3 at half time.
A goalless third quarter was followed by a nervy fourth in which South West's Amy Berry scored the only other goal of the game, securing a 4-3 win.
Results and Group Tables
Click or tap on 'PDF' to download a match sheet for each fixture.
Division 1
Midlands
4 – 14
London
PDF
Wales
9 – 13
East Angels
PDF
Midlands
6 – 18
North West Thunder
PDF
London
14 – 2
East Angels
PDF
Wales
5 – 19
North West Thunder
PDF
Wales
10 – 11
London
PDF
North West Thunder
16 – 9
East Angels
PDF
Midlands
10 – 10
Wales
PDF
North West Thunder
15 – 13
London
PDF
Midlands
12 – 18
East Angels
PDF
Division 2
North West Lightning
1 – 9
Ireland
PDF
Scotland
5 – 10
North East Steelers
PDF
South East
3 – 9
South West
PDF
Scotland
5 – 3
North West Lightning
PDF
South East
3 – 13
Ireland
PDF
North East Steelers
4 – 7
South West
PDF
Scotland
3 – 13
Ireland
PDF
North West Lightning
0 – 7
South West
PDF
South East
1 – 8
North East Steelers
PDF
Scotland
4 – 17
South West
PDF
South East
3 – 2
North West Lightning
PDF
Ireland
5 – 5
North East Steelers
PDF
South East
4 – 6
Scotland
PDF
North West Lightning
1 – 8
North East Steelers
PDF
Ireland
3 – 4
South West
PDF
Division 1

Team
P
W
D
L
GD
Pts
North West Thunder
4
4
0
0
35
8
London
4
3
0
1
21
6
East Angels
4
2
0
2
-9
4
Wales
4
0
1
3
-9
1
Midlands
4
0
1
3
-28
1
Division 2

Team
P
W
D
L
GD
Pts
South West
5
5
0
0
40
10
Ireland
5
3
1
1
27
7
North East
5
3
1
1
16
7
Scotland
5
2
0
3
-24
4
South East
5
1
0
4
-34
2
North West Lightning
5
0
0
5
-25
0