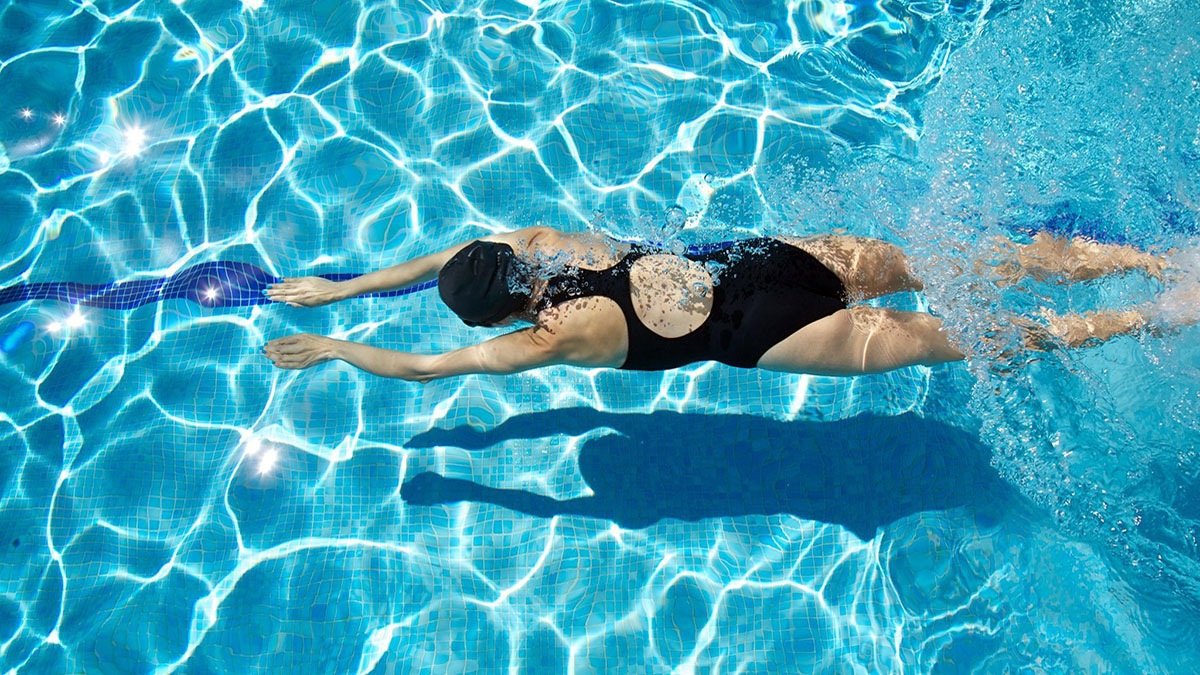 Please don't close pools as swimming helps me escape from my 'living hell of 24/7 pain'
04/11/2020
Swimming is not just a sport loved across the world, it is also a vital tool for millions to help fight chronic pain. As pools prepare to close for month in a second national lockdown, Claire explains the huge implications it will have on her life.
For Claire, being in a swimming pool is her way of escaping a 'living hell of 24/7 pain'.
The 47-year-old has suffered from chronic lower back pain and sciatica for around eight years after being an innocent party in a road traffic collision.
A wide-range of prescribed pain killers help ease the pain… but they are not as effective as being in the water.
Now Claire is questioning why the Government has not considered the 'hidden disability' of chronic pain when taking the decision to shut pools.
She said: "As a chronic pain sufferer, I am unable to do any other form of exercise. Even walking a distance can cause intense sciatic pain flare-ups.
"Before the accident, I partook in yoga, pilates, horse riding, hiking and cycled 70 miles a week. I was fit, healthy and an ideal weight.
"I'm now overweight, unfit and at possible risk of complications from Covid-19.
"Before lockdown I would swim regularly as part of my pain management programme.
Extremely disappointed
"During lockdown, I tried cycling again but had to stop as this caused a major pain and sciatica flare up that took weeks to dissipate.
"Without access to my pain management routine of regular swimming, massage and acupuncture, I found it extremely difficult to manage my pain.
"I also had to drop out of sewing scrubs for the NHS as the pain became unbearable and uncontrollable.
"I swam regularly before lockdown. I was extremely disappointed when my local leisure centres did not reopen after the first lockdown ended.
"I was lucky enough to be able to join an amateur adult lane swimming club at a swimming pool run by a trust – they were limiting the number of new memberships and I was lucky to become a member.
"Later on, I joined the adult swimming lessons to help me to improve my swimming technique through professional tutoring and to ensure I would not be causing further damage to my spine or aggravation of my sciatic nerves.
"I found resuming swimming helped my pain management and lifted my spirits.
"But I was then distressed to hear that the swimming pool was to close due to the Liverpool City Region Tier 3 restrictions and I found myself without the one activity that helps me to manage my chronic lower back pain, sciatica and helps with my mental health.
"We were lucky enough to gain a reversal of the closure of swimming pools, leisure centres and gyms.
"But yet again I have been feeling very depressed and upset since the latest announcement of the national lockdown announcement and subsequent closure of swimming pools.
Totally discriminatory
"This is going to have a detrimental effect on my chronic pain management, fitness levels and mental health.
"Why has the Government not considered people with the hidden disability of chronic pain when deciding upon the closure of swimming pools?
"Why is it that people with disabilities like chronic pain are being denied access to swimming pools and the only activity that helps them with their pain management, mobility, fitness & mental health?
"I find this decision totally discriminatory.
"People who suffer chronic pain are stuck in a living hell of pain 24/7."
Swimming not only helped Claire with managing her chronic pain, it also had a huge impact on her mental health.
She acts as a carer for her mum who has type one diabetes and also suffers from neuropathy and has mobility issues.
"My swimming time was not only part of my pain management," said Claire, "but also for my mental health giving respite from caring for my mum.
"The continuing closure of gyms, leisure centres and swimming pools is going to have a detrimental effect on many people's mental health.
"Perhaps the people making these decisions need to think about a much wider range of people who live within the UK in order to not discriminate against them?
Living nightmare
"We face the decimation of swimming pool facilities and people being pushed into mental breakdown.
"There needs to be more humanity and consideration."
Claire has backed the #OpenOurPools campaign by writing to her MP and highlighted the importance of allowing people to exercise for not only physical but mental health reasons.
She added: "Swimming is an important part of my pain management that enables me to earn a living as I cannot claim benefits and I can only work part-time.
"This is not just for me – it's everyone else who swims due to chronic pain conditions.
"There are many of us who suffer from this living nightmare."
Swim England chief executive Jane Nickerson said the Government should be taking into account cases like Claire's before shutting facilities.
She added: "It's heart-breaking to hear Claire's story and this is one of the main reasons why pools should be classed as essential services.
"Swimming is a sport that is loved by millions of people but it's also a lifeline to so many like Claire.
"It's the reason why we keep fighting and urging for the Government to change its mind and allow Covid-secure pools to operate throughout the national lockdown."