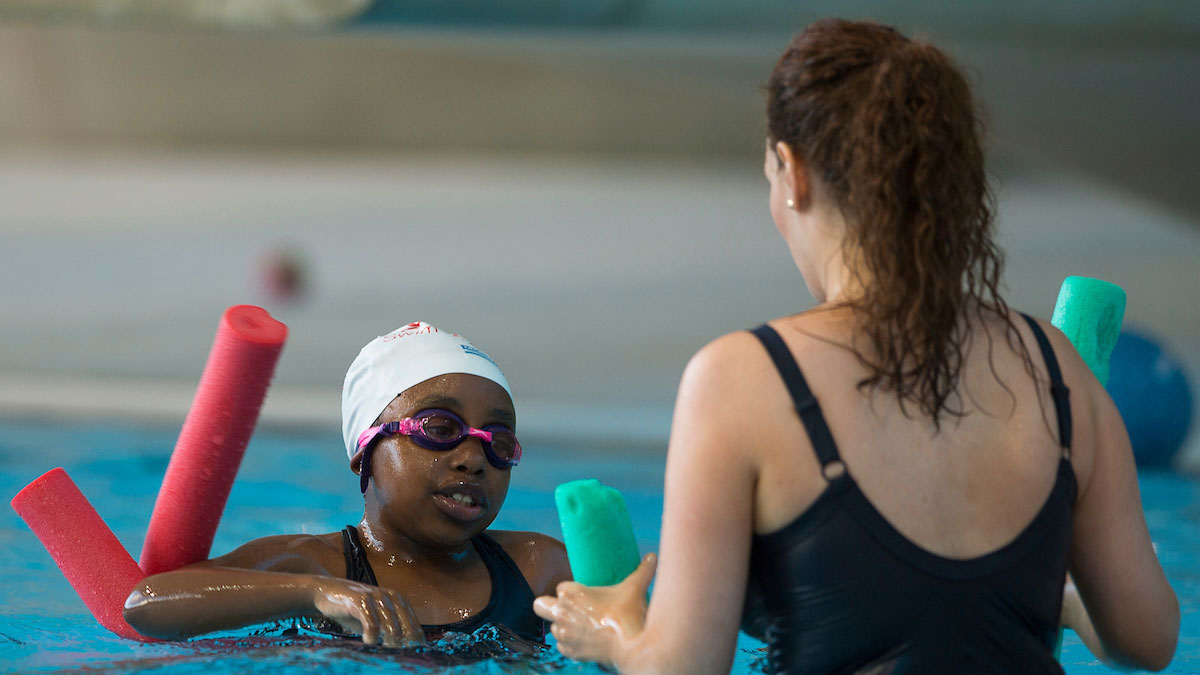 Learn to Swim
4 November 2019
Learning to swim is a life skill that opens many varied doors throughout one's life.
Swimming is not only a great way to keep fit, but it is also a requirement for various professions (such as the emergency services).
Swimming can make a whole range of sports accessible, such as surfing, kayaking or water polo.
Learning to swim is also a preventative measure towards accidental drowning. Drowning is the third most common cause of accidental death in children in the UK.
However, if we can teach children the skills that will ensure their safety in and around water, we can greatly reduce the likelihood of these accidents.
Swim England has a Programme for Teaching Swimming which is a template for learn to swim schemes. The Programme aims to provide a degree of consistency throughout the country with regard to what we expect swimmers to do and how we expect them to do it.
The Programme sets out levels of development based on clearly identified qualitative outcomes for each level. The Programme also has been extended to include Diving, Water Polo and Synchronised Swimming.
Find your nearest private lessons on Poolfinder
Type your post code in below and hit search to find your nearest pool in the London region.

How to select a Learn to Swim scheme
There are several things that you should look out for when selecting a learn to swim scheme for children and adults alike.
Full details of the Programme can be found on Swim England's Learn to Swim Companion.
Swimming teachers should all have up to date qualifications, DBS checks and RLSS qualifications.
A guide for parents
Children can benefit enormously from learning to swim and being confident in and around water. Encouraging children to participate in swimming at a young age (the recommended age is as young as six months) greatly increases the likelihood that they will become an active adult, so start them young! And its great for parents to lead by example – get in the swimming pool with them!
Try to arrive relaxed and positive, especially if the experience of swimming lessons is new. Your child will feel calm and secure and lessons will be more successful. Remember that young children especially tend to gauge their reaction from you so keep your attitude positive and encouraging.
Bath time can be the dress rehearsal at home so your child is used to swimwear and goggles. Bath time is a great opportunity for babies to become familiar with the water environment, preparing them for future aquatic activities.
Arrive early so you and your child can become acquainted with the surroundings and will not be flustered or rushed.
Be sure to have your child go to the bathroom before their swimming lesson. Babies & toddlers should wear a swim nappy as it is much more hygienic.
Goggles are a vital teaching aid at various stages of the learning process. They allow the child good vision and comfort underwater. It is great for children to have their own pair.
The wearing of bathing caps is strongly recommended to keep hair out of the eyes and mouth and allow goggles to slip on more easily. They also help enormously with filtration and therefore pool cleanliness. In some instances, they are compulsory to wear.
It's great to encourage your child, but try to leave the teaching and discipline to the swimming teacher.
For safety and respect for other patrons, ensure your child walks and doesn't run in the centre.
Be considerate of others, for example, if children are having a shower, make it brief so that other users are not inconvenienced.
Adult beginners
It is never too late to learn how to swim! While it is not a skill that can be taught overnight, the rewards that come from being able to swim far outweigh the time and effort that may be required.
Seaside holidays, sailing and snorkelling, and other professions are just some of the opportunities that can become possible. People can reach their adult life without being able to swim for many reasons.
Commonly, however, fear is listed as the main reason. Though learning to swim need not be a fearful adventure. Most adult beginner lessons take place in a shallow pool (anywhere between 0.9m and 1.2m in depth) with a low teacher to student ratio.
Here are some tips to help you get started.
Be sure to have everything you'll need for your swimming lesson. A towel, swimming cap, goggles and most importantly, a comfortable, secure swimsuit (refer to our Guide to Swimming for an idea on what you can wear swimming)
Understand that the rate of your progression will depend largely on your level of commitment. It is best to enrol in a course of lessons, which should run for 8 to 12 weeks. If you are able to get to the pool to practice in between lessons your progression will be much quicker.
You WILL be able to float!! Our bodies are made up of 70% water and have a very similar density to water that means that there is a upward force helping you to float.
Don't give up and best of luck!