Management Board
11 October 2019
The Swim England London Management Board is elected every year at the Annual Council Meeting.
The board meet eight times a year to discuss strategy and direction for the region.
You can view minutes from recent Management Board meetings as well as a calendar of upcoming meetings on our governance page.
Meet the Swim England London Region Management Board
Alex Harrison
Title : Member / Chair
Interest : Finance / Diving
Stands Down : 2024
Alex Harrison (Dive London Aquatics Club) has been involved in diving since he was 7 years old, firstly as a diver (diving up to National Age Groups) and then as a coach, official and volunteer. Alex coaches for his Club for a number of years and began to judge, referee, announce and record at a variety of competitions, including up to National Age Groups, and for two years was placed on the FINA Diving Official's List. As a young person involved in sport volunteering, Alex has a passion for increasing and encouraging the pathways for young people to continue their aquatic journey through volunteering and took up a place as Chair of the ASA National Youth Forum for three years. Alex has been a regional delegate to ASA Council and Regional Board member for a number of years, and spent 2 years as the Region's Finance & Administration Chairman. Professionally, Alex works as a senior manager in the leisure industry.
John Handley
Title : Member / President
Interest : Swimming
Stands Down : March 2023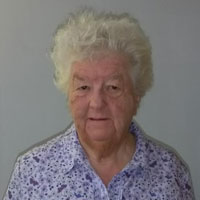 Flo Barnes
Title : Member / Vice President
Interest : Swimming
Stands Down : March 2023
Stewart Nicklin
Title : Vice Chair (Finance)/Member
Interest : Para Swimming
Stands Down : 2024
Ralph Shortland
Title : Member
Interest : Swimming
Stands Down : 2024
Ralph Shortland (Ealing S.C.), like many others, became involved in the world of swimming when his children started swimming lessons. Some 30+ years on and he is still actively involved in swimming management, officiating and tutoring of officials. He has served in various club officer roles and is currently a Trustee for Ealing SC, a member of Middlesex County Executive, having been County President on two occasions. He is an experienced official at Club, County, Regional and National events and is a Referee. Following his retirement from the Police Service he became a Health & Safety consultant and is the London Region representative on the ASA Health & Safety Forum. Ralph was the Regional President for 2016/2017.
Diane Gamble
Title : Member
Interest : Swimming
Stands Down : 2024
Diane started in swimming, initially as an Age Group swimmer, fleetingly as a Masters swimmer and latterly as an official for almost 50 years.
She has been an active official within Croydon, Surrey and London for the past 15 years. Diane first became an official in her home County of Derbyshire in 1977, returning to timekeeping and then on to being a Judge, when her children became swimmers with Croydon Amphibians SC. She became a Referee in 2005 and joined the London Region Officials list after Regionalisation. Diane has been involved in training officials within Surrey (London) since 2007, and is an active official for Croydon, London and Surrey Schools and also organises officials for the annual Bath Cup for Independent Senior Schools. Diane was the President of London Swimming 2017-2018.
Jackie Bedford
Title : Vice Chair (Clubs) / Member
Interest : Schools Swimming
Stands Down : 2023
Jackie Bedford (Beckenham & Dulwich Dolphins) has been involved in swimming since qualifying as a swimming teacher in 1989 and her children joining Beckenham Swimming Club. Like a lot of parents who are unable to sit still for long, she soon got involved helping the club and then became an official. She is a referee and has officiated at national events.
She has been on the Beckenham committee (past president) & Kent County (past president). Currently serving on the committee of Dulwich Dolphins (President), London Schools Swimming Association, English Schools Swimming Association (Past President & Treasurer).
Jackie has also used her swimming experience to become involved in Modern Pentathlon and had the privilege to officiate at London 2012 Olympics and other international events.
She has now retired from teaching swimming at a top South London school and is still involved with schools helping with the running of their events. In between swimming competitions she travels the world with her husband.
Michael Laniyan
Title : Member
Interest : Swimming
Stands Down : 2025
Richard Whitehead
Title : Member
Interest : Open Water
Stands Down : 2023
I have been involved with swimming for over 20 years. Like many people I started as a parent and soon became involved in running the club. I also qualified as an official, which I have continued and am now both a qualified swimming and open water referee. I regularly officate at all levels. In 2000 I became Essex County ASA Secretary, which I held until 2005. I was instrumental in the set up of London Region in the period 2003 to 2005 and have been a Board member and held the post of Finance Officer since the inception of the Region(2005) until September 2017.I was Regional President in 2009. I was the Swim England President for 2018/2019.
Josh Devine
Title : Member
Interest : Diving
Stands Down : 2025
Angela Eguakhide
Title : Member
Interest : Swimming
Stands Down : 2025
Alan Thurlow
Title : Member
Interest : Swimming
Stands Down : 2023