Management Board
11 October 2019
The Swim England London Management Board is elected every year at the Annual Council Meeting.
The board meet eight times a year to discuss strategy and direction for the region.
You can view minutes from recent Management Board meetings as well as a calendar of upcoming meetings on our governance page.
Meet the Swim England London Region Management Board
Alex Harrison
Title : Member / Chair
Interest : Finance / Diving
Stands Down : 2024
Alex Harrison (Dive London Aquatics Club) has been involved in diving since he was 7 years old, firstly as a diver (diving up to National Age Groups) and then as a coach, official and volunteer. Alex coaches for his Club for a number of years and began to judge, referee, announce and record at a variety of competitions, including up to National Age Groups, and for two years was placed on the FINA Diving Official's List. As a young person involved in sport volunteering, Alex has a passion for increasing and encouraging the pathways for young people to continue their aquatic journey through volunteering and took up a place as Chair of the ASA National Youth Forum for three years. Alex has been a regional delegate to ASA Council and Regional Board member for a number of years, and spent 2 years as the Region's Finance & Administration Chairman. Professionally, Alex works as a senior manager in the leisure industry.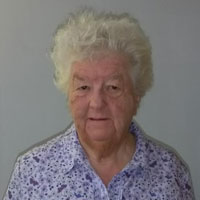 Flo Barnes
Title : Member / President
Interest : Swimming
Stands Down : March 2024
John Mills
Title : Member / Vice President
Interest : Swimming
Stands Down : March 2024
Stewart Nicklin
Title : Vice Chair (Finance)/Member
Interest : Para Swimming
Stands Down : 2024
Stewart Nicklin (London Disability SC) is a highly motivated and dedicated member of a variety of Swimming clubs and Associations across the country and in London. He had the honour of being head coach of two clubs, chairman of Worcester County Swimming Committee, leading the Worcester County development committee and Chair of Worcester County competitions committee; member of West Midlands Region Swimming Committee; the national events officer and past President of English Schools' Swimming Association . He is also the London Disability and Para Chair. In addition, in 2008 he won the Swim England Aquaforce volunteer of the Year award for services to swimming. Stewart has been a Swim England London Management Board Member since 2018 and with the support of others has been able to raise the profile of Disability and Para swimming across the region by introducing start para swimming clubs supporting the pathway of the athletes.
Ralph Shortland
Title : Member
Interest : Swimming
Stands Down : 2024
Ralph Shortland (Ealing S.C.), like many others, became involved in the world of swimming when his children started swimming lessons. Some 30+ years on and he is still actively involved in swimming management, officiating and tutoring of officials. He has served in various club officer roles and is currently a Trustee for Ealing SC, a member of Middlesex County Executive, having been County President on two occasions. He is an experienced official at Club, County, Regional and National events and is a Referee. Following his retirement from the Police Service he became a Health & Safety consultant and is the London Region representative on the ASA Health & Safety Forum. Ralph was the Regional President for 2016/2017.
Diane Gamble
Title : Member
Interest : Swimming
Stands Down : 2024
Diane started in swimming, initially as an Age Group swimmer, fleetingly as a Masters swimmer and latterly as an official for almost 50 years.
She has been an active official within Croydon, Surrey and London for the past 15 years. Diane first became an official in her home County of Derbyshire in 1977, returning to timekeeping and then on to being a Judge, when her children became swimmers with Croydon Amphibians SC. She became a Referee in 2005 and joined the London Region Officials list after Regionalisation. Diane has been involved in training officials within Surrey (London) since 2007, and is an active official for Croydon, London and Surrey Schools and also organises officials for the annual Bath Cup for Independent Senior Schools. Diane was the President of London Swimming 2017-2018.
Jackie Bedford
Title : Vice Chair (Clubs) / Member
Interest : Schools Swimming
Stands Down : 2025
Jackie Bedford (Beckenham & Dulwich Dolphins) has been involved in swimming since qualifying as a swimming teacher in 1989 and her children joining Beckenham Swimming Club. Like a lot of parents who are unable to sit still for long, she soon got involved helping the club and then became an official. She is a referee and has officiated at national events.
She has been on the Beckenham committee (past president) & Kent County (past president). Currently serving on the committee of Dulwich Dolphins (President), London Schools Swimming Association, English Schools Swimming Association (Past President & Treasurer).
Jackie has also used her swimming experience to become involved in Modern Pentathlon and had the privilege to officiate at London 2012 Olympics and other international events.
She has now retired from teaching swimming at a top South London school and is still involved with schools helping with the running of their events. In between swimming competitions she travels the world with her husband.
Michael Laniyan
Title : Member
Interest : Swimming
Stands Down : 2025
Michael Laniyan (Newham & UEL SC) has been involved with Newham & UEL Swimming club since 2015 and was elected as the chairman of the club in 2016. He is also an active member of the Swim England Essex executive committee. In his role as the chairman of NUEL he regularly attends various meetings throughout the month an example being the LAC stakeholders meeting which comprises members of Swim England, Sports England, Swim England London, LLDC, GLL & NUEL which helps in the promotion of the Olympics legacy development in the Aquatic pool in Stratford where we mainly swim. He is also a foundation Governor of his local Catholic school where he has been the Chair of Governors for the past 7 years and a member of the curriculum, finance and admissions committee. In his professional life he is an accountant with over 30 years commercial experience in both financial and management accounting.
John Handley
Title : Member
Interest : Swimming
Stands Down : 2026
John Handley (Beckenham SC) has I have been President of Swim England London Region since the start of 2022 until the 1st of April 2023 when his term ended. Both during his term, and during the preceding year as Vice President of the Region, he attended the Region's Board Meetings ex officio and have therefore gained a considerable insight into the challenges and workings of the Region. At County level John has worked on improving Mental Health Support for Coaches in the County and Club volunteers and would like to see how this can be extended at a Regional level. John has been a qualified solicitor since 1981, practicing as a commercial property lawyer with large Central London firms for over 25 years. He also has experience in the events industry, managing conference facilities for some 10 years.
Ruth Girardet
Title : Member
Interest : Diving
Stands Down : 2026
Ruth Girardet (Dive London Aquatics Club) is an experienced non-executive Director, currently on the Board of the University of Edinburgh and previously of the Open University. Her expertise is around reputation management, diversity and sustainability, drawing on my previous roles both at Tesco, and as the CEO of a Hackney-based Youth Criminal Justice Charity, as well as her experience of running leadership seminars across a wide range of audiences. Ruth has experience of participating in and chairing board-level committees and have knowledge of the relevant governance structures. Her background as Group Corporate Responsibility and Stakeholder Engagement for Tesco Plc means she knows what it means to manage a large team and significant international programmes encompassing community engagement, sustainability and climate change. Ruth also ran the Tesco Foundation, so has considerable knowledge of corporate giving as well as grant-making, and have more recently been working with a number of different London-based charity CEOs on strategy development, HR and talent support, fundraising and wider reputation management. Ruth has been involved in aquatic sports in London as a parent for over a decade.
Angela Eguakhide
Title : Member
Interest : Swimming
Stands Down : 2025
Angela Eguakhide (Romford Town SC) has been associated with Romford Town Swimming Club. She has been the Swim England Essex County Secretary since December 2020 and manages their officials at the County Championships. Angela joined the London Board in September 2020 and has actively supported the region in her role as a board member and an active member of the London Swimming committee. She regularly officiates at meets of various levels. Angela is a foundation governor at my local primary school where she is currently the Vice -Chair of Governors as well as the Chair of the Finance committee. Angela is a safety professional with over 21 years' experience in the rail industry and has proven her ability to deliver efficient solutions at strategic level. Most of her work has involved stakeholder management which means building effective relationships with key stakeholder (external governing bodies and internal department), chairing and participating in various committees, leadership and mentoring of graduate engineers.
Alan Thurlow
Title : Member
Interest : Swimming
Stands Down : 2026
Alan Thurlow (Wandsworth SC), recently retired but continue to maintain his qualification as a Chartered Accountant. He has been involved with swimming since his daughter joined Wandsworth Swimming Club in 1999. In 2002 he became a technical swimming official, progressing to Referee in 2007. He was a member of the committee in various roles from 2002 to 2022. Alan joined the Surrey County events team in 2005 and has been Meet Administrator for the Championships since 2006 and Promoter since 2012. He joined the London Events team in 2016 and has been alternating as Meet Administrator and Promoter with other members of the team since 2018. Alan became chair of the Crystal Palace Club Network in 2014 which was formed with a similar objective of bringing together the clubs that use Crystal Palace and fostering collaboration and performance improvement. Both of these endeavours are addressing the key constraint within the London Region of access to pools for lane swimming. Reducing inefficiency in the use of pool time through collaboration is one approach to resolving this issue on a local basis. Alan has officiated at national swimming events since 2009 and has volunteered for all swimming events since 2018 for both British Swimming and Swim England. In 2022 he was accepted onto the Swim England Referees Development Programme. He also volunteered as a Gamesmaker in the 2012 Olympics and ran the scoreboard in the LAC for the Paralympic competition. He was also part of the team in the Timing Suite at the LAC for the 2019 World Para Swimming Championships.