Brave Isla's achievements are honoured at national awards
10 November 2018
When Isla Howe had to have major surgery on both her legs, she believed her swimming days were over.
But the 16-year-old began competing in para-swimming in September 2017 and has won a number of gold medals at county and regional level.
Her drive and determination has seen her named the winner of the Swim England Youth Achievement Award.
Isla is now looking forward to what the future holds after ending the season strongly, both physically and mentally, in and out of the pool.
She said: "I kind of can't believe it to an extent because of how hard this year has been.
"I thought my swimming days where over when I got told I'd need major surgery on my legs but I put it on the back of my mind and pushed myself to relearn how to swim and to get used to my new limitations – that's got me to where I am today."
"The award feels quite surreal but I can't wait to carry on with this season and see what next year brings."
Adult Achievement of the Year
Nikki Hambling set herself a goal to swim 50 miles of butterfly to mark her 50th birthday – and her charitable challenge helped her to win the Swim England Adult Achievement of the Year Award.
She raised an impressive £1,246.76 for a number of charities, completing the majority of her swims at Stradbroke Swim and Fitness Centre where she was an original member of staff and swimming instructor.
Nikki, who still teaches Pilates at the centre and is 'well-known and loved by both colleagues and customers alike' said: "I have always swum butterfly and I needed an extra challenge rather than just swimming lengths.
"I based it on a coach who turned 50 and swam 50 lengths. I thought I would go one step better and swam 50 miles. I tried to do a mile a week so did it over the course of the year, with a couple of weeks off.
"I'm not fed up of the butterfly yet! I'm really pleased – I thoroughly enjoyed doing the challenge and just to be nominated was a real surprise so thank you."
Swim England Personal Achievement Award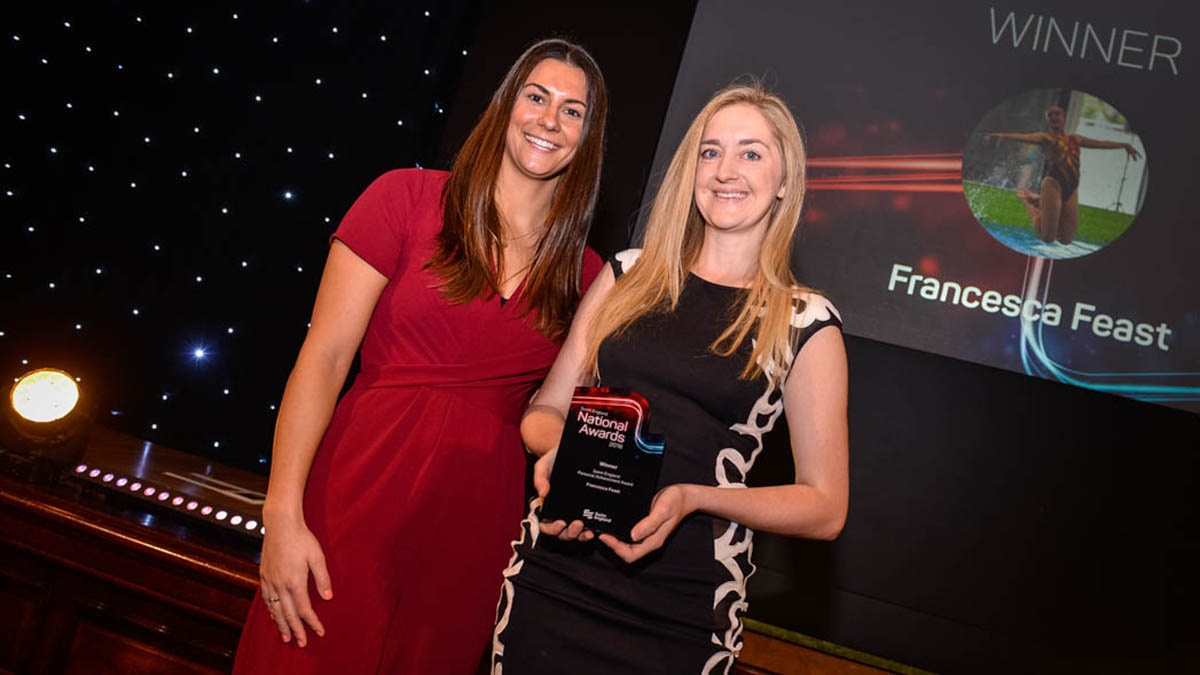 Francesca Feast was the winner of the Swim England Personal Achievement Award.
After taking the brave step of starting counselling to tackle severe anxiety and depression, Francesca realised the main thing  that made her happy was water and the smell of chlorine.
Following a 10-year hiatus from competitive swimming, she joined Rushmoor Synchronised Swimming Club's masters squad and was part of the gold medal winning team at the Swols Open in Holland and also competed in the European Masters in Slovenia.
Her love of the sport reignited, she started coaching and is now lead coach of the novice swimmers at Reading Royals Synchronised Swimming Club. And in order to improve her overall stamina and strength, Francesca started speed swimming with Reading Swimming Club, which is a new experience for her.
She is working to improve her stroke technique, through group training as well as individual sessions, and is working hard in the hope that one day she will be confident enough to compete.
Francesca said: "I'm really grateful for this award because it's just an honour that everyone has nominated me for it and taken the time to read my story."
Swim England Coach of the Year
Barry Alldrick has enjoyed a successful 12 months at Poole Swimming Club which led him to being named Swim England Coach of the Year.
He helped Jacob Peters to the Commonwealth Games, coached Team GB European Junior Championship swimmer Jasmin McCrea and has completed the Swim England Coach 2024 programme.
On a personal level, he was named as a GB coach for the European Junior Championships and has continued to  support Poole's numerous swimmers attending regional and national championships.
Barry's commitment to the club is matched by his voluntary commitment to swimming in the county and in the region and he was integral in kickstarting the new England Programmes County Pathway in Dorset.
He said: "It's an award for all of the coaches and all the volunteers who help out so much at the club
"We have such have a good range of coaches that have been there for 50 years as well as new and inspiring young volunteers and this award is for all of us."