Refugee Eid Aljazairli reveals inspiration behind his Olympic ambition
30 November 2019
Refugee Eid Aljazairli is targeting a place at the 2020 Olympic Games in Tokyo after fleeing Syria and teaching himself to swim in London only 12 months ago.
Eid was rewarded for the captivating start to his swimming career, earning the Adult Achievement Award at the Swim England National Awards 2019.
He shared his inspirational story with the aquatics community at The Great Hall at University of Birmingham.
Eid said: "I had to leave Syria because of the war and after that, they sent me to London.
"I used to live in the YMCA Hostel in London and life was really tough there, living on five pounds a day, no English, but I was learning. I had no friends, no family.
"One day I was living in the hostel and I saw a film on YouTube about Michael Phelps by mistake.
"I had never heard about him before, but while I was watching the guy, he inspired me so much.
"He touched me to the point where I want to be in the next Olympics, I want to be the new guy swimming like Michael Phelps."
As well as focusing on taking his own career to the next level, Eid is acting as an inspiration to adults learning to swim.
He added: "When I started swimming, it was something new for me. I had never been in a pool.
"It was really hard at the beginning. I couldn't deal with it, I couldn't swim more than 10 metres.
"But at the same time, when you want to do something, it's inside my heart and I just kept going for it.
"Hopefully I will be doing the 50m Freestyle in Tokyo and will be representing the Refugee team.
"It's a pleasure just to be in the water and show the whole world that when you have a dream, when you really want to do something, it's not about money, it's not about how old you are.
"Believe in yourself and go for it."
Youth Achievement Award
Tegan Smith received the Youth Achievement Award for being 'incredibly hard-working' and 'wholeheartedly dedicated and committed to synchronised swimming'.
The City of Birmingham swimmer has achieved lifetime best results in 2019 and has been lauded for her aptitude in managing her GCSE studies with her synchro commitments.
Tegan hopes to be selected for Great Britain's artistic swimming squad in the future.
She said: "I've been doing synchro since I was nine. When I was learning to swim, there was a teacher next to me who was teaching another group and she always said when I got older I should go to synchro.
"I was doing dancing, gymnastics and speed swimming at the same time and synchro is a mix of all of those, so it was a perfect match.
"At City of Birmingham, because we see each other like 10 times a week, we're all friends and it's really nice.
"The big aim would be to compete internationally. This year, I've done my coach course, my judge course, so I want to continue in that area as well as competing."
Personal Achievement Award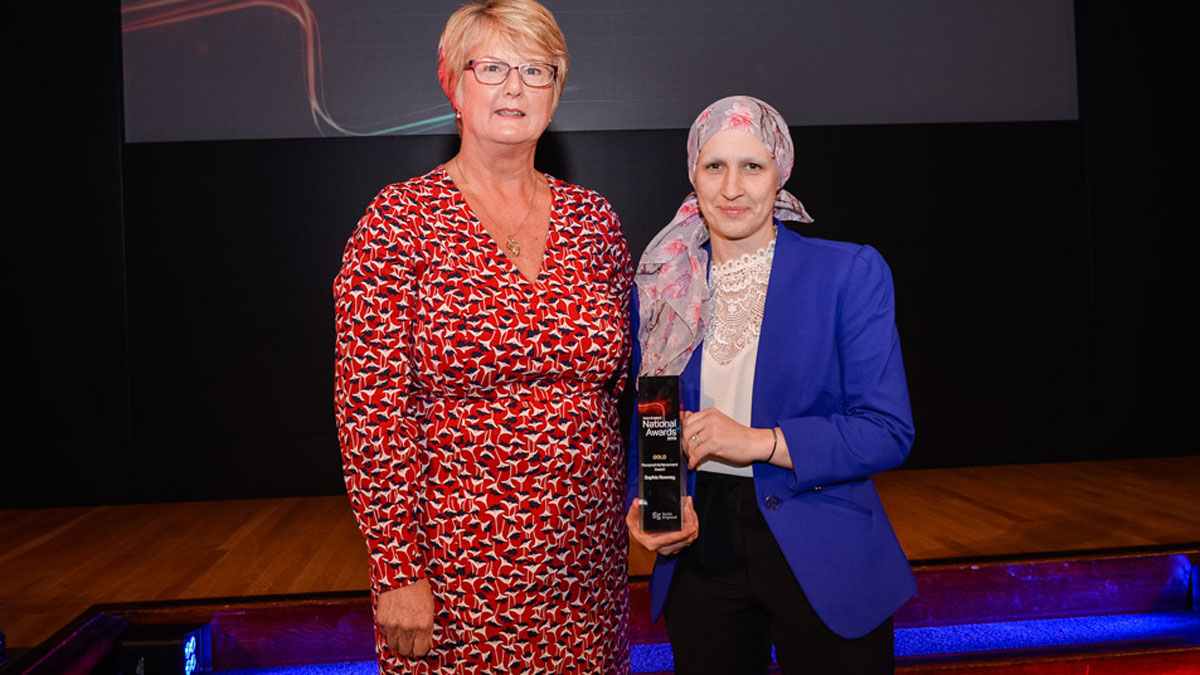 Sophie Rowney has been recognised for being a 'role model for others and an advocate for synchronised swimming', earning the Personal Achievement Award.
The Denton Synchronised Swimming Club member finds socialising, instructions, crowds and noise difficult to deal with due to her moderate autism, sensory processing disorder and anxiety.
But Sophie, 11, has impressed those at her club and in the North West region, competing at the Regional Novice Competition and the Swim England Synchro Combo Cup.
Sophie's mother, Nikki, said: "It's the discipline of the sport that suits Sophie, because it's so structured.
"Because she struggles socially, it's a social team sport, but you're very much individual when you're in the water and that's what Sophie loves.
"We nearly didn't get to Combo Cup, but we got there and it was a fantastic experience and when we eventually got down there, she absolutely loved it.
"Denton is only a small club, we have about 38 members, but it goes from the age of seven to masters.
"We've grown quite significantly in the last three months and everyone is really supportive of Sophie.
"It's an amazing, family-orientated club, so it's nice to be part of."