Electric Eels add Swim England Club of the Year title to awards haul
10 November 2018
It's certainly been a year to remember for Electric Eels – and now the club has another gong to add to its growing collection of awards.
The club is the only swimming and synchro club in the country for people with Down's Syndrome – and due to its success, there are a number of people on the waiting list for both disciplines.
Earlier this year, Electric Eels was presented with the Queen's Award for Voluntary Service and now it has been named Swim England Club of the Year.
Based at Windsor Leisure Pool, swimmers from beginners to competitive level travel from across the country to attend training sessions and events, with members competing in as many galas as possible.
The synchro section represented Great Britain at the European and World Championships for people with Down's Syndrome winning a number of medals.
Dominic Trotman, from Electric Eels, said: "We're delighted that we have won the award this year. We provide a fun, safe environment, teach kids how to swim, have a lot of fun and also development of our volunteers."
Pauline Walker, who was also awarded the British Empire Medal in the Queen's Birthday Honours, added: "We're absolutely thrilled to bits to win.
"There are so many huge swimming clubs in the country and we are really quite tiny but we feel we are quite unique."
Volunteer of the Year
For more than 30 years, Carol Coles has been the chief coach of Swinton Swimming Club.
She has supported hundreds of families over the years to help make swimming accessible for everyone, committing much of her free time to her role.
And not only does she coach but Carol also organises club social and fundraising events.
Her daughters, Ali Beckman and Stacey Cregeen, were invited onto the stage at Birmingham University's Great Hall to collect the award and they said: "We're so proud to accept this award on mum's behalf.
"She has dedicated more than 30 years to the swimming club, not just as a coach but inspiring people and getting involved with fundraising events and taking children on holidays and to activity centres. She puts her heart and soul into the swimming club and is just an inspiration to everybody."
Young Volunteer of the Year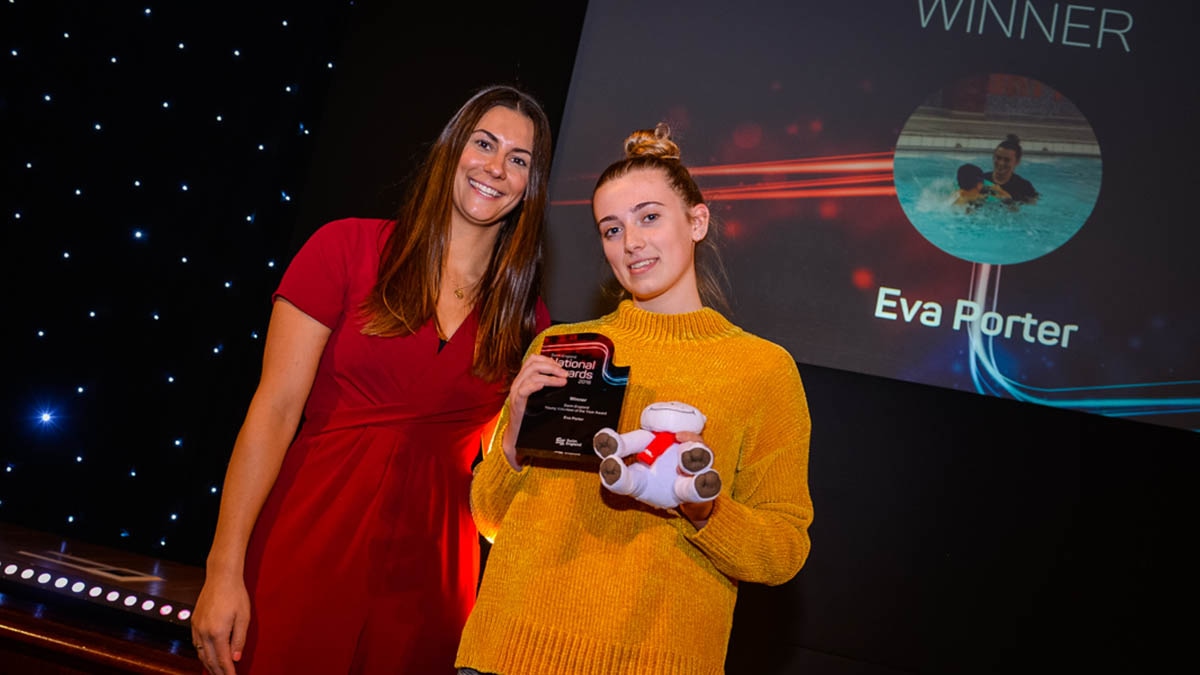 Eva Porter was named the Swim England Young Volunteer of the Year winner for her tireless and dedicated work at Farnham Swimming Club.
She joined the volunteering programme at the club with the aim to further support and contribute to the growth of the sport in the club and local community.
And in the past year alone, Eva has supported the club and the local community through a wide variety of volunteering roles, including becoming the lead volunteer coordinator for the club's academy programme (ages 4-9 years), teacher support to academy lessons, shadow support to club competitive squad coaching, shadow support to club non-competitive squad coaching, meet and competition organisation support, club administration and management and socials organisation
Eva, who often volunteers 14 hours a week, said: "I'm really happy."
Swim England Club Network of the Year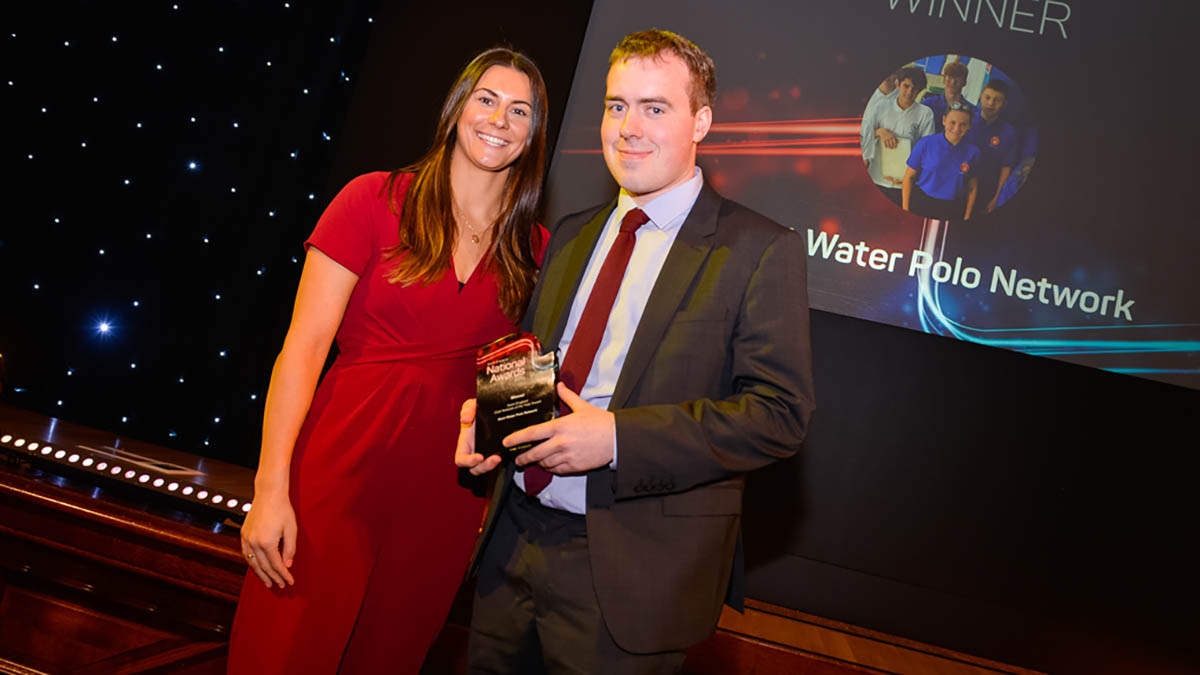 Kent Water Polo lifted the Swim England Club Network of the Year award and manager Ben McDonald admitted: "It's a great achievement."
The network is made up of six clubs – Bexley Water Polo Club, Faversham Water Polo Club, Hythe Water Polo Club, Invicta Water Polo Club, RTW Monson Water Polo Club and Sevenoaks Water Polo Club – and is responsible for developing water polo and ensuring the future of the sport in Kent.
The group came about through a combined desire to improve the grassroots of the game in the county. Many junior squads across the county were unable to field full teams and were struggling to produce county level players.
Ben McDonald, manager of the the Swim England Club Network of the Year, Kent Water Polo, said: "This is a great achievement for the network  and credit must be given to all the clubs in Kent and all the young volunteers in the whole team that have worked towards this. Thank you and well done."