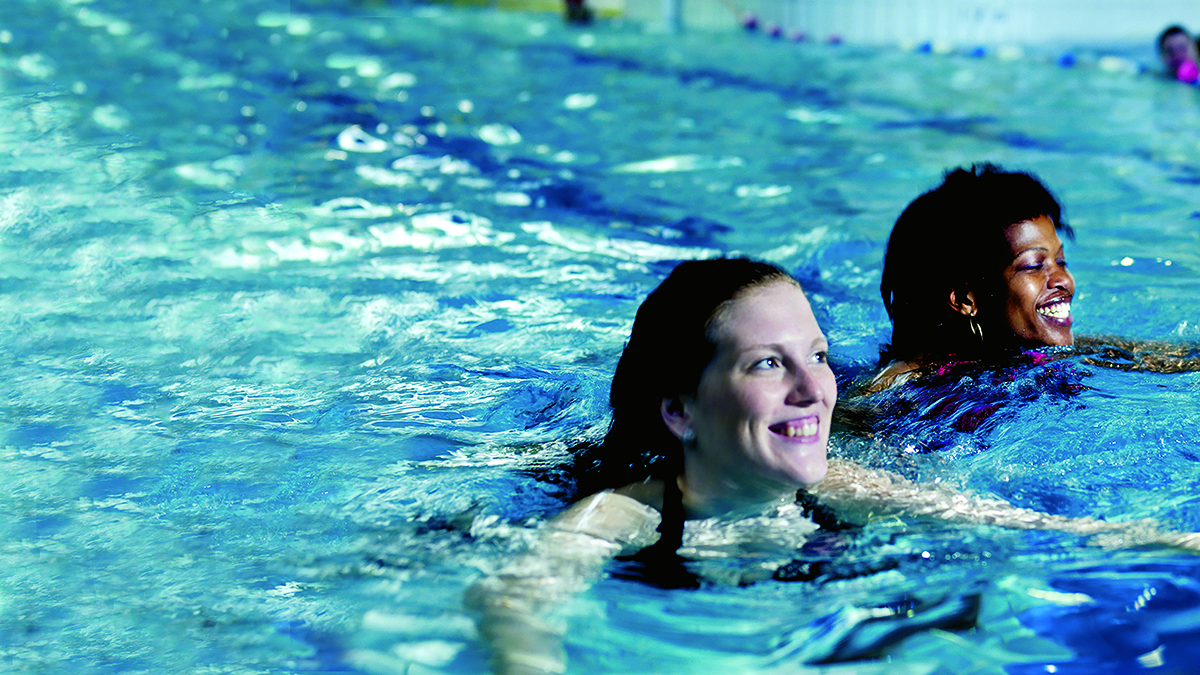 Swim England launch swimming during and after cancer treatment fact sheet
3 October 2022
Swim England have teamed up with the University of Nottingham to develop a new fact sheet explaining how people can benefit from aquatic activity during and after cancer treatment.
The information comes after figures suggest that one in two people in the UK will develop some form of cancer throughout their lifetime, with 375,000 new cancer cases in the UK every year.
However, improvements in detection and treatment mean that more individuals are surviving for longer, in fact half of people diagnosed with cancer in England and Wales will survive their disease for ten years or more.
The new fact sheet also follows the review of a range of existing versions covering conditions such as Asthma, Dementia, Diabetes, Epilepsy, Ear Infection, Glandular Fever, Mental Health, Skin Conditions, swimming before and after surgery and a fact sheet on swimming after Covid-19.
There is a version of the fact sheet written specifically for members of the public which can be downloaded from the Just Swim website and another version on the Health & Wellbeing Hub for the likes of swim teachers, coaches and healthcare professionals who may be involved in supporting or encouraging people to swim.
So far there have been over 13,000 downloads so far and more than 172,000 views by members of the public on the Swim England website.
On the development of the fact sheet, Andrew Power, Swim England's Water Wellbeing Specialist said: "Perhaps it used to be the case that resting during and after cancer treatment was thought best.
"But there is plenty of evidence to suggest that by remaining as active as possible, people living with and after cancer can manage a range of symptoms and improve both physical and mental health."
Physical and mental benefits
Dr. Dominic O'Connor, Assistant Professor Professor in Physiotherapy and Sport Rehabilitation at University of Nottingham, who was involved in developing the fact sheet, says the physical and mental benefits that swimming provides is important for people living with and after cancer.
"Swimming not only provides physical benefits such as improved fitness and strength, but can help improve mental health.
"This is particularly important as stress and anxiety are common during and after treatment, and the evidence suggests that regular exercise such as swimming may help manage this plus other symptoms such as pain and fatigue."
Dr. Fiona Moffatt, Associate Professor and Director of Postgraduate research at the University of Nottingham and a member of Swim England's Swimming and Health Commission is proud of the partnership between the University and Swim England.
"Our mission at the University of Nottingham School of Health Sciences is to change lives together. We are committed to improving the health, healthcare and wellbeing of individuals and their families.
"As such, we really value the opportunity to work collaboratively with Swim England and people with cancer to produce this guidance.
"We hope that it will be used by healthcare professionals, leisure providers, social prescribers and members of the public to support those living with cancer get into the water."
Swim England, will be continuing to develop new fact sheets for different conditions with support from the Swimming and Health Commission over the coming months, with new themes around stroke and musculoskeletal conditions such as arthritis in discussion currently.
For more information on this or other aspects of Swim England's health and wellbeing work contact: health@swimming.org