Graham Sykes
30 September 2019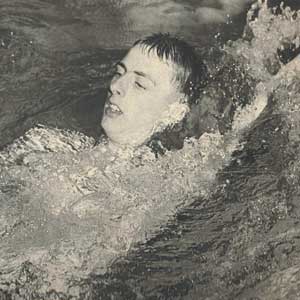 Born: 20 July 1937
Died: 26 November 2008
Graham Sykes
Graham Sykes was an elite performer in and out of the pool.
He was national champion and record holder in the 100m Backstroke for seven consecutive years between 1956 and 1963.
In 1956, he became the first Englishman to swim the 110 Yards Backstroke in less than 70 seconds (69.9) and, later that year, headed to Australia for the Melbourne Olympics, where he finished sixth in the final.
Medal success came in the 1958 British Empire and Commonwealth Games as he won a bronze as part of the medley relay team in Cardiff.
Sykes was Great Britain team captain at the 1960 Olympic Games in Rome before he picked up two medals at the 1962 British Empire and Commonwealth Games in Perth. He topped the podium in the 110 Yards Backstroke, while he earned a silver as part of the medley relay team.
Sykes retired from international swimming and set about trying to influence swimming authorities about changes he felt were necessary if swimming was to progress.
In the late 1960s, he helped Ken Martin carry out a review of the sport which led to the Martin Report that became the blueprint for swimming as we know it today.
Sykes was also a pioneer in swimming event meet management.
His expertise in computing and IT saw him revolutionise the way in which competitive swimming was organised and his software is still being used in meet management up and down the country.