Jim 'honoured' to become Swim England President in such 'a special year'
22 May 2022
The new President of Swim England Jim Wilks says he is honoured to be taking on the role in such a special year.
He was presented with the ceremonial chain by the current President Ian Mackenzie during the Prep the Pool test event at the new Sandwell Aquatics Centre.
Jim, from the North West region, will be accompanied by his wife, Norma, as he attends events up and down the country, including the forthcoming Birmingham 2022 Commonwealth Games.
Visiting the Sandwell Aquatics Centre will bring back happy memories for Jim as his grandfather was born in Smethwick, where the pool is situated.
He said: "I'm really looking forward to the fact that I have been appointed by the Swim England Board as the 2022-23 president in what is a special year.
"With the Queen's Jubilee and of course the Commonwealth Games, it's going to be absolutely amazing.
"There is quite a link with my family for this Commonwealth Games because my grandfather was born in Smethwick.
"So it's incredibly fortuitous and I'm honoured really to be President for all of the reasons of the Queen's Jubilee and the Commonwealth Games which is amazing.
Renewing old friendships
"The Commonwealth Games is one of the most prestigious events, not just in Great Britain but the world and it's absolutely fantastic to be President and part of that in such a small way."
Jim said he is also looking forward to visiting as many clubs and promoting all the aquatic disciplines during his tenure.
"Covid has been difficult for everyone," he said. "But the swimming world and the world in general is opening up.
"So I want to get out there and get to the other regions, counties and as many clubs and leagues as I can.
"I'm looking forward to renewing old friendships I have made over the years with all the other officials I have worked with on the pool deck – it's going to be good.
"I'm going to see the whole spectrum of the aquatic family and promoting the sport across all disciplines and activities."
Jim was quick to thank Ian for helping to prepare him for the role.
He added: "Some times you think what am I going to do when I put that chain on and someones ays Mr President – it's a bit daunting to say the least!
"Although I have had some experience in the regions and the counties, it's a different task. Ian has been absolutely marvellous and I do thank him.
It's been phenomenal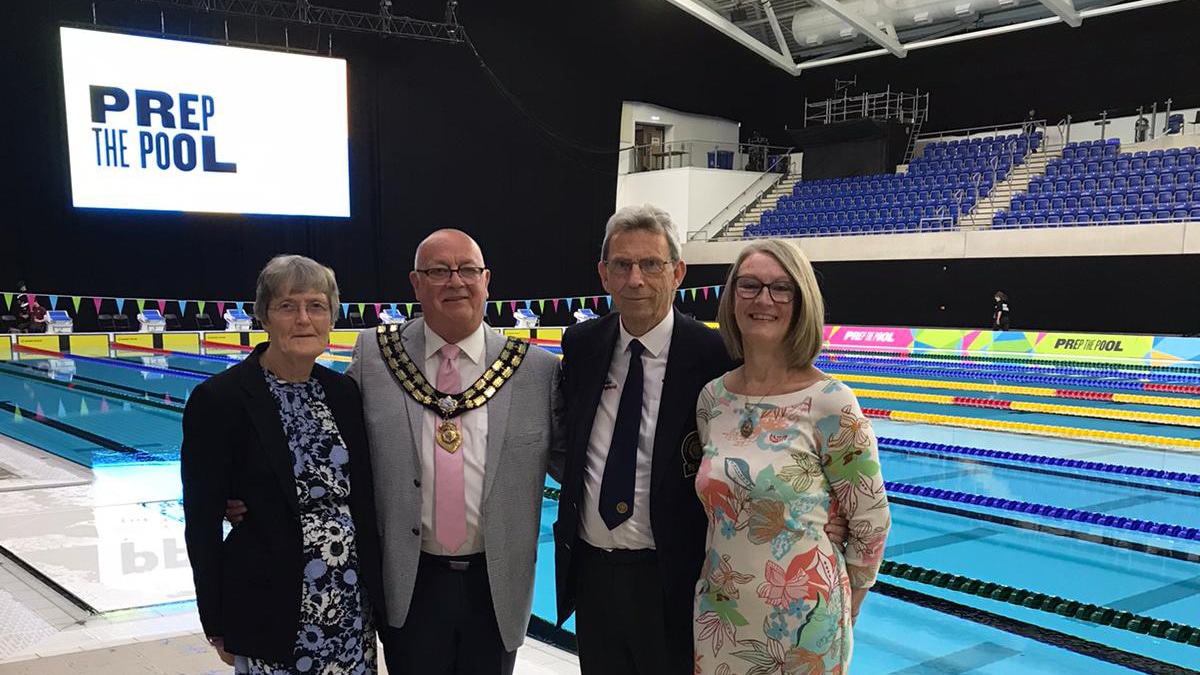 "I have leaned on him very heavily to get his advice and his tips on things to look out for and he has been great.
"Norma will be with me at a lot of the events and we're already planning the year ahead.
"There's lots of busy weekends and during the week as well but I'm hoping to get to as much as I possibly can.
"It's an honour to do it. Twelve months is a short period of time but you can get a lot in and that's what I intend to do."
Ian said his 135 weeks as Swim England President had been a phenomenal experience.
He was appointed to the role in October 2019 and was given an extended period as President as the coronavirus pandemic put a halt on him visiting clubs and events.
He has since travelled to events all over the country with his wife, Sheila, staying in their caravan when away from home – and he was quick to praise all the 'dedicated' volunteers he has worked with.
Ian, from the East region, said: "It's been really enjoyable, mot only to attend events, but also to get to the training camps of all disciplines. That's been brilliant.
"Sheila has kept a complete record of events we have attended – almost every weekend and for all disciplines. We have been to all the regions and I hate to think of how many miles we have done but that's all part of it.
"Not only have have we attended events for the elite, we have also attended grassroots events. It was important to do this – working with the Swim England membership right the way through.
"We always got there at the beginning of a session and stayed right until the end regardless of what it was. We stayed the whole day as it's all the athletes who are members, not just the people that are in the finals.
Absolutely brilliant
"Working with all the volunteers has been fantastic. The amount of hours they put in, especially during the lockdowns when a lot of staff were on furlough or made redundant, they kept the sport going and were extremely supportive of the athletes. 
"It's not just parents, it's a group of dedicated people who just keep going all the time and are totally committed to our sport. If we haven't got that commitment, the whole thing will fall over."
Ian also had one piece of advice for his successor.
He said: "To work with all the volunteers and the staff and enjoy it. 
"If you do everything that you can and want to do, you will enjoy it. It's so rewarding to see all disciplines and at all levels."
Ian is now looking forward to a holiday with Sheila but still has plenty of commitments to fulfil.
He is the current Institute of Swimming chairman and has roles on Swim England's Sport Operations Committee the leadership groups for swimming, diving and water polo as well as being a director for the East region.
"I've got plenty to keep me busy," he said. "Being Swim England President has been absolutely brilliant. Thank you to the Swim England East Region for nominating me."