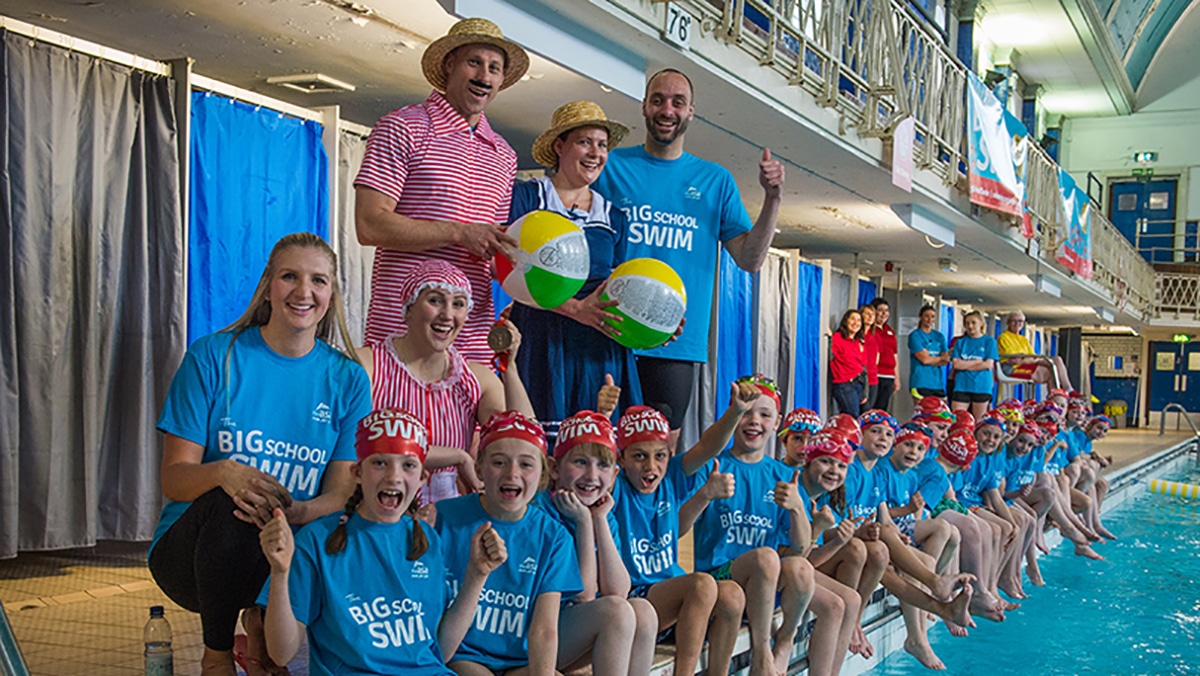 Primary schools join in with school swimming celebration
4 May 2016
Swim England News
Over 160 primary schools across the country joined in with the Big School Swim on 28 April as part of the 125 years of school swimming celebration and to raise awareness of the importance of learning to swim.
Primary schools from across the country held swimming galas, water safety sessions and fun swimming lessons throughout the day. The perfect way to join in with the school swimming celebration.
Pupils from Yarrell's School in Poole and Warwick Prep learned lifesaving skills as part of their Big School Swim events, while Shardlow Primary in Derby held a special Big School Swim assembly followed by swimming sessions for Years 2 – 6.
In Newcastle upon Tyne, Newburn Manor Primary celebrated the progress their Year 4 have made since January. The infant class at St Martin's in Chester had their second swimming lesson of the week, showing just how seriously they take learning to swim. A group of 35 children from Harbour School in Kent also held their own mini swimming gala.
Second swimming lesson of the week for our infants keen to take part in #BigSchoolSwim. Life savers! @ASAaquatics pic.twitter.com/0UuX38MxMf

— St Martin's Chester (@StMartinsChest1) April 28, 2016
Swimming teacher Kevin Clemson from Castle School in Cambridge, said: "We had a fantastic day celebrating the Big School Swim. Our Head teacher joined our swimming fun session. He really enjoyed seeing the kids swimming and the progress they are making. We also held a swimming poster competition which will be part of our Big School Swim display."
A special school swimming celebration in Bristol
A special swimming lesson was also held at Everyone Active's Bristol South Pool. Over 60 pupils from Ashton Gate Primary and Hotwells Primary were joined by Olympic heroes Rebecca Adlington, Cassie Patten, James Goddard, Craig Figes and Adele Carlsen to take part in a range of activities.
The event was hosted by Olympic bronze medallist and swimming champion Steve Parry. Pupils experienced how swimming lessons have changed throughout the years with a look at how swimming was taught 1890s style. They were then treated to a present day lesson, before looking to the future by racing the athletes.
After the session one of the Bristol pupils said: "I've had a really good day. My favourite bit was racing and beating an Olympic champion. My favourite thing about swimming is being able to do whatever you want in the pool. And also it feels really relaxing and can calm you down."
The Big School Swim was organised by the ASA to help raise awareness of the importance of school swimming.
Though methods have changed, the message remains
Jon Glenn, Head of Learn to Swim at the ASA, said: "Swimming has been taught in schools since 1890 and while the methods may have changed, the message that every child should have the opportunity to learn how to swim and know how to be safe in and around water, remains as strong as ever.
"For many children, swimming at school will be their only opportunity to learn this vital skill, which is why it is so great that so many schools have joined us in our school swimming celebration, highlighting importance of school swimming with the Big School Swim.
"Swimming is a brilliant activity that once learned, can be enjoyed forever. It is also a great way for children to stay healthy. It opens the door to a vast number of other fun, water-based sports."
Edward Timpson, Minister of State for Children and Families, said: "The Big School Swim is a great event that will help get more children swimming and enjoying a healthy active lifestyle. Swimming is a crucial skill to learn for life, which is why it's compulsory in the national curriculum for primary-age pupils."
ASA statistics show that only 52 per cent of children aged between seven and 11- years-old are currently able to swim the national curriculum requirement of a minimum of 25 metres unaided.
The Government has committed to ensuring that all children leave primary school able to swim. They also announced in the recent Budget that through a new sugar levy, funding for the £150m PE and Sport Premium will double from September 2017, which schools can put towards additional provision for swimming.