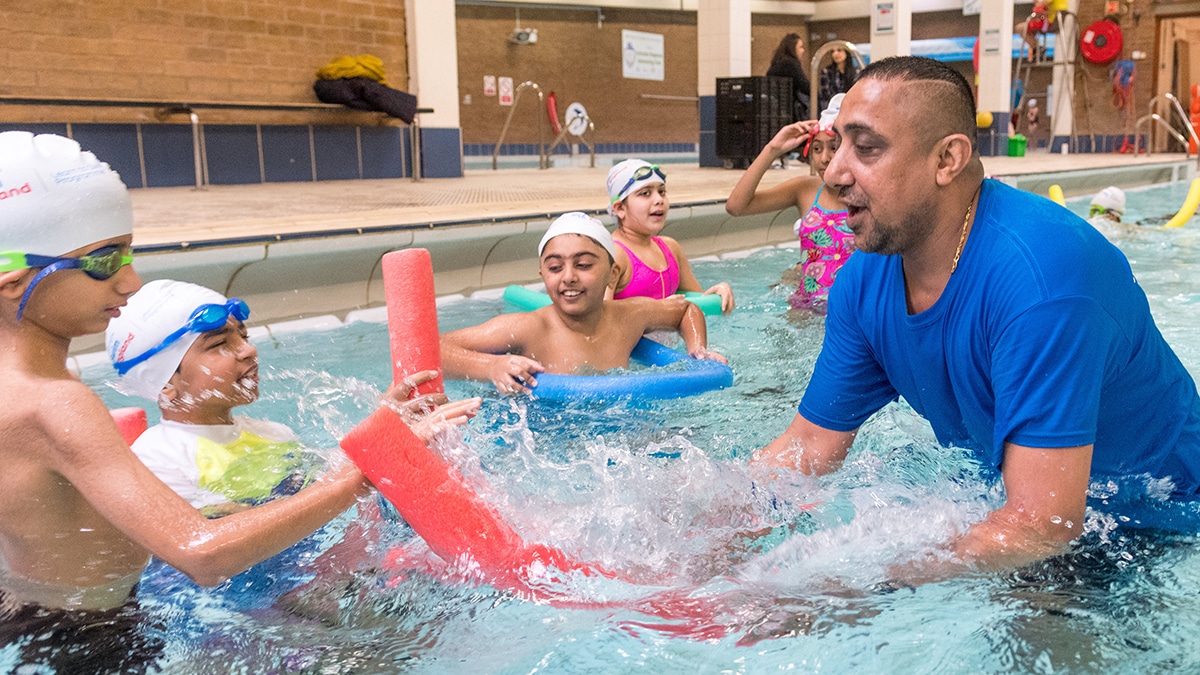 Swim England and Sporting Equals aim to increase BAME participation
29 November 2019
Swim England has agreed an exciting new partnership with inclusion charity Sporting Equals to increase BAME participation in aquatic activity.
The new agreement will see the two organisations work closely together in a determined effort to help grow the numbers from under-represented communities enjoying the physical and mental health benefits of swimming.
Swim England and Sporting Equals will also look to increase the amount of BAME swimming coaches and teachers delivering lessons poolside.
The partnership will see Sporting Equals provide insight and networks to ensure the Swim England Learn to Swim programme and Swim Safe are delivered in the appropriate locations and agree ways to engage these audiences.
It will also help increase the number of BAME club members, competitive swimmers and ensure that swimming is relevant as a physical activity of choice for the BAME population.
Jane Nickerson, Swim England chief executive, said: "We're delighted to be working with Sporting Equals to ensure that all aquatic activity is truly diverse, as part of our ambition to get a nation swimming.
"Sporting Equals is a fantastic organisation which really understands the different BAME communities. Our insights tell us that there is a huge, untapped latent demand for swimming amongst BAME audiences.
"We're looking forward to working with Sporting Equals to develop new opportunities for all groups to learn how to swim and continue swimming in ways that meet their needs.
"We want as many people as possible to experience the wonderful physical and mental health benefits of being active in the water, as our recently launched Value of Swimming report highlighted."
Arun Kang, Sporting Equals chief executive, welcomed the new partnership, which will also see Swim England sign the charity's Race Equality Charter.
Deliver positive change
The charter is 'vital in the journey to delivering equality in the sporting world' and aims to capture, commit and celebrate in three key areas:
Capture ethnicity data and intelligence to enable Swim England to establish a baseline position and measure progress over time.
Commit to tackling under-representation at all levels through positive action
Celebrate positive role models and stories.
Arun said: "We are so delighted to formally announce our partnership with Swim England.
"It is our priority here at Sporting Equals to deliver positive change and create an environment for empathic involvement in sport.
"We will be working closely with Swim England now to action this. Swim England's vision of a 'nation swimming' puts inclusion of diverse communities at the heart of their work and we are very excited to work alongside them to deliver this.
"The signing of the Charter forms part of a wider partnership between our organisations and we will be working across a number of areas including diversifying the swim workforce and increasing participation utilising our faith centre model, which we pioneered.
"We both want to get the BAME community more involved in swimming be it for fun, fitness or as an instructor."
Currently, six per cent of Swim England's members are from BAME communities – while more than 1,000 competitive swimmers in England are registered as BAME.
Jane added: "We know that BAME communities are currently under-represented in regular swimming audiences, can be less likely to learn to swim and less likely to be role models as swimming teachers.
"We are determined to change this and this partnership is the first step to becoming more representative of the communities across England."