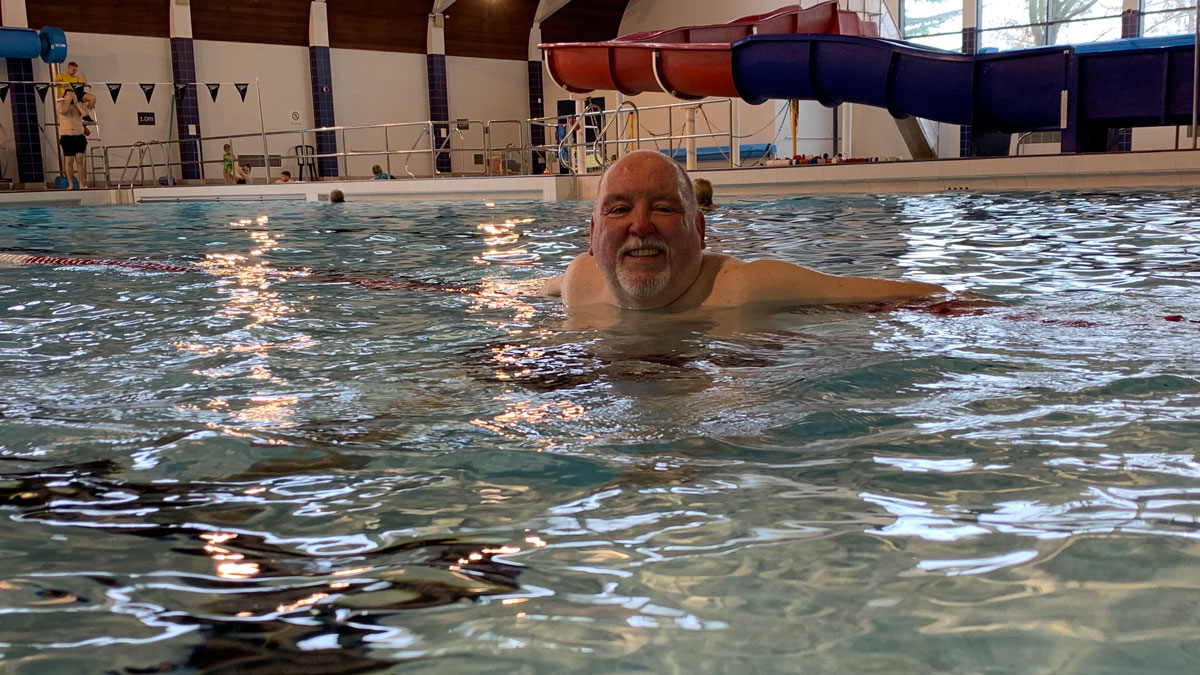 Steve is 'living proof' of just how valuable swimming can be
4 November 2019
A new report commissioned by Swim England has revealed how swimming is having a huge impact on the health and wellbeing of the nation. Here, Steve Wright explains why he values swimming.
Steve Wright is 'living proof' how valuable swimming can be.
Having battled health problems for more than a decade, the 63-year-old suffered a stroke in 2018 and was told he was 'lucky to be around'.
As part of his recuperation, a medical professional suggested he give swimming a try – and it's a decision he has never regretted.
Steve, from County Durham, was diagnosed with Type 2 diabetes more than 10 years ago but that is now under control and his overall health has improved – and he attributes it all to swimming.
The positive effects of getting into the pool are highlighted in Swim England's Value of Swimming report.
It outlines how water-based activity can make an even greater contribution to the health and wellbeing of the nation.
The report reveals that weekly swimming participation in the North East saves the NHS and our social care system more than £15 million pounds a year – with £10 million of the total saved on treating people living with dementia and those recovering from strokes.
Key savings from the report in the North East include:
Swimming saves the health and social care system £15,387,648.
The largest savings were in dementia (£6,000,483) and strokes (£4,301,985).
Other key savings are made in reduced GP visits (£2,195,079), diabetes (£1,610,186), colon cancer (£448,633), depression (£408,577) and breast cancer (£422,705).
It also details several other key findings which proves how swimming is playing a key role in helping people 'live longer, better and happier lives'.
And that's a statement that Steve fully agrees with.
I wish I'd taken up swimming years ago
He said: "I guess I'm living proof of how swimming can make a real difference to people who are diagnosed with a serious or chronic health condition.
"It's great to see this spelt out so clearly in this report.
"I spent many years ignoring the health warnings and, as a result, lost the majority of the feeling in both of my feet as well as struggling with mobility.
"I wish I had taken up swimming many years ago. If I could offer any advice to people, it would be to try and introduce some exercise into your life.
"I've found that the exercise that works for me is swimming and I can't recommend it highly enough."
Other key stats in the Value of Swimming report include:
Swimmers report feeling on average 6.4 per cent healthier than non-swimmers – this is comparable to feeling 12 years younger
Adults who swim were 4.3 per cent happier than non-swimmers
Swimmers are more likely to be socially connected – and 26.7 per cent less likely to have no friends compared to non-swimmers.
Steve says he was initially fearful of going swimming as he lacked the confidence to exercise in a public environment.
But he was glad he overcame his fears to enjoy the benefits of being in the water.
"I was so embarrassed to go to the pool – people pointing fingers and talking about you," he said. "But swimming has now become part of my life – it's absolutely fantastic.
"I can't tell you how good it makes me feel to just go and swim.
"I'm in there for about 45 minutes and just go at my own pace. It's having a massive effect on my mental health, my physical health and my wellbeing."