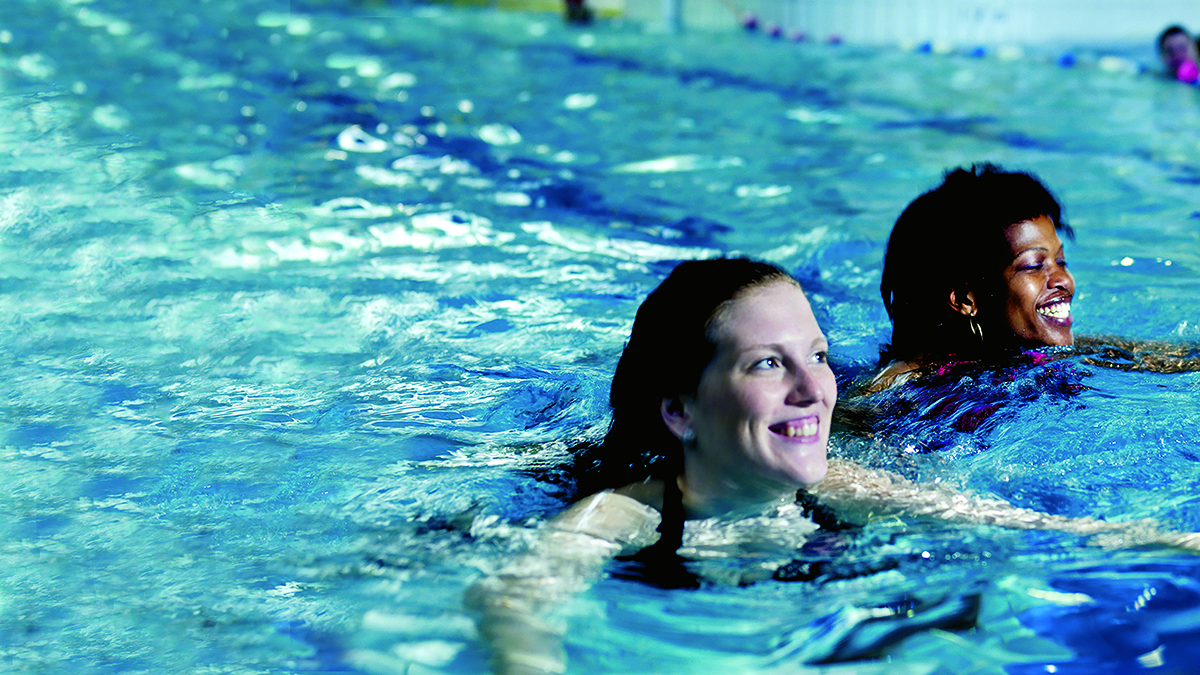 Swim England release new fact sheet on swimming as part of Covid-19 recovery
14 June 2021
Swim England have released a new health fact sheet which focuses on the benefits of swimming as part of Covid-19 recovery.
The resource is titled 'Swimming after the Covid-19 pandemic' and will be added to the range of fact sheets on swimming with particular health conditions that have been developed over the last two years.
Now that pools have reopened and more people are getting back in the water, some are still undecided and may have barriers to swimming in relation to Covid-19.
With this in mind, a team of experts from Swim England's Swimming and Health Commission group developed the new fact sheet, to help break down some of the barriers which in some cases might be due to misconceptions that can easily be resolved.
This new fact sheet follows those developed so far on asthma, glandular fever, ear infection, dementia, epilepsy, diabetes, skin conditions and mental health, with plans to develop more in the future to cover other long-term health conditions and impairments.
Positive impact on physical and mental health
Swim England chief executive, Jane Nickerson, explained that pools are important to the nation's road to recovery.
Jane said: "Swimming pools are safe and secure environments and they can play a key role in helping the nation recover from this pandemic.
"There is clear evidence that swimming and being active in the water has a positive impact on a range of physical and mental health conditions and is an activity that can help improve the overall health of people of all ages.
"Many people have struggled with their health and wellbeing throughout the coronavirus outbreak.
"This important fact sheet offers a range of top tips on how swimming can help after a Covid-19 infection and important advice to break down barriers and increase people's confidence as they return to the water."
Andrew Power, Swim England water wellbeing specialist, said: "Swimming and other forms of water-based exercise offer numerous advantages compared to land-based exercise due to the weight-bearing benefits of buoyancy and the friction of water offering greater resistance and calorific expenditure compared to similar movements performed on land.
"The pressure of being submerged in water has also been demonstrated to reduce swelling, improve circulation and modulate paid responses.
"The unique properties of water make swimming perfect for people of all ages to exercise, those with injuries, impairments, long-term health conditions and particularly those who struggle to exercise on land.
Swimming is so worthwhile
"However, a range of misconceptions still exist and some may have the view that because they have a particular health condition, swimming is not for them.
"The Covid-19 pandemic has impacted on the health and wellbeing of many with existing health conditions and added to this are a whole range of new issues for those who have experienced, and might still be recovering from, Covid-19.
"This fact sheet will hopefully help those who are considering swimming again, or for the first time, to navigate some of the barriers and benefit from the 'hug' that only water can provide."
Scarlett McNally is a consultant orthopaedic surgeon, lead author of 'Exercise: The Miracle Cure' produced by the Academy of Medical Royal Colleges, and was involved in the development of the fact sheet.
On why this piece of work was important, Scarlett said: "Swimming is ideal for people who have joint problems as there is little impact but a big improvement in fitness.
"It also reduces pain and improves mental health. Exercise is treatment for most common conditions and for many people, swimming is the best form of exercise.
"We developed this fact sheet guide because some people have lost confidence. If people have this information, it will help them to plan ahead so it is easier to start and stick to a new exercise habit. Swimming is so worthwhile."
Swim England is continuing to work in partnership with members of the Swimming and Health Commission group and aquatics providers across the country to identify new opportunities to ensure that more people will be supported in understanding how they can swim safely with a long term health condition.
The new fact sheet is available on Swim England's Just Swim hub. For further information on this or other fact sheets in the series, contact health@swimming.org.
A special thanks to those involved in developing the fact sheet:
Scarlett McNally – consultant orthopaedic surgeon
Kevin Boyd – British Swimming medical director
Dr Ian Gordon – Former ASA medical adviser and Chief Medical Officer for British Swimming and the Olympic team
Dr Fiona Moffatt – University of Nottingham
Sarah Cox – Aquatic Therapy Association of Chartered Physiotherapists.