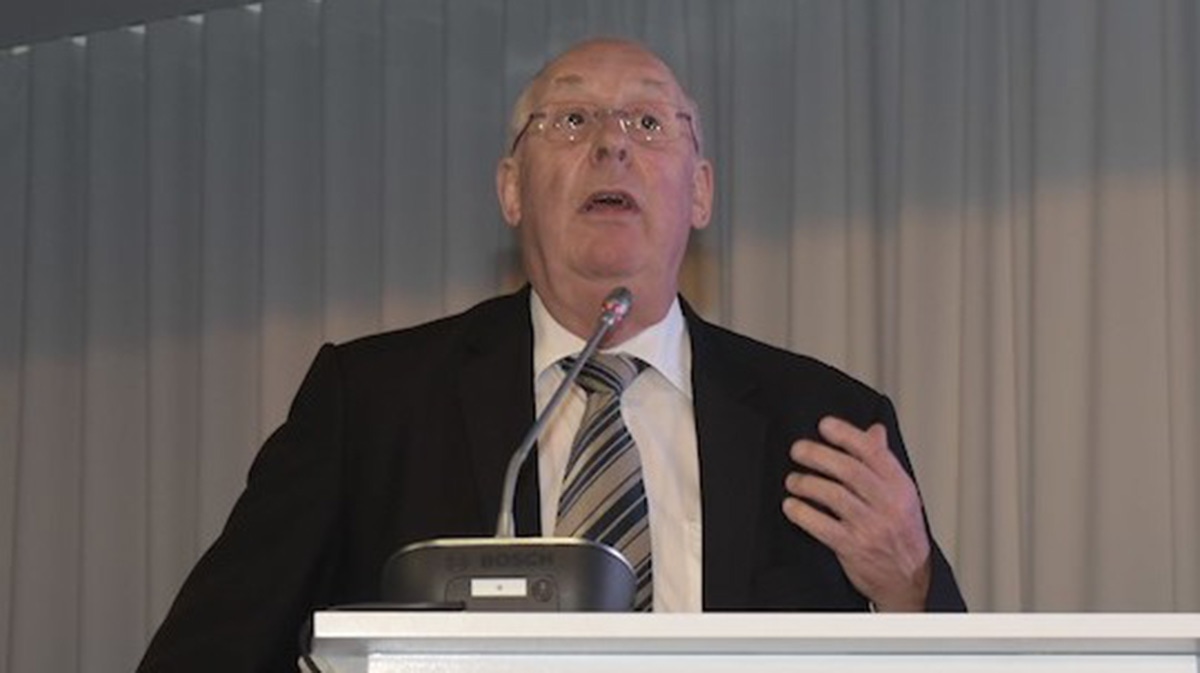 Tributes paid to renowned aquatics author, coach and 'great expert' Kelvin Juba
5 November 2020
Swimming historian Dr Ian Gordon pays tribute to Kelvin Juba, the renowned author of several popular aquatics publications and the former editor of the Swimming Times magazine, who died at the weekend.
The sport of swimming was Kelvin's life and his successful career encompassed its every aspect.
Maybe this was not surprising given that he was born into a family that was steeped in aquatics with his grandfather a water polo player, his mother Josie a national swimming champion and coach whilst his father Bill also coached, was an acknowledged international swimming expert and for many years assistant editor of the Swimming Times.
Kelvin's younger brother Nick would go on to coach numerous GB internationals as well as a spell with the Danish national team.
Kelvin was proud of the fact that he attended the 1948 London Olympics as a one-year-old with his parents, witnessed many of Britain's medal successes since that time at virtually every Olympiad and would have been a guest at this year's postponed Tokyo Games as a valued member of the FINA family.
In his youth, he was a competitive swimmer and played water polo for Otter SC and, whilst he was still at college, published the first of his many books that would grace the shelves of sports libraries.
Only in his mid-twenties, he was appointed to the editorship of the Swimming Times, a position he held from 1971-73, and he later developed his sports marketing company in collaboration with 1976 Gold medallist David Wilkie.
He expanded his interest to include a television series for Channel 4, coached for a number of years, owned a swim school and in recent years become recognised as a leading swimming strategist and information provider utilising his vast knowledge of the sport.
The history of swimming was an abiding interest and he was for time an international director of the Swimming Hall of Fame in the USA.
His publications are too numerous to mention but suffice to say that utilising his history skills one of his three university degrees from Bristol and Bath, he documented the stories of both LEN and FINA.
Such was his expertise that a former CEO of ASA/Swim England, allegedly when he didn't know the answer to a swimming problem, would ask his PA to phone 'Anorak 1', his nickname for Kelvin, as the fountain of swimming knowledge.
The swimming world has lost a great expert and a wonderful friend, universally loved by all who worked with him and enjoyed his company. Our thoughts are with his family at this sad time.
Legacy will live on
Swim England chief executive Jane Nickerson added her own personal tribute to Kelvin.
She said: "Kelvin will be greatly missed.
"His knowledge and enthusiasm for aquatics sport was second to none but his legacy will live on in the excellent publications he wrote and the pioneering work he did for LEN.
"On behalf of everyone at Swim England, we offer our deepest condolences to all his family and friends."
Encyclopaedic knowledge
David Sparkes, the former chief executive of the Amateur Swimming Association, added: "Kelvin will be a great loss to our sport.
"He was a swimmer and water polo player and over his life he was a coach, edited the Swimming Times and brought many valuable sponsors to our door.
"His encyclopaedic knowledge helped him to research many key important areas of our sport producing authoritative reports to help us shape our strategy."
Played major role
European governing body LEN also paid tribute to Kelvin.
A statement read: "The LEN Family has learnt with immense sadness that our long-time contributor and friend Kelvin Juba passed away.
"Kelvin was the heart and soul of LEN's statistical database and producer of several editions of the Book of Champions, a genuine compilation of the historical results of the European Aquatic Championships, the European Water Polo Championships and the LEN Champions League.
"He and his company was a constant contributor for LEN's other publications in the past decades and recently he played a major role in creating and implementing LEN's new pan-European initiative, the Learn-to-Swim, Prevent Drowning programme.
"His tireless efforts helped LEN to successfully present this programme to the European Union and to gain unanimous support from its decision-makers.
"Kelvin got close to aquatics early since his father was a great swimming coach and he himself also became one.
"He was involved in sport marketing and communications quite early, even during the 70s and 80s, doing some ground-breaking jobs in several sports.
"Later he returned to the world of swimming, published highly-rated books like Swimming for Fitness (with David Wilkie) and joined the circles of LEN.
"His knowledge, experience and gentleness will be missed badly in the future.
"In these grieving moments, our thoughts are with his family and friends."
Picture: LEN European Aquatics Twitter