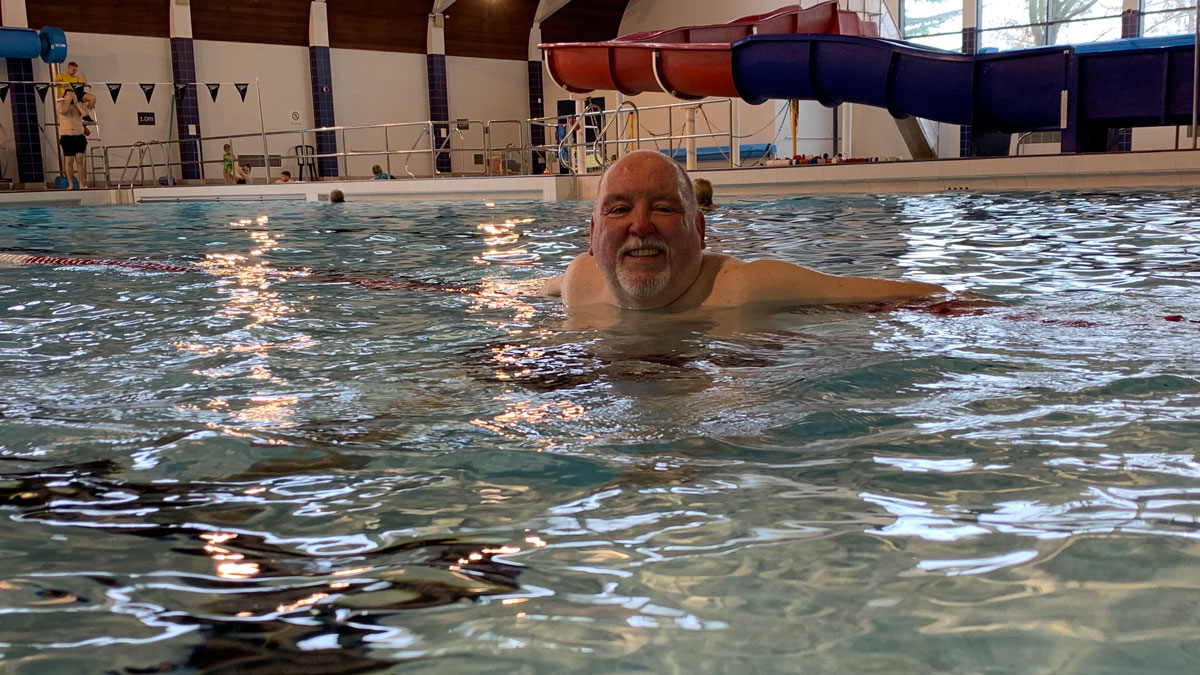 Swimming has stroke survivor Steve back on track
3 April 2019
Swim England News
When Steve Wright suffered a major health scare in 2018, it gave him a startling wake-up call.
After nearly a decade of suffering from Type 2 diabetes and never taking his health seriously, he suffered a stroke.
It was a warning sign he simply couldn't ignore.
Now Steve is feeling the positive effects of getting in the pool after a medical professional suggested he try swimming – and the health improvements in just over six months are evident.
Steve stars in the latest Swim England-led #LoveSwimming campaign Moving Medicine, which urges the medical profession to be more proactive in prescribing swimming as part of a programme of activity to manage medical conditions and aid recovery.
After being told he was 'lucky to be around' he decided it was time to take control of his future. His diabetes is now under control and he hopes to set an example of anyone in a similar situation.
"The benefits of swimming – physically, mentally, socially – have been massive," he said.
"To be able to share my story and be part of Swim England's campaign is brilliant. If I can help inspire just one person to give swimming a go, I will be absolutely delighted.
"I've spent many years ignoring the health warnings and as a result, I've lost the majority of the feeling in both of my feet, as well as struggling with mobility.
"I'd urge anyone bordering on Type 2 diabetes to act now, before it's too late."
Breaking barriers
Steve was somewhat reluctant to listen to his consultant's advice, lacking the confidence to exercise in a public environment.
But, much to his delight, he took the plunge and rediscovered a lifelong passion for swimming.
In an interview with BBC Tees, he said: "I was so embarrassed to go to the pool – people pointing fingers and talking about you. But you know what, I went with somebody and getting from the changing room to the pool was the hard bit.
"But now swimming has become part of my life. It's absolutely fantastic and it's having a mega effect. I've lost about two and a half stone.
"I can't tell you how good it makes me feel to just go and swim. I just go at my own pace, I'm no Mark Spitz. I just go at my own pace, I'm in there for about 45 minutes and it's having a massive effect on my mental health, my physical health and my wellbeing."
The #LoveSwimming campaign is delivered by Swim England in partnership with 1 Life, Active Nation, Active Lifestyle Centres managed by Circadian Trust, Everyone Active, Freedom Leisure, GLL, Gateshead Council, Leicester City Council, Nottingham City Council, Nuffield Health, Places for People and Serco.
Moving Medicine is the latest wave of the campaign and has featured other swimmers highlighting the benefits of swimming on their physical health, including Wanda Stockdale, from Gateshead, who said she felt like an 'old lady' after being diagnosed with osteoarthritis in her early 30s.