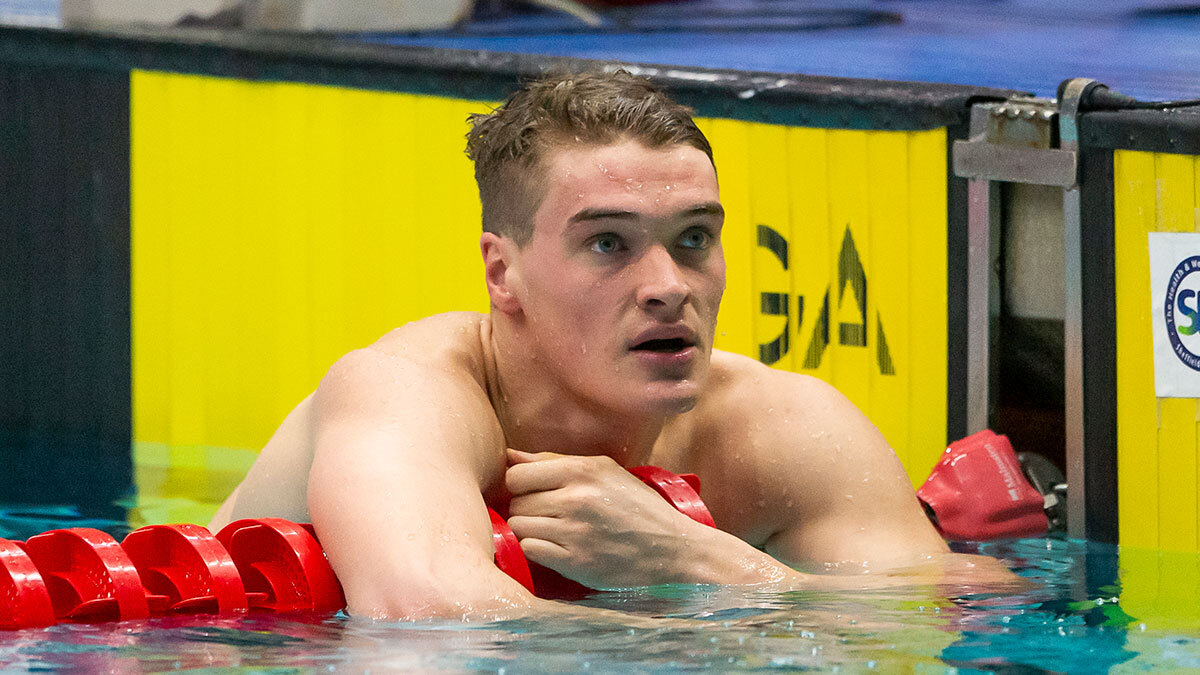 Commonwealth champion James Wilby believes safe return to pools can take place
1 July 2020
Commonwealth Games champion James Wilby believes a safe return to pools needs to happen as the benefits of swimming are more important than ever before.
Wilby, who won a gold, silver and bronze at the 2018 Gold Coast Commonwealth Games, has backed Swim England's campaign to #OpenOurPools.
More than 50,000 people have signed a petition that has been presented to the Government urging Prime Minister Boris Johnson to reconsider his decision to keep pools closed as a matter of urgency.
Now Wilby, who should have been looking forward to competing at this year's Olympic Games, has joined his fellow international stars in calling for pools to be reopened due to the 'huge physical and mental health benefits' swimming can offer.
During an in-depth interview with British Swimming, Wilby spoke about the continued closure of pools and leisure facilities.
He said: "I think it is very frustrating.
"When you look at the list of venues and places that are able to reopen in England, it is difficult to understand how some of the places were picked over gyms and swimming pools.
"There is the idea that there's an increased risk at swimming pools and gyms. But the reality of it is that when you actually look at the processes we have developed for the elite training group that have returned to the pool, and also some of the guidelines that Swim England are working on, I think it's entirely possible that a safe return to the water can take place.
"It's great that an elite training group have returned to the water – but for the others, it's incredibly frustrating, and therefore I find it incredibly frustrating.
Swimming is 'super important'
This is crazy… Places of arguably greater risk opening before swimming pools and gyms! Physical fitness and mental wellbeing can be done safely in pools with @Swim_England working hard to provide support so that venues are ready to go. #OpenOurPoolshttps://t.co/DYCURG3L50

— James Wilby (@jameswilby) June 23, 2020
"In my career, I haven't always been at the top, and one of the things I genuinely like to see is more and more people getting involved in swimming.
"I've said many times that we're an island nation surrounded by water, so swimming is really important. Now in this particular situation, the priority is on health and well-being, and I think the benefits of swimming and exercise in general are really hard to overstate."
Wilby hailed how the swimming community had been united by the #OpenOurPools campaign.
He added: "People obviously need to be patient but using your voice and contacting your MP and doing all that sort of stuff really does have an impact – not just now but all the time.
"As a swimming community, we showed incredible ability to come together when the announcement was made, and that's great.
"I think it's something that we just need to keep hitting on, keep banging that drum, because when it's done correctly, it is safe and it can offer huge physical and mental health benefits.
"It's something I'm quite passionate about, that swimming is super important all the time.
"But in this current situation, this global pandemic, I think the benefits of swimming, now it can be reintroduced, can be even more beneficial to so many people."
Find out how Wilby coped with life in lockdown, the opportunity a delayed Olympic Games brings and how it felt to return to training by clicking here.