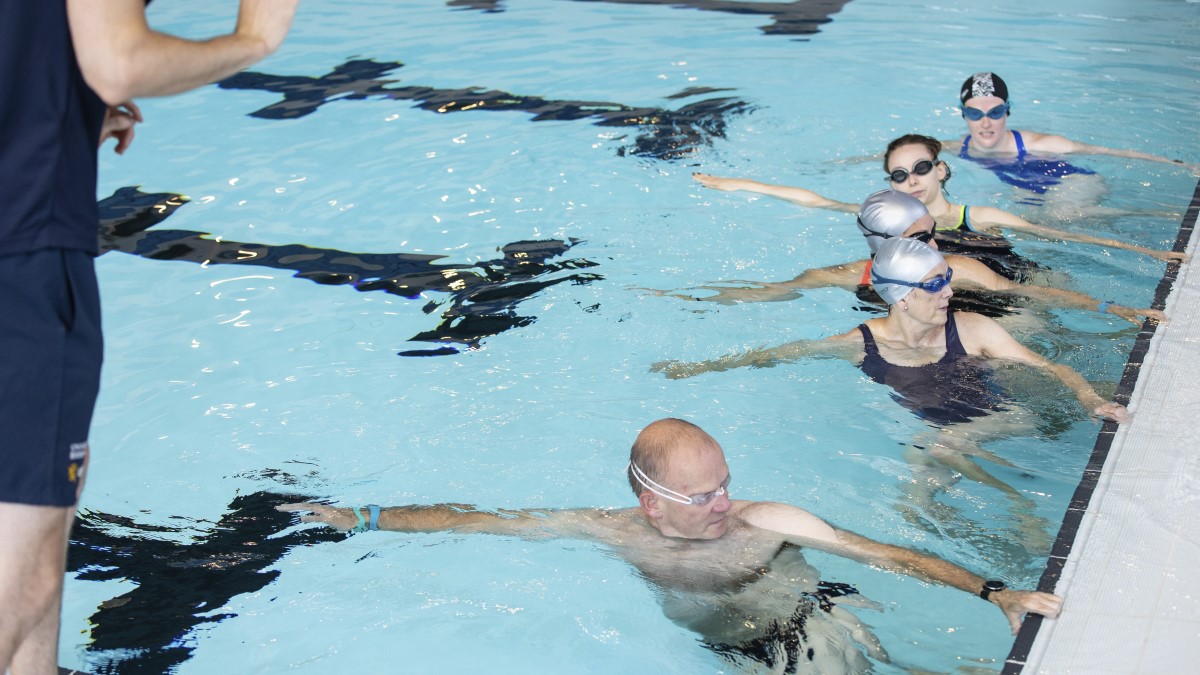 Tutor Training Programme
1 July 2019
The purpose of the Swim England Tutor Training Programme is to select, train and support new tutors to deliver and asses Swim England Qualifications and certificate programmes. Swim England Approved Training Centres are accredited by Swim England Qualifications to run courses which deliver and assess these programmes. Swim England Educator Training audit the need for new tutors in terms of area and discipline annually, and the Tutor Training Programme is then run to train new tutors to meet this need.
Our Tutor Training Programme is thorough and rigorous. Educators will learn how to proficiently deliver training and assessment for Swim England's industry qualifications.
This ensures our future teachers and coaches receive exceptional training to progress their careers.
Before applying for the programme, it is important that you are aware of the commitment required. All parts of the programme must be attended and completed.
Entry Requirements
You will need a high level of technical knowledge in a one or more disciplines.
Previous or current roles could be: a swim school co-ordinator, an experienced senior swimming teacher, a club coach or a Swim England club development officer.
You will also need to be:
passionate about aquatics, with the desire to give something back to your sport
experienced in mentoring or supporting other teachers and coaches
well-respected in your discipline
experienced in delivering training or development sessions to adults
innovative in your approach to education and training.
We are currently recruiting for new tutors!
Swim England are looking for new tutors for the Teaching Swimming Qualifications in the following areas:
London
South East (particularly Camberley, Slough, Newbury, Dover, Kent, Surrey areas)
East (particularly Buckinghamshire/Berkshire/Oxfordshire, Norwich, Cambridge/Peterborough, Clackton, Lowestoft areas)
South West (particularly Exeter area)
North West (particularly Cheshire/Chester, Manchester areas)
Mid Wales (Powys and Ceredigon)
North Wales (Conwy, Denbighshire, Wrexham)
FAQs
Click or tap on the questions below to find out more.
What is a Swim England tutor?
A tutor is the person who plans, delivers and assesses a training course which enables learners to achieve a Swim England qualification.
Who runs the Swim England Tutor Training Programme?
The Swim England educator training team run the Tutor Training Programme. The team have an in-depth range of knowledge and experience gained from their backgrounds in swimming, teaching swimming, education and swim school ownership.
Also, most importantly – they are all current tutors.
Who do tutors work for?
When does the Tutor Training Programme open?
The Tutor Training Programme responds to the requirements of the Approved Training Centres. Where training gaps are identified, tutors will be recruited to work in these areas.
Swimming teachers are regularly in demand, so there are more tutor training courses for teaching swimming than for other areas such as coaching. Typically there will be a coaching tutor training programme every 1-2 years.
How many applications do you receive and how do I get shortlisted?
The number of applications for the tutor training programme grows every year and competition is fierce. For teaching swimming, we can receive 70+ applications for around 20 training places.
Applicants are shortlisted against the person specification and selected for being able to fill the area of need identified for that programme. Most applicants have excellent experience in aquatics and training, so if you want your application to stand out, make sure you add all relevant experience and qualifications to your application.
What can I be doing to strengthen my application while waiting for the next programme?
Gain experience of training delivery
Update skills and knowledge by attending regular CPD sessions
We require all trainees to have:
a delivery qualification (e.g. PGCE, PTLLS, Level 3 Education and Training etc.)
safeguarding training
These can be gained once accepted onto the programme. There is no guarantee that having these qualifications at application stage will move you to the interview stage, but we would recommend that if you don't have them, you look into where and when you can access this training in case you are successful.
How long will it take to qualify?
Each programme can be bespoke to the trainee in terms of time it takes to qualify.
For example, some trainees will choose to observe more courses than others, some trainees will want longer to plan for their attachment, some trainees will have to wait longer for an attachment option that suits their needs.
Therefore it can take between 4-12 months to qualify, normally nearer 12 months than four!
What is involved in the tutor training process?
The process involves the following stages:
Application
Two-part interview involving a recruitment half day and online interview
Induction (online)
Face-to-face training days x 4 (this is the current number of days on the programme, but this can vary depending on the cohort and feedback from previous programmes)
Research tasks (currently observation of 25 per cent of a Level 1 and Level 2 course and interview with an experienced tutor)
Attachment – a practical placement where the trainee is on course 100 per cent of the time with an experienced tutor, delivery of 50 per cent of the timetable and assessment of 50 per cent of the learners. The trainee will be guided and mentored by the experienced tutor (advanced practitioner).
How much does the programme cost?
Currently the programme costs £900. This cost can vary from programme to programme due to the number of days face to face training and the varying costs of facilities and resources.
Can the programme be paid for in instalments?
Yes. The cost of the programme should not be a barrier to applying as some Approved Training Centres offer repayment schemes. This is something that can be discussed if a trainee gets accepted onto the programme.
Why do programmes vary year to year?
The programme is ever evolving due to regular feedback from Approved Training Centres, trainees, leisure providers and Swim England. We try to meet the needs of all stakeholders whilst maintaining Swim England's high quality of training.
How much do tutors get paid?
Payment varies across the Approved Training Centres so it's worth checking with the Approved Training Centres in your area if this is a significant factor for you.
How am I supported once I have qualified?
Once you have completed your attachment, your research tasks have been handed in and the training payment has been made, you will be signed off to run your own solo first course. A member of our educator training team will support you in the planning process and come out to that course to support you.
The educator training team also offers regular training both online and face to face to keep you up to date and ensure you get regular professional development.