Tutor Training Programme
1 July 2019
The Swim England Educator Training department are responsible for training tutors for a range of qualifications and certificates including: teaching, coaching and pool plant, Aquatic Activity for Health and Land Based Coaching.
Our Tutor Training Programme is thorough and rigorous. Tutors will learn how to proficiently deliver training and assess effectively for the following types of courses:
What we're looking for:
If this sounds like you then read on:
How to become a tutor
Before thinking of applying to be a tutor, it's important to acknowledge if you can serve the area of need that has been identified and know that you have time to commit to the training programme and subsequently to running a number of courses each year for an approved training centre.
Next, you need to fully meet the programme's person specification, to ensure you have the knowledge and experience to tutor others.
The Tutor Training Process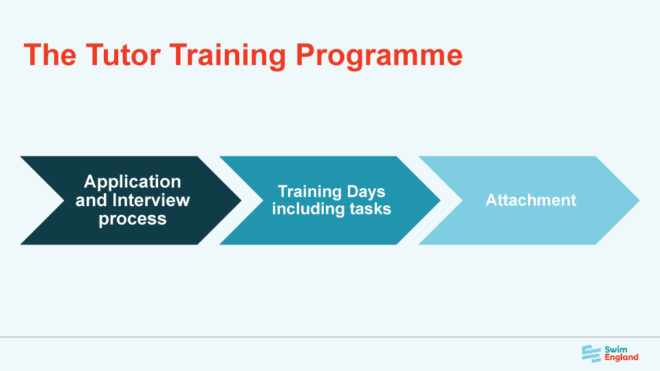 After the application and interview you will learn how to prepare for, deliver and assess a course on the training days. You'll also meet other like-minded trainees and have the opportunity to share ideas. Following these training days, you will observe part of a course and then work with an experienced tutor to deliver at least 50% of a course, to ensure you feel ready to be signed off to deliver solo.
Which programme are you interested in?