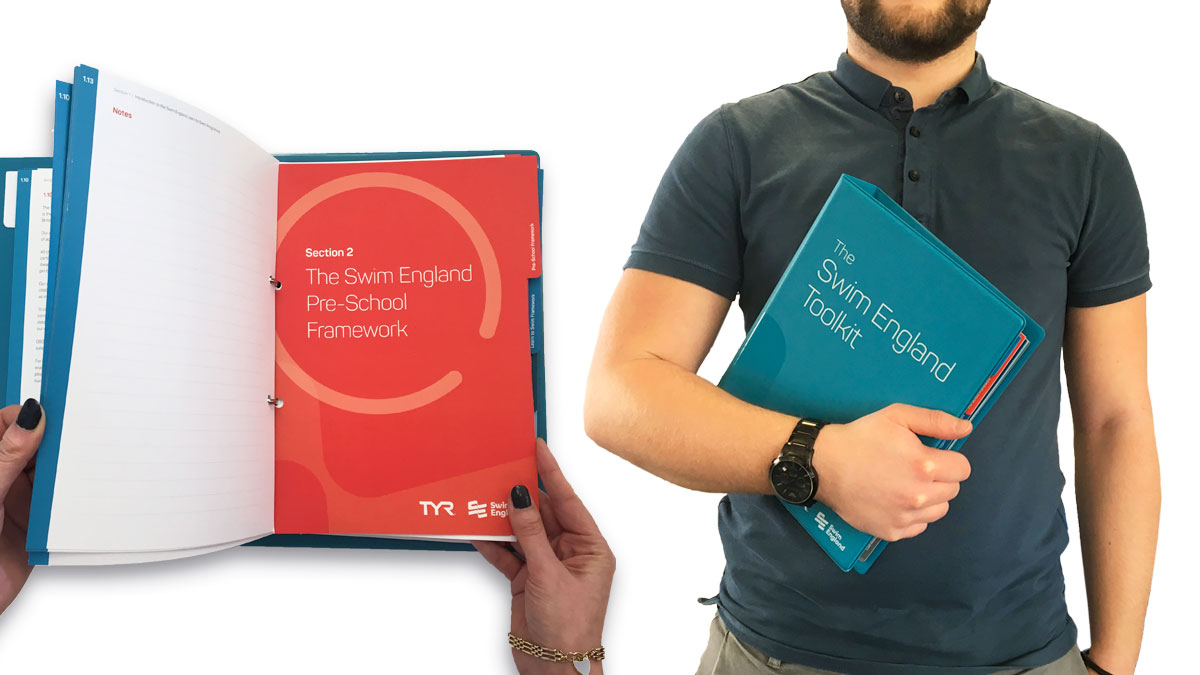 Make the new Swim England Toolkit your go-to guide
5 March 2019
Teaching Swimming
The Toolkit is intended to be a personal guide to help you to design and structure your own Learn to Swim programmes and lesson content.
It will see you through each of the four Frameworks – Pre-School, Learn to Swim, Aquatic Skills and Adult Swimming – and includes guidance on the Swim England School Swimming and Water Safety Charter, which aligns with requirements for curriculum swimming.
Using the Toolkit will give you a clear structure into the onward journeys learners can take once they have reached Learn to Swim Stage 10 or completed the Be a Master Swimmer Stage of the Adult Swimming Framework.
Order yours today from the Swim England webshop.
Why do I need a Toolkit?
By investing in the Swim England Toolkit, you'll own a complete guide to the Swim England Learn to Swim Programme and all the associated Awards.
Within the new Toolkit you'll find six sections:
Introduction to the Swim England Learn to Swim Programme
The Swim England Pre-School Framework
The Swim England Learn to Swim Framework
The Swim England Aquatic Skills Framework
The Swim England Adult Swimming Framework
The Swim England Club Awards
This Toolkit also provides important information about teaching roles and responsibilities, safeguarding learners, the importance of teaching water safety, the core aquatic skills – and the Swim England Learn to Swim Awards, Club Awards and Swim England Expected Standards.
Katie Towner, Head of Learn to Swim, said: "We're so delighted to re-launch something of this quality and depth to our customers.
"As a swimming teacher and tutor myself, I can appreciate the value of detail within this Toolkit – and having it handily available in really clear sections means I can easily plan and deliver my lessons, knowing I have the most up-to-date knowledge to reference whenever I like.
"It can be difficult to remember all the available Awards and rewards that are available to support learners – from children to adults.
"The Toolkit gives me everything I need to make sure I'm giving them the right encouragement and support to keep them swimming, having fun in the water – and progressing into the many different aquatic pathways available.
"It's also a flagship product in the new Swim England design, so I hope you'll love the new look and feel as much as we do.
"We hope you'll find it an invaluable resource that can support you in delivering top quality swimming lessons for learners, giving them a life-long love of the water."
What does it cost?
The new Toolkit is priced at £35 (inclusive of VAT). Order your copy today from the webshop here or email salesawards@swimming.org from Wednesday 6 March.
While no significant changes are currently planned, should there be any major content amendments, individual sections are replaceable to ensure you can keep your Toolkit up-to-date.
The replacement sections will be charged at £5 plus P&P – and will only be made available on the online shop if required.
If you do still have an old ASA Teacher's Toolkit (which was last released in 2015), it is advised that this is now disposed of as the information is out of date and no longer aligns to the Swim England Learn to Swim Programme and Awards.
Nicolette is our winner!
Nicolette Sweet from Malmesbury in Wiltshire, currently teaches swimming with Wiltshire Council at the Springfield Community Campus in Corsham, is the winner of our Toolkit launch competition.
We loved Nicolette's "Ball Pit 150" cross-curricular idea, which will now be developed into an activity sheet for the Big School Swim in November.
Being fairly new to teaching swimming after taking the Level 1 Swimming Assistant (teaching) qualification in April 2018 and then fast tracking to study the Level 2 qualification in June 2018, Nicolette is now busy delivering the Swim England Learn to Swim Programme, curriculum and adult swimming lessons.
On winning the Toolkit, Nicolette said: "You've made my week! I enjoy teaching to a fun approach – and that's my inspiration for this year's Big School Swim themed activity; I hope you'll enjoy it too."