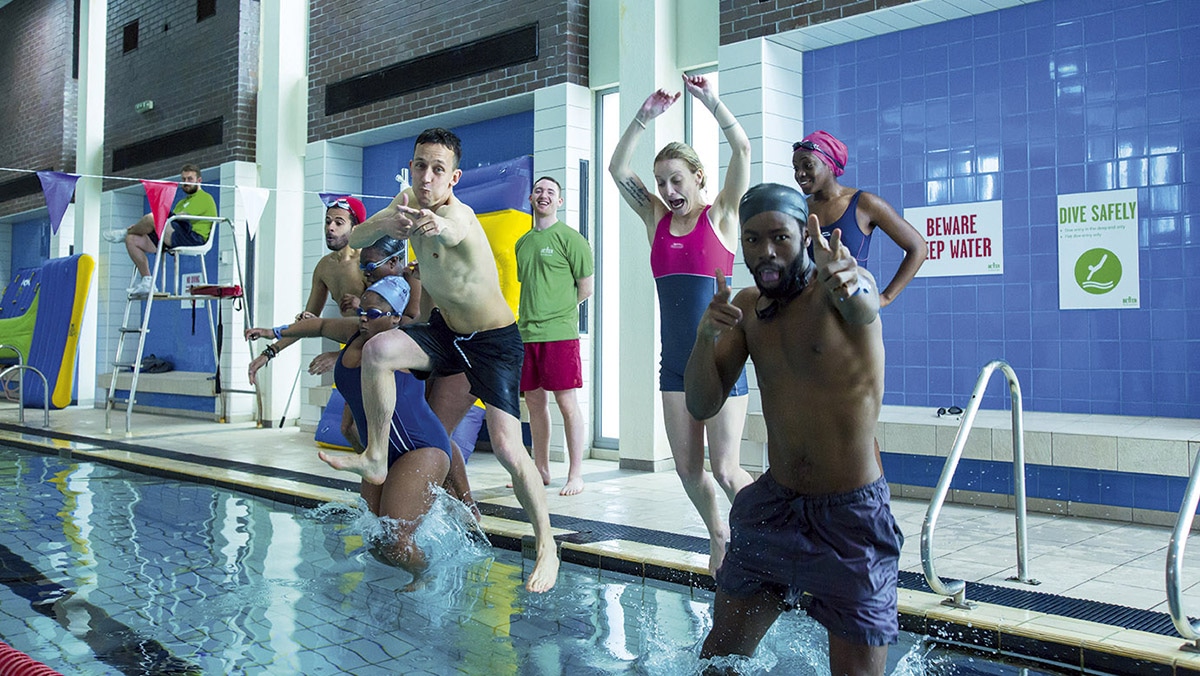 Annual Report and Financial Statement 2018
1 April 2019
Welcome to the 2018 Swim England Annual Report.
This covers the work of Swim England between 1 April and 31 December 2018 and all the information is detailed under the headings below.
Welcome
Mike Farrar CBE, FRCP, FRCGP (Swim England Chairperson)
It's only when you begin to look back at what we have achieved in the space of nine months, that you wonder how we managed to fit it all in!
So I'd like to start by giving thanks to my Board, in particular the new members, whether independent or nominated by the regions, for all their hard and unseen work on the governance front – they have all been exceptional
Symptomatic of that workload is the fact that this annual report is for the period April to December 2018 following the change to our financial year as part of our overall journey to becoming an incorporated body with charitable status.
Critically, however, it is vital that the accomplishments of the whole organisation and all its staff in that period are recognised and not forgotten.
They are detailed throughout this report and I'd like to thank everyone for their efforts in helping us to achieve these goals. I'd also like to thank all the support we have had from our regional, county and club colleagues on this journey.
While 2019 will give us more time for reflection as we celebrate our 150th anniversary, it also gives us the chance to look ahead.
School swimming is always in the spotlight and we will continue to strive to ensure all 11-year-olds leave primary school with the skills to keep themselves safe while enjoying swimming with friends and family.
It's pleasing the government has recognised this by ensuring it's in the national curriculum but there is still much to do to ensure we hit our target.
The Swim England School Swimming and Water Safety Charter is a huge step in the right direction and it's great to see schools signing up to it.
We have an opportunity to ensure every generation is taught basic water safety skills. But we have to work together to make it happen.
Finally, on behalf of the Swim England board, I would like to thank all Swim England and Institute of Swimming team members, our amazing volunteers and everyone who gives up their time and helps at our aquatic clubs.
Their dedication and commitment should never be underestimated – we simply cannot say thank you to them enough.
We'll always be grateful.
Mike
Jane M Nickerson (Swim England CEO)
It's fair to say that the nine-month period we're focusing on in this annual report got off to a magnificent start.
Team England enjoyed considerable success in the pool on Australia's Gold Coast at the 21st Commonwealth Games at the beginning of April.
That set the tone for our work back home and we have seen many successes as an organisation in 2018 that we should be rightly proud of.
I am a passionate believer that everyone should be treated equally and with respect and that's why I was thrilled that we, alongside British Swimming, were two of the first national governing bodies to achieve the Advanced Equality for Sport.
And we were also successful in obtaining £750,000 worth of funding from the London Marathon Charitable Trust to install PoolPods at 20 pools across the country – giving more people with long-term health conditions and disabilities the chance to benefit from water-based exercise.
Our events continue to be well supported in terms of athletes, spectators and our teams of wonderful volunteers. Without them all, they simply wouldn't be possible.
Of course, there are many challenges facing sporting national governing bodies but we continue to tackle them head on to ensure everyone can enjoy the water safely and take part in all our aquatic disciplines.
There's plenty to look forward to with 2019 being our 150th anniversary year, Tokyo 2020 and the Commonwealth Games in Birmingham in 2022.
In the meantime, thanks to everyone for their dedication to help create a happier, healthier and more successful nation through swimming.
We couldn't do it without you.
Jane
Annual report and financial statement
Download the financial report for the year ended 31 December 2018 here.
Swim England Board
The Swim England Board meets around six times a year and is made up of 12 representatives from across the sport and physical activity sector.
Members have background in legal, human resources and finance.
Reporting into the board are a number of other committees. These committees and their members can be viewed here
Swim England board members 2018
Mike Farrar CBE (chairperson), Keith Ashton, Neil Booth, Alison Breadon, David Flack, Caroline Green, Sarah Gregory, Brian Havill, Ian Mackenzie, Jane Nickerson, Bernard Simkins and Sue Smith MBE. Click here to read full profiles of the Swim England board members.
Swim England Senior Leadership Team
Jane Nickerson (CEO), Jon Glenn, Emma Griffin, Brian Havill, Damian Stevenson, Mike Thompson, George Wood.
Awards and recognition
Several people were honoured for their services to aquatics in 2018.
Swimmer Jane Asher, coach Wyndham Richard Davidson and disability swimming teacher Pauline Walker were amongst those recognised in the Queen's Birthday Honours in June 2018.
Jane, from London, was awarded a British Empire Medal (BEM) for her voluntary services to swimming, while Wyndham Richard Davidson, known by family and friends as 'D', also received a BEM for his services to swimming coaching in Shropshire and the West Midlands.
Pauline, from Buckinghamshire, also received a BEM for her work with young people with Down's Syndrome and the Electric Eels swimming club.
In the New Year's Honours announced at the end of December 2018, swimming stalwart Pamela Morgan, from Osgodby, was awarded a BEM for her services to swimming.
Several people were also honoured for the dedication to all aquatic disciplines at the Swim England National Awards 2018.  
Provide strong leadership and be the recognised authority for swimming
Strong leadership is at the heart of Swim England and our highly-skilled and knowledgeable team members provided an authoritative voice that is listened to at the highest levels.
We hold a leadership role in Swim Group, the All-Party Parliamentary Group on Swimming, Health Commission for Swimming, National Water Safety Forum, Swimming Pool Advisory Group, Swimming Implementation Group, Strategic Partners Group and the Operators CEO forum. Our CEO chairs the Sport and Recreation Alliance, Major Spectator Sports Group and sits on other ad hoc groups influencing government on a School Sport Action Plan and School Swimming.
The Swim Group hosted the fourth annual Swim Summit, at Harrow Leisure Centre. More than 100 key influencers from across the swimming sector attended the conference.
Our Insight team delivered projects that helped deepen our understanding of the aquatic sector as well as supporting the evaluation of key Swim England programmes. For example, evaluating the #LoveSwimming campaign and supporting the Dementia Friendly Swimming project are two key examples of the team's work. The Three Frontiers Toolkit also demonstrates our leadership of the sector.
We know that: 
81 per cent of people aged over 11 can swim (Source: Jan-Dec 2018, Swim England tracker; statistics based on people aged 11+ years only).
1.2 million children are on the Learn to Swim Programme (Source: Swim England Census 2018).
The number of our 1,062 affiliated clubs that are Swim Mark accredited increased from 546 (51 per cent) at the end of December 2017 to 566 (53 per cent) by the end of December 2018.
The Strategic Partnerships team worked closely with a number of partners and is now closely influencing more than 600 sites through planning and strategy work. The team hosted several Swim England partners in 2018, including a first meeting for regional partners in Loughborough. Aimed at 20 partners, it proved to be such a success that 40 partners were invited to the next meeting in early 2019.
Our Facilities team achieved more than 80 per cent active involvement in new build and refurbishments for public and private sector facilities. The team have a critical role in influencing the water provision that comes into the sector and provides an expertise and support to Sport England investments that no other national governing body can provide.
The Swim England Facilities seminar was relaunched, which gave architects and pool designers the opportunity to showcase innovations in swimming pool design to our partners.
Substantially increase the number of people able to swim
Our vision is of a nation swimming and through our Learn to Swim programme, industry-leading aquatic activity for health qualification and curriculum swimming campaign, we're helping people to enjoy the water.
We believe every child should have the opportunity to learn how to swim and be taught how to stay safe in and around water.
The School Swimming Charter had a total of 944 primary schools signed up by the end of 2018. The Charter is due to be relaunched in 2019.
Swim England insight shows that more children in Years 3 and 6 are having school swimming lessons and parental awareness of the national curriculum swimming requirements is rising (Source: Swim England Parents Research 2018). However, there is more to do and we must do more to support the quarter of Year 11s who do not have those skills.
Our Big School Swim in November saw more than 370 primary schools and 185 swim schools, swimming teachers and pools sign up – with more than 12,000 youngsters enjoying sessions during the week.
A total of 46,588 youngsters received lifesaving guidance through the Swim Safe programme and, for the sixth consecutive year, the number of spaces and attendees increased.
Satisfaction levels were also measured for the first time. Children said they felt safer and more confident in open water and 88 per cent agreed that attending Swim Safe was "great fun."
Online, the Open Water hub on the Swim England website was launched, giving swimmers the latest news, event information and coaching tips for a growing community.
Significantly grow the number and diversity of people enjoying and benefiting from regular swimming
Millions of people are able to enjoy swimming, diving, water polo and synchronised swimming every month because they have been through our renowned Swim England Learn to Swim Programme.
More than 93 per cent of people aged 11+ have enjoyed the water this year (Source: Jan-Dec 2018, Swim England Tracker; statistics based on people aged 11+ years only), while 72 per cent of the country have a positive perception of swimming (Source: Jan-Dec 2018, Swim England Tracker; statistics based on people aged 11+ years).
The number of Swim England members at the end of December 2018 was 188,499.
Our Just Swim members passed the 20,000 mark, up from 13,587 at the end of March 2018. More than 75 per cent of Just Swim members swim weekly and, according to our research, weekly swimmers have much higher levels of life satisfaction, happiness, worthwhileness, self-efficacy and social trust than other active people – suggesting further positive benefits of swimming aligned to the outcomes highlighted in the government's sport strategy Sporting Future.
Wave three of the #LoveSwimming campaign – titled Escape – was launched in October which encouraged adults, particularly females, to Escape the stresses of busy life by making time for a swim at your local pool. 
The campaign has reached more than 3.8 million impressions on social media and had an estimated 500,000 video views (Source: Swim England Facebook, Twitter and Instagram analytics).
While Escape focused on how swimming can help mental health, the Swim England Health and Wellbeing Team has continued to work with pool operators to create opportunities for people at risk or with health conditions to benefit from aquatic activity.
An evaluation of the Dementia Friendly Swimming Project was published in May and the project has helped more than 1,300 people living with dementia and wider health conditions to have a practical swimming experience.
After a successful pilot, the Aquatic Activity for Health Qualification was launched with the aim of training personal trainers/floor walkers to help people with a variety of health conditions to increase their physical activity levels and improve their health and wellbeing through aquatic activities.
And Swim England was successful in obtaining funding from the London Marathon Charitable Trust, who worked with our Health and Wellbeing team to provide a more inclusive swimming experience at 20 pools across the UK. This project includes the installation of Poolpods, a submersible platform which provides dignified access to the water.
Create a world-leading talent system for all our aquatic disciplines
Commonwealth Games
Team England enjoyed considerable success in the pool at the 2018 Commonwealth Games on Australia's Gold Coast, which took place from 4-15 April.
The event is unique in the international competitive calendar as both able-bodied and para-swimmers compete for England at the same time in the same team.
A total of 24 medals were won by English swimmers, made up of nine gold, 10 silvers and five bronze, while Tom Hamer set a new world record in the S14 200m Freestyle.
Adam Peaty set two competition best times (50m and 100m Breaststroke) and Ben Proud also broke the Games record in the 50m Freestyle.
Team England finished second in the medal table, behind hosts Australia.
Meanwhile, the diving team went one better as they topped the medal table with eight – four golds, three silver and a bronze – ahead of Australia.
Jack Laugher led the way as he finished with three gold medals – two individual and a synchro title alongside Chris Mears – while Tom Daley and Daniel Goodfellow secured Team England's other first place in the 10m Synchronised Platform.
Diving
Some of England's top divers – including Olympic champion Jack Laugher, Commonwealth Games gold medallist Alicia Blagg and European champion Lois Toulson – have progressed through the Swim England diving development pathway.
And there are encouraging signs the next generation of talent will also make their mark on the sport.
The aim is for our U15s to be ranked number one in Europe by 2020 and they demonstrated their progress by achieving second spot at the FINA World Junior Diving Championships in Ukraine in July.
And the number of 10 to 11-year-olds achieving the benchmark standard at the Swim England Talent Games is also above target.
The Talent Games is open to divers aged 11 and under from both Little Rippers Talent ID programmes and traditional pathways into the sport, such as club Learn to Dive, development lessons and the START programme.
The best youngsters are invited to join the Swim England Diving Team Z – the first rung on the talent pathway ladder.
Swimming
July saw the announcement that five national swimming Performance Centres were being unveiled to support talented young swimmers.
Working in partnership with swimming clubs and universities, Swim England revealed the centres would be located at High Wycombe, Leeds, Guildford, Manchester and Nottingham.
The aim was to ensure swimmers would be able to move from the junior to senior swimming ranks while continuing their studies.
Counties continued to engage with the Swim England County Pathway Programme with 28 of the 33 signing up by the end of 2018 and the remaining five in progress to also join the programme.
And 18 new coaches were recruited to the Coach 2024 programme in September.
The scheme aims to support and mentor coaches who are working at the upper level of the England Talent Pathway.
After the first cohort of coaches graduated in January 2018, more than 50 applied for the second wave and 18 were chosen to complete the 14-month learning journey.
Para-swimming
More than 170 new swimmers were identified for Paralympic swimming by the end of 2018.
Four have progressed from the England Talent Programme to the World Class Programme, having shown the skills and behaviours required for the selection to the Podium or Podium Potential Programme.
The success of our para-swimmers at the Commonwealth Games and the World Para-swimming European Championships in Dublin has helped raise the profile of the sport.
And the first in a series of para-swimming development days was staged by the South West region.
Synchro
Synchronised Swimming is clearly growing in popularity – as is the potential of our athletes.
There were a number of impressive performances on the junior and senior international stages, with Kate Shortman and Isabelle Thorpe developing further as a duet.
The Synchro Olympic dream was further boosted as the Great Britain programme received £192,500 from the government's £3m Aspiration Fund, which supports Olympic and Paralympic sports that currently do not receive full UK Sport funding.
The performances at the European Senior Championships, which were broadcast on the BBC, plus the release of the British film Swimming With Men has led to an increased awareness of the sport.
Universities were able to apply for Swim England funding to help create a new club and officers worked closely with existing clubs, such as Kingston Synchro, to ensure they thrive and develop.
Water Polo
England's U19 team triumphed in the EU Nations women's water polo tournament in the Czech Republic.
And for the first time in a decade, Great Britain's U19s Men's team qualified for the LEN European Championships finals, where they finished 16th.
The domestic agenda was headlined by investment in the grassroots and significant development work to support the lifeblood of the sport.
Through the Swim England START Water Polo programme, more than £30,000 has been invested in community clubs across the country, resulting in the strengthening of clubs and the widening of opportunities for new people to try the sport.
Swim England also agreed it would invest further in the national programmes in 2019 as the investment from Sport England for water polo talent will end from 31 March 2019.
Deliver a high quality, diverse and motivated workforce within swimming
Our workforce is vital to help us achieve our strategic goals.
Around 2,000 teachers, coaches and volunteers shared their details and experiences about their roles in 2018 to help us gain a detailed view of the aquatic workforce – with nearly half of those sampled holding an ASA Level 2 Swimming Teaching qualification.
Operators continued to reference Swim England when asked if they had a preference for the qualifications their teachers held (Source: Swim England Census 2018).
During April to December 2018 we issued:
Certification figures 7,084
CPD certificates 5,518
CPDs accredited by Swim England Qualifications 10
The 7,084 certifications included 6,750 teacher qualifications which, according to Ofqual, represented a market share of 77 per cent.
A new Swim England Qualifications Facebook page was created, which now has more than 5,000 current and future swimming assistants and teachers sharing best practice and innovative ideas.
Educator training
The Swim England Educator Training team initiated its first international training programme in Dubai.
A total of 1,020 coaching certificates were issued and five tutor training programmes were delivered across all disciplines with more than 40 trainees in total.
More than 370 teachers and tutors attended the Teaching and Education Conference at the Staverton Estate in Daventry.
Almost 80 per cent of the delegates said the event had exceeded their expectations.
Institute of Swimming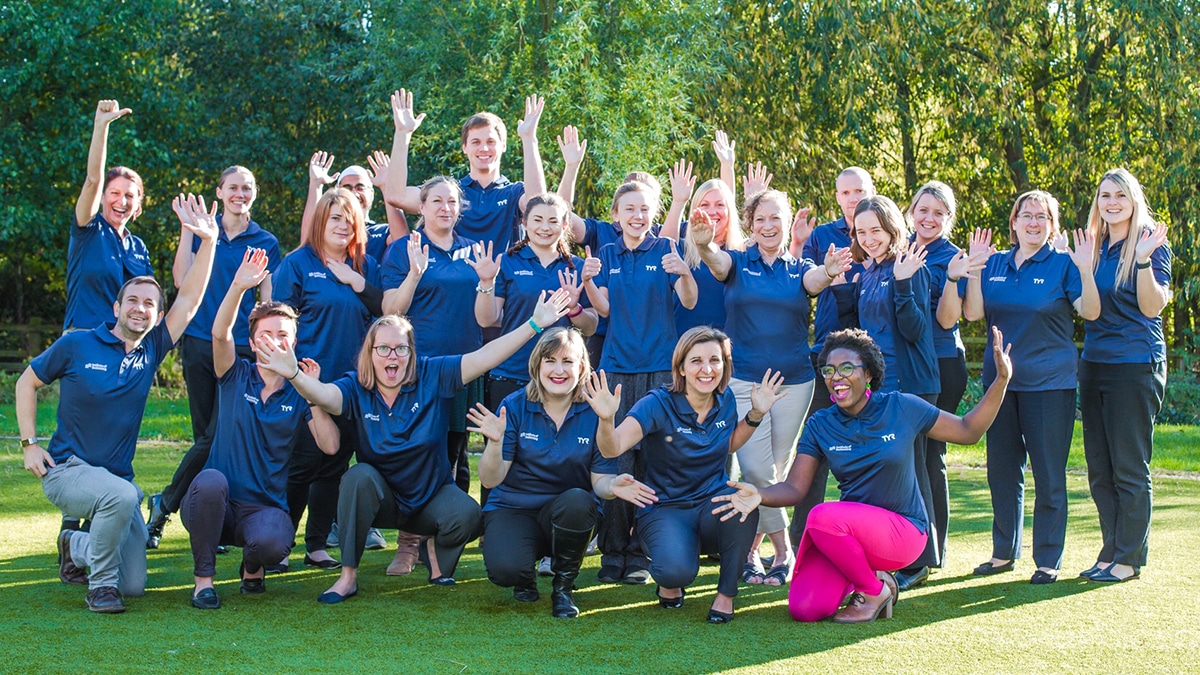 The Institute of Swimming unveiled a new look and 2018 proved to be a busy and exciting time.
In the nine-month period, the Institute of Swimming delivered CPDs and qualifications to more than 10,400 learners. In the same period in 2017, the comparative total was just over 10,100.
A new partnership with swimming's world governing body FINA was created to help train coaches around the world using courses developed by the Institute of Swimming and the Swim England Talent Team.
The FINA Learning Platform is an online tool and the aim is to reach more than 10,000 users by the end of 2020.
All of the Institute of Swimming's major partners signed new agreements and a new initiative to help solve a shortage of swimming teachers was launched.
The Institute of Swimming Teachers' Academy aimed to give those thinking of starting a career as a swimming teacher – or looking for a change of profession – that chance to receive top-quality training whilst being matched with a potential employer.
It was launched in partnership with leisure operators Everyone Active, in London, and Manchester-based Trafford Leisure and there are plans to expand the scheme in 2019.
There was a continued focus of development on technology enhanced learning and release of free interactive resources for learners to support the development of a high quality teaching workforce.
The Institute of Swimming were finalists in the UK Coaching Awards.
Volunteers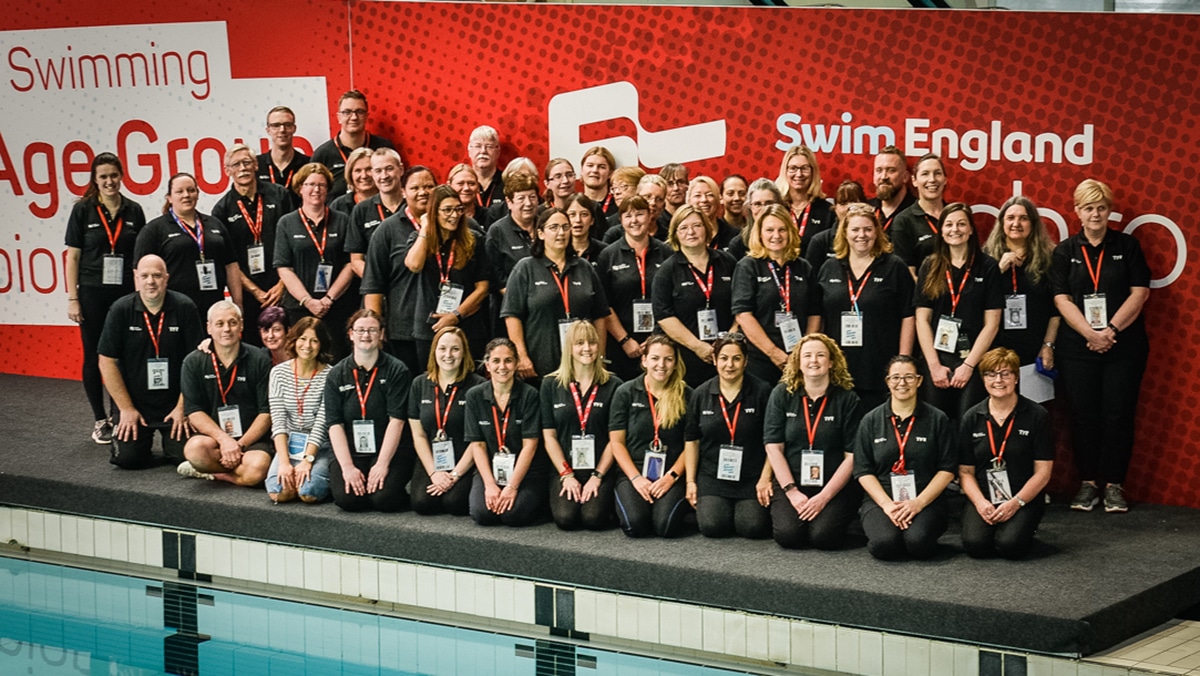 Volunteers are at the heart of every major event staged by Swim England.
During 2018, more than 500 unique volunteers helped out at our 12 events across all disciplines.
By the end of the year, 1,725 volunteers had qualified as timekeepers, with a further 769 as Judge Level 1.
Strengthen our sustainability for future generations
Swim England was delighted to announce in November it had been jointly awarded, alongside British Swimming, the Advanced Equality Standard for Sport.
The nationally recognised award is presented to sporting organisations that have demonstrated significant progress towards diversity across their staff, board, members, coaches and participants, maintained an inclusive approach throughout the organisations' functions, policies and procedures as well as developing initiatives to address each protected characteristic.
More than 2.7 million people access content on Swim England's website every year, and more than 10 million pages were viewed on the site in 2018.
Our social media presence – and engagement levels on Facebook, Twitter and Instagram – continues to grow.
Swim England staged a total of 12 events across all disciplines in 2018, plus the popular National Awards at the University of Birmingham's Great Hall.
The Synchro Combo Cup moved to the iconic London Aquatics Centre for the first time, while the National Winter Championships also featured a new event.
Challenge 68  is a mixed relay race where mixed teams of four from the same club with a combined age of up to 68 years competed to win cash.
Each race began with the backstroke but the order of the next three legs was drawn at random after teams had already confirmed their line-ups.
The finals of the event were featured on BBC's red button as part of the corporation's coverage of the championships.