Swim England monthly updates 2023
16 March 2023
Welcome to the 2023 monthly updates from Swim England.
This will cover the month-by-month work of the national governing body between 1 January and 31 December 2023.

Swim England Board
The Swim England Board meets around six times a year and is made up of representatives from across the sport and physical activity sector. Members have background in legal, human resources and finance. The Swim England Board members are:
Richard Hookway (chairperson), Caroline Green (senior independent non-executive board member/deputy chairperson), Neil Booth, Alison Breadon, Brian Havill, Aysha Kidwai, Raj Kumar, Jane Nickerson, Barry Saunders, Bernard Simkins, Katie Walcott-Greenwood, Joan Wheeler.
January
It promised to be an exciting year ahead for Swim England's Water Wellbeing programme, 12 months after the first facility received its accreditation.
Swim England's Water Wellbeing specialist, Andrew Power, said: "The Water Wellbeing programme is continuing to expand and grow across the nation."
The Water Wellbeing accreditation scheme is open to any pool and offers a range of resources, training and support to help staff better understand the customer experience, as well as personalise the aquatic offer to suit the needs of those with long-term health conditions.
Water polo stalwart Norman Leighton confirmed he was retiring from his role at Swim England.
Norman had spent more than 16 years with Swim England as the sport's talent development officer.
He said: "I might be retiring from my role but not the sport I love."
Swimming pools and leisure centres were dealt a hammer blow after not being designated as 'energy intensive industries' by the Government.
After announcing a new Energy Bills Discount Scheme, it was confirmed that swimming pools were not on the list of industries which will received additional financial support.
Swim England chief executive Jane Nickerson urged the Government to 'review this decision immediately'.
New visual resources to support swimming teachers in England and abroad were launched by the national governing body.
The Learn to Swim team had developed free flash cards for learners – and these were now available in Ukranian and Arabic.
Swim England have joined forces with a number of partners to set up the new Para-swimming London project to help get more young disabled people into the pool.
Working with Level Water, London Swimming, Evalina Children's Hospital and London Sport, Swim England hoped the project would find the para-swimmers of the future.
Martin Lees, Swim England para-swimming development manager, said: "This is a really exciting project where partners are working together to improve local opportunities for young disabled people to access and benefit from swimming."
Swim England appointed Amy Bryant on to its Sport Operations Committee (SOC).
A host of new features were added to the Swim England Learn to Swim app. 
The latest update included even more unlocked icons in the photobooth for everyone to access, more Learn to Swim Awards added and a select your local pool or swim school function to receive an extra unlock!
A failure to offer bespoke support to the leisure sector as part of the new Energy Bills Discount Scheme will be the 'final straw' for swimming provision and other services.
That was the warning from a coalition of organisations, including Swim England, who had made an urgent plea to the Government. 
A number of free diving judge courses were being staged by Swim England to support new officials coming into the sport.
Swim England's School Swimming and Water Safety Charter resources were available to access via the interactive physical education platform, Complete P.E.
The sharing of these resources via the Complete P.E platform will support more than 1,000 schools across the nation.
February
Swim England chief executive Jane Nickerson announced she would be retiring from the role at the end of 2023.
She joined the organisation in 1997 and was appointed chief executive in 2017.
Jane said: "I will always support the organisation and our great sports with immense pride." 
Euan Dale and Kevin Brooks were appointed to Swim England's Swimming Leadership Group to support the delivery of coaching within the sport.
Swim England's Water Wellbeing accreditation scheme was hailed as an opportunity for public pool operators to take a consistent approach around health and wellbeing.
Clubs and members were being encouraged by Swim England to get behind a nationwide day to celebrate 'much-loved' pools.
Community Leisure U's Big Swim Day aimed to demonstrate to the Government how important facilities are to millions of people up and down the country.
A group of 75 Diploma in Sporting Excellence (DiSE) swimmers from clubs up and down the country took part in a week of training and competition in an offshore camp in Dubai.
They returned from the Middle East Open and Junior Championships with a total of 56 medals and were named top visiting club at the event.
Swim England were among a coalition of more than 200 bodies and individuals from health, sport, recreation and leisure who had written to the Prime Minister with an urgent plea for greater support for grassroots facilities and clubs amid the ongoing energy crisis.
Past and present champions of the pool including Luke Greenbank, Anna Hopkin, Alice Tai, Ellie Robinson, Becky Adlington, Duncan Goodhew, Steve Parry, Mark Foster, Adrian Moorhouse, Sharron Davies, Matty Lee, Leon Taylor, Andrea Spendolini Sirieix, Kate Shortman and Isabelle Thorpe were among the aquatic athletes to have put their names to the letter sent to Rishi Sunak.
Swim England members, clubs, swim schools and everyone involved in the aquatics community then visited their local pools to celebrate their facilities on Big Swim Day.
Guidance to support swimmers who are observing the holy month of Ramadan was published by Swim England.
Three documents had been developed to provide coaches and members with a resource to support both themselves and their swimmers to fuel appropriately whilst fasting.
March
The Swim England Club Health Tracker had received 'hugely positive' feedback ahead of the first year deadline approaching.Available to all aquatic clubs, the tracker supports them with continuous improvements within six core areas of club development – coaching and teaching, financial management, pool operator relationships, governance and standards, growth, and volunteering.
The nomination policy for the 2023 Commonwealth Youth Games was published ahead.
A team of 12 swimmers were to be selected to represent Team England at the Games in Trinidad and Tobago between 4 and 11 August.
Paralympic champion Ollie Hynd spoke about qualifying to become a swimming teacher.
The 28-year old retired from competing in 2021 and had gained his SEQ Level 2 Teaching Swimming qualification as he wanted to support the grassroots of the sport.
Swim England published its new Heart of Aquatics safeguarding, welfare and culture plan as it vowed to created a better future for everyone in its sports.
Included in the plan was a commitment to listen to the 'experiences and views' of everyone involved in aquatics to ensure there is a 'positive culture across its sports and that the highest standards of welfare and safeguarding are in place'.
Chief executive Jane Nickerson said the 'change must start with us and everyone at Swim England is committed to playing our role in making this a success for the benefit of everyone'.
She added: "Recent instances have shown in painful detail exactly why Heart of Aquatics is needed and if we are to be successful in this cultural change journey then we need everyone in aquatics, in any role, at any level, to commit to collectively doing everything we possibly can to deliver the positive, safe, welcoming environment and culture that we all want to see."
The plan was backed by Olympic bronze medallist Cassie Patten, who encouraged everyone to get behind the Heart of Aquatics.
She said: "It is an incredible piece of documentation but it is only as good as the paper it's written on unless people are willing to take it on board.
"The willingness of Swim England to say that they want to make the culture better for everyone in the future is incredible."
Swim England's Youth Performance Squad won more than 50 medals between them as they took on athletes from across the continent at the 2023 Swedish Grand Prix.
The squad of 42 athletes came away with 53 medals in all with 21 golds, 14 silvers and 18 bronze medals throughout the three days of competition at the Kungsbacka Badhus Sports Centre.
Swim England welcomed a £63 million Government investment to help keep 'vulnerable' swimming pools afloat and become more energy efficient as they battle with increased costs.
Chancellor Jeremy Hunt announced in his Spring Budget that a new one-year fund will be made available to public leisure centres with pools following months of campaigning by Swim England and a coalition of other organisations.
New research revealed that more than half of adults feel it's intimidating to learn to swim.
That number increased to nearly three in five amongst those who have never swum, according to the statistics published by Swim England in association with 10 leading operators as part of the latest #LoveSwimming campaign.
Swim England launched its 'exciting' new coaching plan which looks to 'transform lives through inspirational coaching'.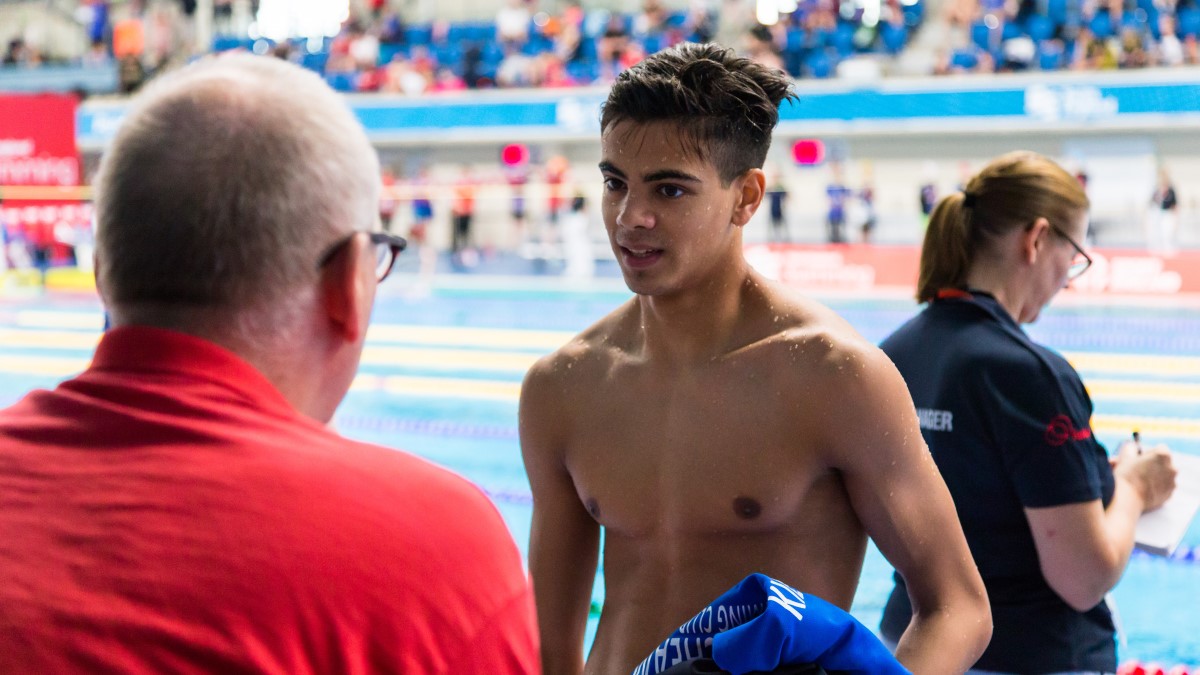 The plan, which runs until 2025, will support coaches across all of the aquatic disciplines and links closely with Sport England's 'Uniting the movement' and 'Coaching Plan 2.0' strategies.
Swim England has relaxed its guidance around period wear at all levels of its licensed meets.
The Swim England Swimming Leadership Group had been asked to reconsider the guidance around period wear suits which swimmers wear.
Swim England fully accepts all recommendations contained within a review which examined the processes and systems followed in three specific safeguarding and welfare cases.
The Sport England-commissioned report by independent experts Sport Resolutions includes a total of nine recommendations for changes to systems and processes, all of which have been accepted by the national governing body.
Swim England wrote to the Department for Environment, Food and Rural Affairs (DEFRA) in support of more stretches of water being officially classified as bathing waters.
The first Swim England event of the year took place when the country's best up-and-coming artistic swimmers descended on Gloucester for the Artistic Swimming National Age Group Championships.
A new safeguarding refresher course which enables swimming teachers, coaches and other personnel working within an aquatics environment to update their knowledge was launched.
The Swim England Safeguarding Refresher with Mental Health and Self-harm module is open to anyone who has completed the Swim England Safeguarding CPD since 2020.
New concussion guidance was launched by Swim England to ensure safety across all of its sports.
The document leads with the message 'if in doubt, sit them out' and aims to help clubs, coaches, athletes and their parents to better understand concussion injuries.
April
New figures which showed the scale of sewage discharges from storm overflows in 2022 were branded 'unacceptable' by Swim England.
The Environment Agency statistics showed there had been more than 300,000 discharges in 2022 – amounting to 824 spillages every day.
Phil Brownlie, Swim England's head of public affairs, said: "Urgent action is needed to improve the state of all our waters to protect these precious environments and the wildlife which call them home, as well as ensuring swimmers and other users who access these blue spaces for their physical and mental wellbeing are not risking their own health."
Swim England published its updated transgender and non-binary competition policy, which aimed to make all its sports fair and accessible to everyone.
All of Swim England's disciplines – swimming, artistic swimming, diving and water polo – will see a new 'open' category introduced, which will be for athletes with a birth sex of male, trans or non-binary competitors.
Only athletes who have declared a birth sex of female will compete in the 'female' category.
This will apply for all licensed events, where times are submitted to official rankings or talent pathway competitions and will come into effect on 1 September 2023.
It was confirmed the Swim England Open Water Masters National Championships would return in 2023 – the first time the event has taken place in four years.
The event would take place on Sunday July 30 at Rotherham's Thrybergh Country Park.
A new health fact sheet on swimming and aquatic activity for people with musculoskeletal (MSK) conditions, such as arthritis or back pain, was published.
Swim England had teamed up with Versus Arthritis to emphasise the benefits of swimming and aquatic activity for people who might struggle to be active due to long-term pain, low mobility or physical function.
Divers on the Swim England pathway won more than 30 medals at the British Elite Junior Championships in Plymouth.
A total of 21 divers on the pathway picked up 13 gold, seven silver and 12 bronze medals between them during the four-day event.
Swim England began the recruitment process for its new chief executive following Jane Nickerson's to retire from the role at the end of the year.
Reading Royals won the Redwood Trophy for the third successive year to round off a successful Swim England Artistic Swimming National Junior and Senior Championships.
More than 150 athletes took part in the event at Nottingham's Harvey Hadden Sports Village.
In the first water polo national event of the year, Cheltenham, West London Penguin, Worthing and City of Manchester were crowned champions at the Sunderland Aquatics Centre.
West London Penguin and Worthing claimed the Boys' U17s and U19s National Age Group Championships respectively, while the girls' titles were won by Cheltenham (U17s) and City of Manchester (U19s).
May
The West Midlands Diving Project was in an exciting phase as it moved towards the opening of the diving programme at the brand new Sandwell Aquatics Centre.
Swim England West Midlands Diving Development Officer, Sarah Barrow, highlighted some of the key achievements in the objectives and aims of the West Midlands Diving Strategy.
A new policy on club supervision ratios applicable to competitions for clubs, counties and regions within aquatics was published by Swim England.
Meanwhile, Swim England announced it would be updating its safeguarding training requirements for all members who require a DBS check as part of their role in aquatics and in accordance with Wavepower.
Swim England celebrated its historic connection with the Royal Family on the weekend of the coronation of King Charles III.
Leisure operator Everyone Active achieved Swim England's Water Wellbeing accreditation across its portfolio of swimming pools.
City of Sheffield Swim squad chair and managing director, John Hewitt, discussed the benefits that Swim England's Club Health Tracker can bring.
The tracker, which was launched in December 2022, is used as a tool to annually benchmark and quantify club development.
Doug Whitlam was named as the new president of Swim England – and said he wanted to pay tribute to volunteers during his 12-month tenure.
He received the ceremonial chain from the outgoing president, Jim Wilks, who said his time in the role had been a 'fantastic experience'.
Swim England published its new 10-year strategy, Access Aquatics.
Its vision for the next decade aimed to champion a healthy and successful nation through swimming – and remove the barriers to participation to ensure its sports and activities are 'accessible, inclusive and safe for everyone'.
Chief executive Jane Nickerson hailed the strategy, saying it was 'a commitment to bring positive change to one of the nation's most popular – and important – recreational activities'.
Sam Buck was appointed as coaching lead for Swim England's Diving Leadership Group to support the delivery of coaching within the sport.
England's senior men retained the Water Polo Home Nations Championship after winning all three of their fixtures against Ireland, Scotland and Wales in Dublin.
A spirited young England women's team – made up of developmental players from the U17s and U19s squad – finished second after defeating Scotland and Wales and narrowly losing 11-10 to Ireland.
Swim England announced a new partnership with Disney and Ocean Bottle to create a new cohort of swimming teachers.
The three organisations joined forces to mark the nationwide release of The Little Mermaid, with both Disney and Ocean Bottle making a contribution to Swim England to fund the training of swimming teachers over the next three years.
A number of English divers impressed at the British Diving Championships with places at this summer's senior and junior internationals up for grabs.
June
Swim England highlighted the astounding work of its dedicated volunteers to mark National Volunteers Week.
Will Browning hoped his experiences of being part of Swim England's Ripple Effect project would inspire others with learning disability to volunteer – while Connor Gilmore said the project helped him gain the work experience that he'd been struggling to find.
The search to recognise the sports' unsung heroes began as nominations opened for the Swim England National Awards, which takes place at the University of Birmingham's Great Hall on Saturday 18 November.
Records tumbled at the British Masters Championships at Sheffield's Ponds Forge International Pool.
It was Swim England's turn to organise and host the event, which was attended by more than 800 swimmers across the three-day competition.
Swim England and the STA joined forces to tackle the 'urgent issue' of a swimming teacher shortage.
The nation's two leading learn to swim programmes warned hundreds of thousands of children could be missing out on lessons as there were around 12,000 vacant teacher posts across the sector.
The latest video in the 'Swimming as Medicine' series was launched by Swim England and supported by the Chartered Society of Physiotherapy.
It focuses on physiotherapy and highlights how powerful being active in water can be for individuals with complex health problems and rehabilitation needs.
Independent experts The Behavioural Architects were to gather the views of the aquatics community as part of Swim England's pledge to create a better future for everyone in its sports.
The award-winning research company would conduct the comprehensive listening research, which was first announced by the national governing body in its Heart of Aquatics safeguarding, welfare and culture plan in March.
A host of new artistic swimming grade videos to reflect the recent rule changes in the sport were released by Swim England.
More than 100 videos were uploaded to Swim England's YouTube channel to athletes, parents, coaches and clubs what skills are required to reach each grade.
The inaugural members on Swim England's new Oversight Committee were appointed.
Eight people, formed of independent experts as well as athlete, judicial and culture representatives, will report directly to the Swim England Board and will managed and oversee the safeguarding, welfare and culture plan, Heart of Aquatics.
Plymouth Diving Club were crowned top club at the Swim England Diving National Age Group Championships after winning a total of 17 medals at the four-day competition.
More than 120 athletes representing 15 clubs took part in the competition at Sheffield's Points Forge International Pool.
Swim England took the first steps to turn existing guidance into policy following a commitment made in the Heart of Aquatics.
It turned its position statement on weighing athletes into a policy which all clubs and coaches must comply with.
A multi-million pound fund to help local authorities keep afloat swimming pools struggling with soaring energy bills was launched.
Swim England and partners had campaigned for pools to gain additional financial support and a total of £20 million was available in phase one of the Swimming Pool Support Fund.
It was targeted at those facilities at risk of closure or reduced service provision as a direct result of the increased expenses to operate them.
July
The month began with people being given the chance to nominate athletes, coaches, volunteers and pioneers of all aquatic sports into the Swim England Hall of Fame.
A total of 29 people have so far been included – and the 2023 inductees would be named at the Swim England National Awards in November.
A 14-strong squad of swimmers were selected to represent Team England at the Commonwealth Youth Games in Trinidad and Tobago in August.
Swim England made changes to the technical officials' uniform in a bid to make aquatics accessible for all.
From 1 September, the new uniform when officiating at Swim England national events would include black trousers/skirts/shorts as opposed to white.
Swim England's affiliated clubs are set to play a vital part in helping to ensure that people from diverse communities see aquatics as a welcoming and inclusive space.
From November, all of Swim England's 946 clubs will have to submit a Diversity and Inclusion Action Plan as part of their requirements to remain affiliated.
City of Leeds became the new Swim England Artistic Swimming Combo Cup champions with an impressive 42 points after topping the podium three times.
It completed a hectic day of action at Sheffield's Ponds Forge which also saw City of Bristol, Rugby, City of Salford and Bramcote Aquastars also claim gold medals.
The following day, Ponds Forge hosted the Swim England Artistic Swimming National Masters Championships.
It featured a golden performance from 79-year-old Jeanne Ansley, who shared her life-long passion for the sport.
Swim England announced the appointment of Ally Whike as its new sport development director.
Ally was joining the national governing body from Scottish Swimming and replacing George Wood, who had left the organisation to take on a new challenge.
The North and South talent centres split the awards evenly – winning two trophies each – as they were crowned Swim England Water Polo Talent Centre national champions for 2023.
Swim England chair Richard Hookway gave a progress report on the national governing body's safeguarding, welfare and culture plan, Heart of Aquatics.
Richard wrote: "We have achieved a lot but recognise we have much more still to do."
Swim England was proud to have supported the IGLA London 2023 International LGBTQ+ Masters Aquatics Championships.
Mike Hawkes, Swim England head of diversity and inclusion, said: "The whole event was great fun and had inclusion at its very heart."
City of Sheffield and Southend Diving Club's shone at the Swim England Diving National Skills Finals 2023.
Swim England's Talent Pathway Selection Criteria – which aims to promote 'transparency, fairness and inclusion to all of our aspiring young swimmers' – was released for the 2023-24 season.
A new four-year partnership between Swim England and bank payments company GoCardless was announced.
The move would see GoCardless become official payments partner for Swim England as well as the headline sponsor of its national events.
More than 300 young swimmers took part in the Swim England Open Water National Age Group Championships at Rother Valley Country Park.
The National Masters Championships was due to be held the following day for the first time in four years but was cancelled after the opening race due to a medical emergency.
August
New cost comparison research showed that swimming was one of the most affordable activities for families.
The insight was released as part of the latest wave of the #LoveSwimming campaign to highlight the affordability of swimming as a family activity, and the importance of leisure centres as a vital community resource.
More than 1,300 of the nation's fastest young swimmers took part in Swim England's biggest domestic event.
The Swim England National Summer Meet was held over five days at Sheffield's Ponds Forge International Pool.
Free artistic swimming Inspired to Try sessions helped 'raise the profile of the sport' and enabled clubs to pick up new members.
They were held at three Yorkshire-based clubs ahead of the Swim England Combo Cup.
Team England topped the swimming medal table at the Commonwealth Youth Games as the 14-strong squad won nine gold, 10 silver and 4 bronze medals at Trinbago 2023.
Meanwhile, on the anniversary of the Birmingham 2022 Commonwealth Games finishing, it was revealed a legacy project had helped 'make a difference' to hundreds of pupils' lives.
Inspire 2022 – a Sport England funded project, delivered by Swim England – provided innovative and accessible opportunities to help people from all kinds of backgrounds be safe around water and participate in aquatics.  
The Swim England Water Polo Talent Centre initiative was being expanded after a successful first year.
Four talent centres were set up in Bolton, Hucknall, Croydon and Bristol but a fifth was being opened at Haberdashers' Boys' School, in Borehamwood, to give more young players 'the environment to improve'.
Swim England pathway divers were included in the British team which would be competing at the European Junior Diving Championships in Rijeka, Croatia.  
The team returned with three gold, four silver and one bronze medals.
Andy Salmon was appointed as the new chief executive of Swim England.
It was confirmed he was joining the organisation from his current role as chief executive at British Triathlon in February 2024 to replace the retiring Jane Nickerson.
Swim England teamed up with the STA to create a nine-point plan to help clarify national curriculum guidelines around performing safe self-rescue in different water-based situations.
A total of 150 accredited pools across the county were now running the Swim England Water Wellbeing programme.
Swim England said it was 'looking forward' to working closely with the Government to ensure aquatic activity plays a key role in getting more people active.
The Government published its Get Active: A strategy for the future of sport and physical activity, which aims to get 3.5 million more people in England physically active by 2030. 
September
Swim England paid its respects to former Amateur Swimming Association president and Cheltenham Swimming and Water Polo Club member Phil Jones, who died at the age of 90.
Chief executive Jane Nickerson said Phil's 'unwavering commitment' to water polo 'would never be forgotten'.
Craig Figes, Swim England's water polo programme lead, reflected on a successful season for the sport, which saw Great Britain's senior women's team qualify for the European Championships.
The healthcare benefits of swimming and aquatic activity for people with long-term health conditions was the focus of an eLearning resource launched by NHS England.
Developed in partnership with Swim England, Aquatic Therapy Association of Chartered Physiotherapists (ATACP) and University of Nottingham, the resource was aimed at healthcare professionals of all types who may have an influence on an individual's decision to be active, including social prescribing link workers and leisure professionals.
Karen Thorpe, Swim England Artistic Swimming manager, hailed a successful season for the for the nation's senior, junior and youth squads.
Swim England launched its Don't Put a Cap on Swimming campaign as its latest Value of Swimming report was published.
The newly-released research stated that swimming is generating social value of £2.4billion a year – and outlined how water-based activity continues to make a significant contribution to the physical and mental wellbeing of the nation.
At the Parliamentary launch of the report, Jane told the Government investing in the long-term future of swimming pools will 'help save the public purse a fortune'.
The Value of Swimming warned that 1,000 publicly accessible pools have closed since 2010 – while, around 1,500 are in excess of 40 years old and coming towards the end of their 'shelf life'.
Jane said: "This is an investment which has a massive return on that investment – both in financial terms but also in the personal value to those individuals whose life is healthier and happier through swimming."
During the reception, Dr Hussain Al-Zubaidi reiterated Jane's plea as he said water-based exercise can provide 'more benefit than any pharmaceutical agent'.
Swim England expressed its 'concern and disappointment' at a new Ofsted report which states pupils' swimming and water safety attainment in primary schools is 'mixed'.
Levelling the playing field: the physical education subject report found the cost of transport and the availability of swimming facilities 'often limited the design of ambitious curriculums for swimming and water safety'.
A new Inclusive Club Guide published by Swim England aimed to help its affiliated clubs ensure their activities are more accessible, diverse and inclusive.
An exciting initiative to increase and improve opportunities for young people with special educational needs and disabilities (SEND) to participate in school swimming and water safety lessons has been hailed as a success.
As part of National Inclusion Week, Lorna Goldie, Swim England's school swimming and water safety development officer, gave an update on Inclusion 2024.
October
Swim England published new guidance to help coaches, athletes and parent identify the warning signs of low energy availability.
Two documents had been created to raise awareness about the potential health and performance consequences of low energy availability – and how to help athletes get support.
The guidance was backed by both Olympic marathon swimmer hopeful Amber Keegan and Olympic bronze medallist Cassie Patten.
More than 90 athletes joined the Swim England National Youth Development Programme for 2023-24.
The 14 and 15 year old swimmers and para-swimmers took part in a number of workshops at an induction camp and will be aiming to develop their technical and tactical race skills throughout the programme.
Yorkshire became the GoCardless Swim England National County Team Division One champions for the first time since 2018 with an impressive display at Ponds Forge.
They finished on 472 points to beat defending champions Kent to the top spot by a margin of 31 points.
Cheshire missed out on promotion in 2022 by only 12 points but they were crowned Division Two champions 12 months' later with a score of 478 points, finishing 26 clear of second-placed Dorset.
Swim England Ripple Effect Project Officer, Nicola Hughes, and volunteer Jasmine Stagg shared their experiences of helping out at the 2023 World Para Swimming Championships in Manchester.
Michael Gunning and Leon Taylor were confirmed as the joint hosts of the Swim England National Awards – as the finalists for the 17 different categories were revealed.
Swim England confirmed it had joined forces with Scottish Swimming and Swim Wales to host the Home Nations Coaching Conference.
The two-day conference, supported by British Swimming, was due to take place in November with the theme of 'Developing Excellence in Coaching'.
Swim England chief executive Jane Nickerson told the Government affordable and sustainable facilities are key to making swimming more accessible across the entire country.
Jane was speaking at a Culture, Media and Sport Committee meeting on women's sport and said a lack of facilities was making it 'harder and harder' for people to go swimming.
Almost 300 clubs took part in the GoCardless Swim England National Masters Championships at Sheffield's Ponds Forge.
Trafford Metro retained the Otter 150 Cup during the three-days of racing which saw a number of world, European and national records broken.