Swim England monthly updates 2022
27 April 2022
Welcome to the 2022 monthly updates from Swim England.
This will cover the month-by-month work of Swim England between 1 January and 31 December 2022.
Swim England Board
The Swim England Board meets around six times a year and is made up of representatives from across the sport and physical activity sector. Members have background in legal, human resources and finance.
The Swim England Board members are:
Richard Hookway (chairperson), Caroline Green (senior independent non-executive board member/deputy chairperson), Neil Booth, Alison Breadon, Sarah Gregory, Brian Havill, Aysha Kidwai, Raj Kumar, Jane Nickerson, Barry Saunders, Bernard Simkins, Joan Wheeler.
January
The dawn of a new year saw excitement start to build around the Birmingham 2022 Commonwealth Games.
Grant Robins said he was hoping Team England would have the 'best Games ever' in the pool. 
Robins had been given the task of swimming team leader for the Games and said: "I was fortunate enough to do the Gold Coast which was brilliant but to lead your country in a home Games is purely exceptional.
"We want to have the best games ever. This opportunity doesn't happen very often."
Meanwhile, Adam Peaty said it was always a privilege to represent England at the Commonwealth Games.
"This is my home-coming from the Olympics and the last five years. I'm looking forward to coming to Birmingham and just enjoying the home crowd."
A number of Swim England coach developers were endeavouring to better their mentoring skills after undertaking a Level 3 Award in Workforce Mentoring.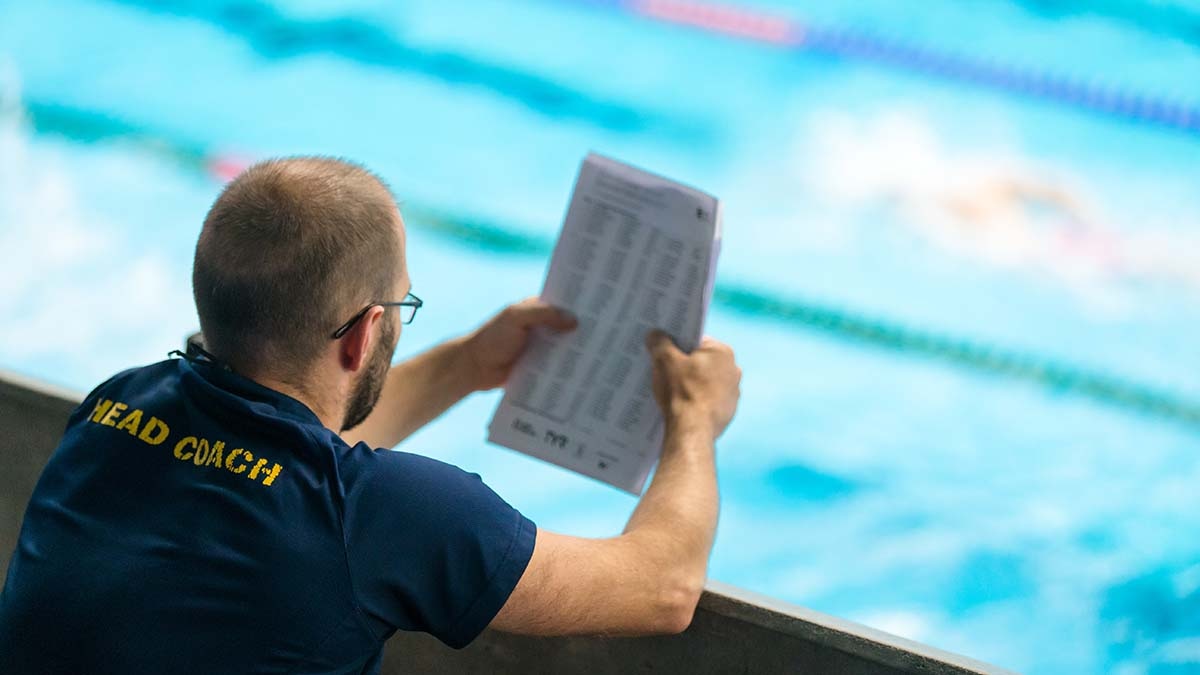 Kevin Brooks, head coach at Wycombe District Swimming Club, Marc Spackman, head coach at The Royal School Wolverhampton and John Adye, performance coach at Repton Swimming, had been selected for the programme.
A group of African women who believed swimming was something 'the boys do' 'graduated' from affordable and accessible lessons.
They were presented with Swim England Learn to Swim Awards after Hampshire-based charitable organisation The United Voices of African Associations (TUVAA) arranged for them to access lessons at Active Nation's Bitterne Leisure Centre in Southampton.
Olympian Leon Taylor led the tributes to British diving stalwart Chen Wen, who died at the age of 80.
Swim England made changes to the popular 'Connecting with Coaches' sessions in an effort to make them more accessible.
The topics of the sessions will alternate between swimming-specific material and generic topics that can be applied to all aquatic disciplines.
Swim England's Stronger Affiliation process was renamed Club Affiliation. 
Completing Club Affiliation means that a club is operating in a safe and compliant way and has achieved the minimum standard of safe and effective practice.
Swim England published its free to download book celebrating the success of all aquatic athletes at the Tokyo 2020 Olympic and Paralympic Games.
Big in Japan featured all the reports from the Tokyo Aquatics Centre and the Odaiba Marine Park from the swimming, diving, artistic swimming and open water competitions.
Swim England chief executive Jane Nickerson demanded urgent action was taken to tackle a 'chemical cocktail' contaminating the country's rivers.
A damning Water Quality of Rivers report stated: "It is clear that rivers in England are in a mess.
"A step change in regulatory action, water company investment, and cross-catchment collaboration with farmers and drainage authorities is urgently required to restore rivers to good ecological health, protect biodiversity and adapt to a changing climate."
A talented cohort of 100 swimmers and para-swimmers were selected for Phase 2 of the Swim England National Event Camps.
The group of 15-16-year-old athletes were selected based on their performances from the Festival of Swimming and the 2021 Swim England National Winter Championships.
Swim England welcomed the release of a new report which highlighted the important role pools, leisure centres and gyms can play in helping to ease the pressure on the NHS.
ukactive's Leading the Change: social prescribing within the fitness and leisure sector report highlighted why urgent investment was needed in facilities for the future.
Five-time Paralympic champion Ellie Simmonds visited the Sandwell Aquatics Centre after the pools were filled with 1.2 million gallons of water.
Simmonds described it as an 'incredible venue' and said it would be a 'wonderful facility' for local residents following the Commonwealth Games.
Swim England's model club constitution for unincorporated clubs was updated.
A 'packed programme' of artistic swimming national events was confirmed by Swim England.
The National Age Group Championships, the Junior and Senior National Championships, the Combo Cup and the National Masters Championships would all return in 2022 at venues up and down the country.
Olympic champions Adam Peaty, Tom Dean and Anna Hopkin were part of a group of 10 athletes who had been selected to represent Team England at this summer's Commonwealth Games.
The Tokyo 2020 gold medallists join Max Litchfield, Abbie Wood, Molly Renshaw, Ben Proud, James Wilby, Luke Greenbank and Alicia Wilson who will be in action at Birmingham's Sandwell Aquatics Centre.
The first appointments to the Commonwealth Games swimming leadership team were made and saw head coach Mel Marshall leading the charge to Birmingham.
Decorated coach Marshall would be joined by Diane Elliot in her role as sports science lead and Rod Wardle, who would act as team manager.
The first Team Z camp in almost two years saw divers from 10 clubs across the country coming together for a 'challenging and exciting' weekend.
Suzie Collins, Swim England diving talent development officer, said: "The UK is brimming with young talent and we are excited to see these athletes develop over the coming years."
February
Emma Collings-Barnes, Dan Pilbrow and Marc Foster were named as respective head coaches for the freestyle, medley and open water events at Swim England's National Event Camp.
They said they were 'privileged and honoured' to be working with the 'best and brightest' talent in the country.
An 'essential tool' which will help swimming teachers, coaches, pool operators and carers to improve the overall experience of aquatic activity for those with long-term health conditions was launched by Swim England Qualifications.
Swimming is 'uniquely placed' to help the Government achieve its national levelling up missions – but would only succeed with urgent investment in facilities up and down the country.
Swim England chief executive Jane Nickerson said: "If swimming and water-based activity is to play the huge role it can – and should – in levelling up health outcomes across the country, then we need to see the Government invest in the pools we need as a matter of urgency."
It was confirmed Swim England would host a full programme of Water Polo National Age Group Championships for the first time in three years in 2022.
The coronavirus pandemic forced the cancellation of the U17s and U19s competition in both 2020 and 2021 – with the U15s managing to return to action after a two-year hiatus last December.
Youngsters who missed out on school swimming lessons due to the pandemic were being offered free top-up sessions as part of a new collaborative project.
The sessions were being held for youngsters from five primary schools as part of the London Legacy Project which aims to make aquatic sports more accessible to hundreds of people.
Youngsters on the Swim England pathway impressed at the British National Diving Cup at the Plymouth Life Centre.
A host of junior divers recorded stellar performances including Euan McCabe, Amy Rollinson, Leon Baker and Desharne Bent Ashmeil.
Swim England announced it had introduced a new coaching policy which now focuses on the minimum expectations for clubs in relation to coaching qualifications.
Open water swimmers were being encouraged by Swim England to take part in a Government consultation for more designated bathing waters.
The recognised national governing body also called for the Government to be 'more ambitious' in ensuring there were stretches of clean open water to swim in.
Ninety five swimmers received a 'fantastic learning experience' after taking part in an offshore training camp and competition in Dubai.
The swimmers were all part of the Diploma in Sporting Excellence (DiSE) programme.
New members were appointed to the Swim England Masters Working Group and were turning their focus towards 'paving the future' of Masters swimming in England.
Meanwhile, Matt Bartle has said he was 'delighted and honoured' after being named as the new volunteer lead for the Swim England Diving Leadership Group.
Bitterne Leisure Centre was announced as the first facility in the country to receive Swim England's Water Wellbeing accreditation.
The Southampton-based pool was one of the first to join the Water Wellbeing programme in 2018 and it has allowed the centre to provide opportunities for those with long-term health conditions to become more active in the water.
Swim England announced it was creating a new resource to help club-level aquatics coaches support athletes who may be struggling with eating disorders.
March
An initiative to help hundreds of children progress from learn to swim lessons to a club environment has been launched by Swim England and Everyone Active. 
The Club Link programme was being rolled out across 125 facilities nationwide.
Dozens of visually impaired youngsters took part in the British Blind Sport National Youth Swimming Gala.
The event was run by British Blind Sport in partnership with Swim England and provided a 'fantastic opportunity' for young people with a visual impairment to take part in competitive races.
Olympian Craig Figes started a new role with Swim England as water polo programme lead for Great Britain.
Figes, who was the GB men's captain at the London 2012 Olympic Games, was appointed technical expert for water polo, advising Swim England, British Swimming and the home nations.
Swim England backed a nationwide campaign to ensure 200 rivers are designated as bathing waters by the end of the decade.
The Speak Up For Our Rivers petition had been set up by environmental charity Surfers Against Sewage.
Swim England warned that 500,000 children were missing out on the chance to learn to swim due to a shortage of swimming teachers.
A series of health fact sheets were relaunched by Swim England on Social Prescribing Day
The fact sheets cover a range of conditions including asthma, dementia, epilepsy, diabetes, ear infections, glandular fever, mental heath and skin problems.
A team of 35 Swim England juniors gained 'valuable experience' as they raced against some of the biggest names in the sport at the Edinburgh International Swim Meet.
Richard Blackshaw, Swim England head of swimming talent, said the squad showed 'fearlessness' adding: "The team have been outstanding."
The full team which will aim to steer Team England's swimmers and para-swimmers to have the 'best Commonwealth Games ever' was finalised.
In total, there are 26 members of the backroom team covering all aspects from coaching, nutrition, strength and conditioning through to analysis and media.
A new 'positive' and 'powerful' project to increase inclusion and accessibility across Swim England's volunteering structure was launched.
The Ripple Effect will aim to break down barriers for individuals who want to become volunteers and encourage them to get involved in aquatic sports
Rising energy costs could pose a threat to the nation's health and wellbeing as 'vulnerable' facilities whereat 'major risk of closure' warned ukactive and Swim England.
The first phase of the London Legacy project which offered free top-up swimming lessons to youngsters in three of the most deprived areas of the capital was hailed as a huge success.
Swim England water safety manager Ash Jones told a conference hosted by the Rivers Trust that improving access to open water opportunities would be a 'win-win' for outdoor swimmers and the environment.
An 'invaluable' new product to help swimming pool owners and operators maximise their Learn to Swim programmes was launched by Swim England.
The Aquatic Latent Demand tool will empower learn to swim providers to understand their true market potential, and therefore help more children to learn to swim.
Swim England was working in conjunction with the University of Nottingham on the Wild Swimming and Blue Spaces project which aims to encourage more people to reap the health benefits of open water swimming.
More than 900 13 to 14 year olds were given expert advice to help improve their performances in the pool at a second Swim England online National Development Camp.
Swim England started working in partnership with Her Spirit to inspire more women to get active.
The aim was to ensure more women are able to experience the positive health benefits of being active in the water.