Annual Report and Financial Statement 2019
9 July 2019
Welcome to the 2019 Swim England Annual Report.
This covers the work of Swim England between 1 January and 31 December 2019. It will be updated throughout the year and all the information is detailed under the headings below.
Annual report and financial statement
Swim England Board
The Swim England Board meets around six times a year and is made up of 12 representatives from across the sport and physical activity sector.
Members have background in legal, human resources and finance.
Reporting into the board are a number of other committees. These committees and their members can be viewed here
Swim England board members 2019
Mike Farrar CBE (chairperson), Keith Ashton, Neil Booth, Alison Breadon, David Flack, Caroline Green, Sarah Gregory, Brian Havill, Ian Mackenzie, Jane Nickerson, Bernard Simkins and Sue Smith MBE. Click here to read full profiles of the Swim England board members.
Awards and recognition
Howard Ramm was appointed an MBE in the Queen's Birthday Honours for his service to the Royal National Lifeboat Institution (RNLI), including the evolution of the Swim Safe programme.
Swim Safe – a joint venture between the RNLI and Swim England is reaching 30,000 children across the UK in 2019, educating young people about how to swim safely outdoors.
Ramm, a former Maritime Standards and Performance Manager at the RNLI, was pivotal in creating an emphasis on water-related accident prevention, leading the charity to shift from solely search and rescue, to focus on community safety.
He played an important role in the national drowning prevention campaign, Respect the Water, and helped inspire the birth of Swim Safe in 2013.
Eileen Fenton, of Dewsbury, West Yorkshire, was also awarded an MBE, for voluntary service to long distance and competitive swimming coaching.
She was the first woman to complete the first International Channel Race in 1950, completing the arduous swim from France to England in 15 hours and 31 minutes.
Provide strong leadership and be the recognised authority for swimming
Strong leadership is at the heart of Swim England and our highly-skilled and knowledgeable team members provided an authoritative voice that is listened to at the highest levels.
December
The impact of our Value of Swimming report continues to ripple through the sector, as well as being well received by non-sporting organisations such as Mind. The Insight Team are influencing the sector by providing advice and guidance to other organisations looking to understand their impact on social value.
Research into the Swim England Qualifications offer revealed a significant increase in the importance of the National Governing Body for learners and employers when selecting the provider to obtain their qualification from.
This is a great example of where cross-functional working and successful marketing has contributed to Swim England being recognised as the authority for swimming.
The safe practices in the Physical Education, School Sport and Physical Activity (PESSPA) document for learn to swim have been rewritten.
Evaluation on the Disney-inspired Family Fun Swim Sessions for Toy Story 4 has been delivered. Disney has agreed to meet early in 2020 to discuss extending the partnership into a second year.
The Swim England Youth Advisory Panel were shortlisted for a national award.
The group were one of the three finalists in contention for Volunteering Award at the Sport and Recreation Alliance-run 2020 Community Sport and Recreation Awards.
The winners will be announced on Friday 6 March 2020
November
We launched our Value of Swimming report at a parliamentary reception.
The report proves what many in swimming have known for a long time – that it is incredibly valuable. Aquatic activity helps save the NHS and social care system more than £357 million a year.
This research is the most thorough and robust piece of social value work ever conducted by a sporting governing body to demonstrate the impact of the sport and featured case studies of those who have become happier and healthier through swimming and water-based activity.
We delivered a webinar to Community Leisure UK on recruitment and volunteering as well as aquatics sessions for the Parkwood Leisure UK staff conference for regional directors and teachers.
We also published refreshed guidance to help support primary schools deliver on the national curriculum requirements for swimming and water safety.
The easier-to-read guidance has been produced in conjunction with the Department for Education.
October
The percentage of clubs affiliated to Swim England that are SwimMark accredited stands at 75 per cent – against a target of 55.5 per cent for September 2019. This reflects the great deal of work from volunteers across the country to ensure that clubs have strong governance and development plans for the future.
We have agreed the 2020 action plan and key areas of focus with RLSS UK, which will help support partners and key stakeholders across the sector.
Our Strategic Partnerships team hosted a meeting with 30 partners who, collectively, have responsibility for 200 pools across the country. Items discussed included the Water Wellbeing project, My Learn to Swim App and sharing good practice from one of the partners who was involved in Sport England's Swim Local pilot.
September
A new partnership with Mind was confirmed which would promote the benefits swimming can offer to people experience a mental health problem.
We would work alongside Mind to also help educate the swimming workforce and facility staff on mental health and share messages about how water-based activity can support positive mental health across social media channels.
Another partnership with AquaPhysical was finalised while our association with RLSS UK was strengthened.
The 2020 action plan was agreed with the RLSSUK and an offer for Swim England Level Two qualified teachers and coaches to become qualified to deliver the Rookie Lifeguard Programme for a special reduced price of £10 was publicised.
August
We published a blog for the "Activating the Nation" WhySport Conference, which is taking place in September. The blog promoted the benefits of swimming pools as health promoting centres and specifically the successful Water Wellbeing programme.
Swim England team members took part in a Swim 150k challenge as part of the 150th anniversary celebrations. More than 80 of Swim England's workforce were due to swim a combined total of 6,000 lengths of the Loughborough University pool – but smashed that total and swam almost 10,000 lengths, the equivalent of more than 150 miles! The event helped raise money to send young survivors of the Grenfell Tower fire to a Swim Safe session in Cornwall.
July
An exciting partnership with the Housing Association Charitable Trust (HACT) has been agreed, looking to bring together the expertise of both parties, to encourage more people into swimming.
HACT's Centre of Excellence for Community Investment works closely with housing associations to look for ways to improve the physical, mental and social wellbeing of their residents.
We are working with the Centre of Excellence to expand our network of Housing Associations, as well as publish a White Paper in the new year to highlight the value of investing in swimming at a local level.
The Swim England Inclusion hub was launched on swimming.org. It features information and resources focused on inclusion, equality and diversity in the Learn to Swim Programme and beyond.
Recent Learn to Swim webinars were also published online. A number of podcasts which are perfect for quick teaching tips and best practice guidance on the Learn to Swim Programme and School Swimming and Water Safety Charter whilst on the move were also published.
Chief executive Jane Nickerson said swimming should be at the heart of the Government's new School Sport and Activity Action Plan.
The plan aims to encourage youngsters to access at least 60 minutes of physical activity every day.
June
The Duke of Cambridge praised the work Swim England is doing to ensure all children are able to learn to swim and enjoy the water safely by the time they leave primary school.
He said he was delighted to see free guides launched to help schools achieve this goal in a special message recorded to mark our 150th anniversary.
Our annual review meeting with Sport England showed how we had already exceeded some of four-year targets.
The meeting demonstrated our strong performance in 11+ memberships and the number of sites we have a strategic partnership with.
New stretch targets are being created for the remainder of the four-year funding cycle with a view to growing our influence with members and partners further.
The Dive West Midlands project was formally launched at Sandwell Borough Council's offices.
Olympic diver Sarah Barrow is leading the exciting new project to help develop diving in the West Midlands region in the run up to the 2022 Commonwealth Games.
May
Swim England team members attended the major sports exhibition, Elevate. We supported the Active Aquatics area and helped to deliver a series of seminars aimed at pool operators, swimming coaches, teachers and leisure/health club providers.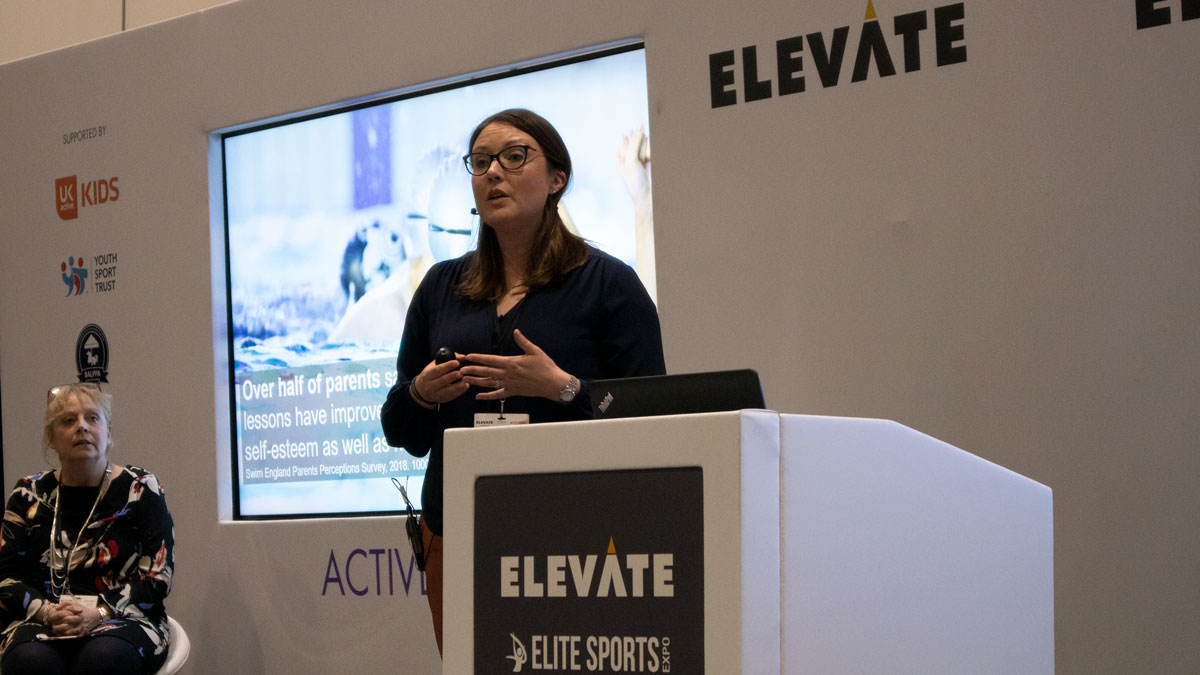 The Institute of Swimming were also at Elevate alongside Swim England and RLSSUk and were joined by a number of partners. Managing director Rebecca Cox spoke about the importance of recruiting, retaining and motivating workers in the aquatics industry.
Also at Elevate, The Swimming and Health Commission launched the first wave of fact sheets to provide advice for coaches, swimmers and operators on specific health conditions. Fact sheets on Asthma, Glandular Fever, Dementia, Ear Infection and Epilepsy were released.
April
We called for the medical profession to be more proactive in prescribing swimming as part of a programme of activity to manage a variety of medical conditions and aid recovery as wave four of the #LoveSwimming campaign was launched. Moving Medicine featured case studies of several people and the physical health benefits of swimming.
Membership numbers had grown by 1,028 compared with the same period in 2018
The Pool Water Treatment Advisory Group (PWTAG) successfully moved management services over to Swim England.
We started work with the biggest swimming lesson provider in Lithuania, Banga Swimming Club, to implement our Learn to Swim programme.
The Youth Sport Trust Inclusion 2020 project, funded by the DfE, commissioned Swim England to assess school swimming provision for pupils with Special Educational Needs and Disabilities (SEND). The project aims to work with five lead inclusion schools across the country to improve and increase opportunities for SEND pupils to participate in school swimming.
March
The London Region agreed to adopt Swim England branding, meaning all eight regions – East, East Midlands, London, North East, North West, South East, South West and West Midlands – are now Swim England branded.
We revealed plans to create a Hall of Fame to honour the achievements of individuals who have made a significant impact on aquatics as part of our 150th anniversary celebrations. Athletes, coaches and volunteers across England will all be considered for submission into the Hall of Fame after being suggested by the public.
New research showed enjoyment is a key factor in keeping youngsters active – and we were playing our part in ensuring aquatic sport is a fun and safe activity for all ages. Sport England had interviewed more than 130,000 children aged between 5 and 16-years-old during the 2017-18 academic year as part of its Active Lives Children and Young People Survey and has released the new findings following further detailed analysis.
The #LoveSwimming campaign was shortlisted for a Sports Business Award in the Best Governing Body Initiative category.
February
The 2019 Swim England Handbook was published online.
Work on the London Marathon Charitable Trust project was progressing. We had received a £750,000 grant in November 2018 to fund the use of PoolPods, a submersible platform which provides dignified access to the water. Applications for sites had been sent out through our partner, Community Leisure UK, and we were also identifying potential sites in Scotland and Wales.
January
A key milestone in the history of aquatics was marked on 7 January as it was 150 years since the birth of the world's first national governing body for swimming. The first meeting of the organisation that was to eventually become Swim England was held on 7 January 1869.
Substantially increase the number of people able to swim
Our vision is of a nation swimming and through our Learn to Swim programme, industry-leading aquatic activity for health qualification and curriculum swimming campaign, we're helping people to enjoy the water.
December
Our partnership with Everyone Active to achieve 10 millions swims smashed its target.
A total of 13,146,261 swims had been recorded at pools across the country.
More youngsters are swimming at least once a week, according to new research published by Sport England.
The Active Lives Children and Young People survey has revealed 2,073,600 five to 16-year-olds took part in aquatic activity at least once a week during the last academic year (2018-19).
That's a rise of 189,100 (2.4 per cent) compared with the previous year's total of 1,884,500.
November
This year's Big School Swim has been hailed as the most successful so far – with more schools and pupils participating than ever before.
Around 70,500 pupils from 5,733 schools were involved in the week-long event – almost six times more than 2018.
October
New statistics from Sport England showed an increase in the number of women swimming at least twice a month has led to a rise in people taking part in water-based activity.
The Active Lives survey revealed 4,690,500 people aged 16 and over went swimming between May 2018 and 2019 – 200,800 more compared with the previous year (4,489,700).
The final numbers for participation in the 2019 Swim Safe sessions were confirmed. A total of 22,054 children attended sessions at 44 locations across the UK, a 14 per cent increase on 2018. Swim Safe also staged its first ever session in October – at the Scarborough Surf Festival.
The Disney Inspired Family Fun Sessions were given a Mickey makeover. Following the success of the Toy Story 4 themed sessions, Mickey Mouse and Friends were making a splash at more than 250 pools nationwide.
September
Swim England has purchased a shipping container which is to be transformed into a portable swimming pool.
A two lane, 10m pool will be created from the 40ft long container, which will have a deck and built-in filtration and heating unit underneath.
It would then be transported to areas across the country where schools have limited access to facilities so more youngsters could be taught how to swim and learn to enjoy the water safely.
The second wave of health fact sheets was published.
Guidance on supporting swimmers with diabetes, mental health and skin conditions were added to the range of fact sheets produced earlier in the year on swimming with asthma, dementia, eplilepsy, glandular fever and ear infection.
July
Six of the Water Wellbeing sites are focusing on improving adult learn to swim provision for people with health conditions. 
This will grow as the Water Wellbeing project scales up across England over the next 18 months.
Registration opened for the schools and operators to sign up to the 2019 Big School Swim. The event takes place between 11-15 November and we'll be celebrating the fun – and importance – of learning how to swim and all about water safety skills at school.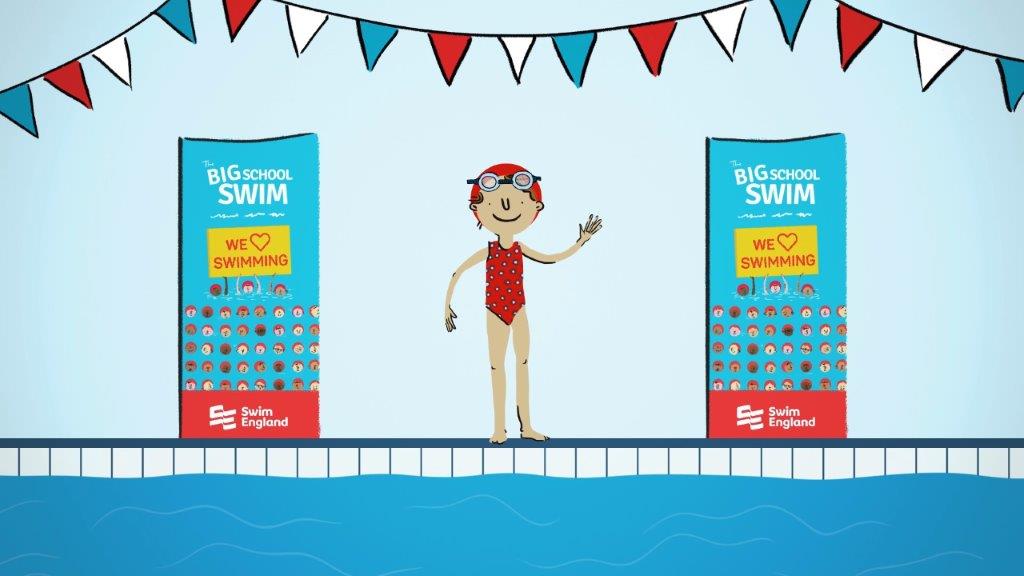 June
It was revealed a campaign to encourage people to swim more regularly had smashed through its halfway target ahead of schedule.
Swim England and Everyone Active are working in partnership on the #10MillionSwims initiative to help create a nation of swimmers.
By the end of May, a total of 5,727,897 people had been swimming at Everyone Active's 120 pools across the country
May
BBC newsreader Naga Munchetty and Olympic athlete Colin Jackson revealed they were learning to swim. Munchetty said she hoped to help quash stereotypes by taking part in adult swimming lessons.
A series of health webinars which were broadcast to give leisure centre staff a better understanding of how to help those suffering from certain long-term health conditions were now available to view online.
April
A total of 31 clubs are now implementing the Club Awards, which is a positive step towards building quality and consistency of delivery. The Club Awards are also being promoted at regional conferences.
Swim School membership recorded two months of continued growth for the first time in two years.
Swim Safe sessions began at the first of 37 sites this month. The indoors pilot was progressing with sites in England and Wales and negotiations were continuing with Scotland.
March
The Learn to Swim Toolkit was launched, which helps teachers design and structure their own Learn to Swim programmes and lesson content.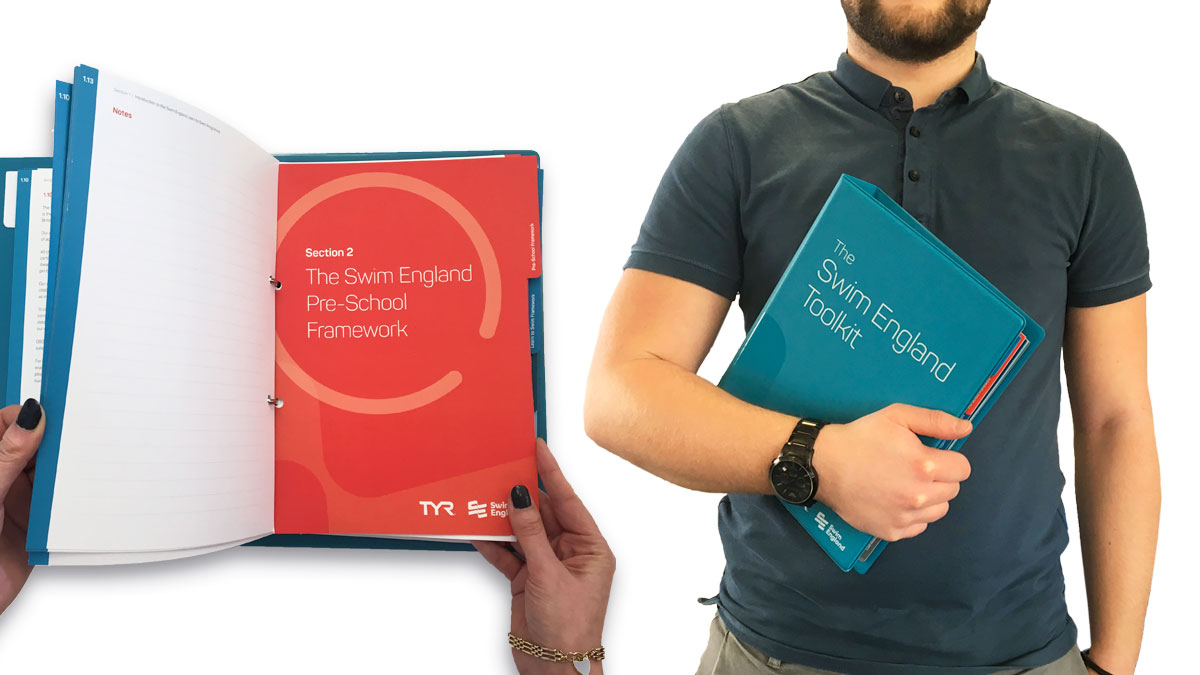 The latest in a series of free guides designed to help ensure all children leave primary school able to swim and enjoy the water safely were published.
A total of 124 sports/fitness instructors who are involved in GP referrals had received the Aquatic Activity for Health Qualification training.
February
Delivery of the Water Wellbeing project started at seven sites.
Current numbers showed that 83 schools (7,500 pupils) and 105 swim schools and operators had purchased charter awards.
Three tutors were recruited to support the delivery of the Aquatic Activity for Health qualification, which would help increase capacity for delivery of the course throughout 2019.
January
Resources for schools and operators that had signed up to the School Swimming Charter were launched. A total of 43 schools and 50 operators had signed up to the charter.
Swim England was awarded almost half a million pounds by Sport England to help encourage more adults to get active. The organisation's health and wellbeing team will receive £460,000 over the next two years to fund the rollout and continuous refinement of its Water Wellbeing programmes to support inactive individuals, including those with long-term health conditions.
Two additional Start Para-swimming sessions were being developed in Manchester following collaborative working with Level Water, GLL and City of Manchester Aquatics Swim Team.
Significantly grow the number and diversity of people enjoying and benefiting from regular swimming
Millions of people are able to enjoy swimming, diving, water polo and synchronised swimming every month because they have been through our renowned Swim England Learn to Swim Programme.
December
A total of 42 sites are now running the Water Wellbeing programme, including 18 sites that benefitted from London Marathon Charitable Trust (LMCT)  funding and three open water venues. A further 11 have been agreed, including the final two LMCT funded sites.
November
The 20 sites that had Poolpods installed following investment from the London Marathon Charitable Trust were revealed.
The London Marathon Charitable Trust provided a £750,000 grant to allow Swim England and its partners – the Activity Alliance, Community Leisure UK and GLL – to enhance the swimming provisions and make aquatic activity more accessible at these community pools.
A total of 38 sites are now running our Water Wellbeing model, with start dates agreed for a further 13.
October
Wave five of the #LoveSwimming campaign was launched, aiming to encourage adults to learn how to swim.
New statistics revealed one in three adults – around 14 million people – could not swim 25 metres and the campaign aimed to celebrate the achievements of adults who have conquered a fear of the water or simply decided it's never too late to learn in a bid to inspire others.
Evaluation of the Water Wellbeing programme revealed positive findings – despite the project being in its early days.
The programme was reaching its target audience of inactive people with, or at risk of, long-term health conditions. A total of 28 per cent of participants were 'inactive', while 64 per cent had a limiting disability and long-term health condition.
More than 40,000 people have now signed up for the free Just Swim membership – and found training plans and video techniques were helping their swimming.
A total of 62 per cent said the free training plans had encouraged them to swim more, while 70 per cent said the advice videos had improved their swimming technique.
September
Research has been conducted on behalf of the Sport Development directorate around the awareness and perceptions of the aquatic disciplines to support the START programmes.
It was discovered that parents are aware of the disciplines but there needs to be a focus on effective messaging so they are aware of how to access them and find out more information.
A total of 31 sites are now running the Water Wellbeing programme for people with, or at risk of, long-term health conditions.
A further 16 sites are due to be up and running by December, which would put us on track to meet our Sport England target of 55 sites running Water Wellbeing by the end of March 2020.
August
A total of 30 sites are now delivering Water Wellbeing sessions and a further 10 have confirmed starting dates.
Swim England and UK Deaf Sport are making huge grounds to ensure swimming is more accessible than ever before for deaf swimmers. As part of an ongoing project, an unprecedented number of facilities in England which host level one and level two meets have been equipped with strobe lighting to ensure deaf swimmers have equal starts to their peers.
July
A total of 22 sites are now delivering Water Wellbeing with a further 12 confirming their start date.
The project has been funded through the Sport England 'Tackling Inactivity' investment. 
June
Funding for the Swim England START programmes was allocated across three disciplines.
There were 13 successful applications for START Diving, six venue and 10 club applications for START Open Water, while there were eight successful club based applications for START Synchro.
The sites for the installation of the PoolPods funded by the London Marathon Charitable Trust were finalised.
We will work closely with them over the next two years to create a more inclusive swimming environment.
Wave four of the #LoveSwimming campaign was successfully evaluated with our campaign partners.
Through our social and media activity, we secured media coverage across regional TV, radio, online and print, reached 1.86 million through our social media activity and encouraged more than 95,000 people to swim more, of which 5,700 were considered inactive.
Plans are underway to launch wave five in October 2019.
May
Advertising for the Disney Family Fun sessions went live across TV on the Disney Channel, in Disney stores, on the Magic Shuttle and hotel rooms at Disneyland Paris and across social media channels. Stacey Solomon also promoted the campaign to her 1.9 million followers on Instagram.
Find a participating pool near you!

To the pool… and beyond! 🏊⭐Looking for ways to keep your family healthy, happy and active this summer? We've teamed up with Swim England to provide swim sessions packed with fun Toy Story 4 inspired activities that help build your little one's swimming skills! ⭐Sessions launching June 1 ⭐ Over 250 pools across the UK ⭐ All sessions delivered by trained Activator⭐ Chance to win Disney goodies when you sign up ⭐

Posted by Disney on Friday, May 24, 2019
Roadshows for swim schools, teachers and operators delivering our Learn to Swim programme had been held in Poole, Gateshead, London, Canterbury and Worcester.
April
#LoveSwimming wave four was launched with several people sharing their stories of how swimming and aquatic activity had boosted their physical health.
Statistics from Sport England showed the number of women, older adults and people with disabilities or long-term health conditions actively swimming had increased. We welcomed the rise and hailed world-leading aquatic activity health programmes, major campaigns to grow participation and our learn to swim lessons for all ages as major factors in the increase.
The 30,000th Just Swim member signed up – less than two years after it had been set up. Members have shown an increasing interest for stroke technique as written and video content in the past six months.
March
GB stars Kate Shortman and Isabelle Thorpe helped launch the Swim England-led Artistic Swimming South West project – AKA Synchro City – in Bristol. The project aims to grow participation, develop the elite pathway and the workforce to ultimately increase the quality and quantity of coaches and administrators. Chief executive Jane Nickerson said the launch of the project was a 'dream come true'.
Artistic Swimming South West project launch

We were thrilled that GB synchro duet Kate Shortman and Isabelle Thorpe plus the City of Bristol Aquatics squads performed at the Artistic Swimming South West project launch‼️See them in action and find out more about the scheme in our video recap ⬇️

Posted by Swim England on Thursday, March 28, 2019
February
Swim England and Everyone Active launched a new campaign to encourage people to swim more regularly. The #10MillionSwims initiative aimed to see 10 million swims at Everyone Active pools in 2019. It followed the launch of the partnership betyween the two organisations in January.
January
The South East region, working alongside operators Everyone Active and Freedom Leisure, began projects to grow water polo and increase the number of children taking up the sport.
Evaluation of the third wave of #LoveSwimming took place with all 12 campaign funding partners. So far, there has been more than 3.8 million social media impressions and 477,000 content views.
Create a world-leading talent system for all our aquatic disciplines
December
A second year of research has provided useful insights around the experience of athletes, their parents and guardians plus coaches and support staff across all disciplines on our talent pathway.
While the findings identified a need for improved communications and increased access to wider learning opportunities, satisfaction with the existing training and development opportunities were overall positive.
The surveys will be repeated in 2020.
The Swim England National Winter Championships took place at Sheffield's Ponds Forge.
Jocelyn Ulyett broke the British record in the 200m Breaststroke on her way to gold.
At the same time, the European Short Course Championships were taking place in Glasgow.
Great Britain finished fifth in the medal table with a total of 11 – three golds, four silvers and four bronze.
Freya Anderson won her first individual senior titles as she topped the podium in both the 100m and 200m Freestyle races.
Great Britain were a dominant presence at the Ontario Junior International 2019 with all 10 members of the team winning a medal.
The Brits won a total of 25 medals, including 10 golds with European Junior medallists Honey Osrin, Ed Mildred and Matt Richards among those to enjoy success.
A group of 17 coaches from across the country successfully completed Swim England's Coach 2024 programme – revealing the game-changing impact on their approach to leading a swimming club.
The intensive 14-month programme allowed lead coaches to benefit from expert advice, mentoring and development workshops.
November
The Water Polo National Age Group Championships were held in Sunderland for both U15s boys and girls.
Sedgefield won the boys' title 8-7 after Devonport missed a penalty in the dying seconds, while Otter held their nerve in a penalty shoot out against City of Liverpool to claim the girls' crown.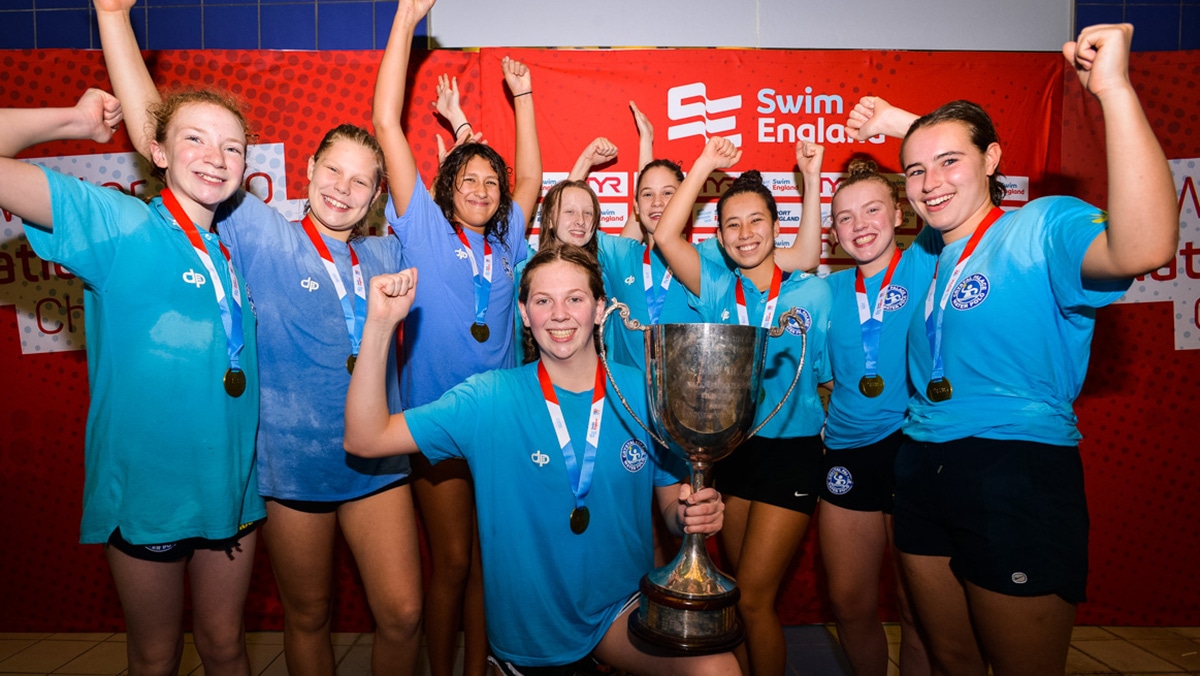 Nick Buller was appointed as the new head coach of Swim England's senior women's water polo team, while Amy Berry collected the Water Polo Talent Athlete of the Year prize at the Swim England National Awards.
A team of divers from Swim England's Team Y squad enjoyed considerable success and gained invaluable experience at the CAMO Invitational in Canada.
Maisie Bond won a hat-trick of gold medals at the event.
Desharne Bent-Ashmeil was named Diving Talent Athlete of the Year at the Swim England National Awards.
A total of 72 youngsters aged between eight and 11 years old attended the two-day event Swim England Talent Games at the John Charles Centre in Leeds.
Coaches and judges from across the country discovered new ways to reach their potential at the Swim England National Synchronised Swimming Conference.
More than 60 delegates attend the two-day event at the Jurys Inn, East Midlands Airport, and expanded their knowledge and shared the latest information on a range of topics.
A total of 20 youngsters were named on the Swim England Artistic Swimming Talent Programme following recent trials.
Robyn Swatman was named Synchronised Swimming Talent Athlete of the Year at the Swim England National Awards.
Ellie Challis picked up the Para-swimming Talent Athlete of the Year prize at the Swim England National Awards days after being named SportAid's One to Watch.
Kayla van der Merwe was the Swimming Talent Athlete of the Year at the Swim England National Awards, while Nathan Hughes took the Open Water prize.
October
The Swim England Performance Squad had its first induction assessment weekend in Manchester.
Sixteen squad members attended a camp where athletes were trained and tested. One-to-one discussions were held and swimmers were also updated on the latest anti-doping regulations and procedures following a UKAD talk.
A total of 76 per cent of phase three swimmers had completed their season's best performance at the end of season meet – way ahead of the 63-68 per cent target.
Devon sealed their first-ever National County Team Championships crown to end Yorkshire's three-year reign as Division One title holders at Sheffield's Ponds Forge.
Meanwhile, Swim Wales West made an immediate return to the top flight after winning the Division Two title for the third time in their history.
Selections for the Synchronised Swimming England training senior and junior squads were confirmed. Twelve athletes remain in the squad, six have moved up from youth and there is one new athlete on the programme.
September
We confirmed our financial investment in developing English water polo talent in 2020.
The commitment of £80,000 will help fund the training and competitive opportunities for English players, whilst recognising there will still be a requirement for self-funding for international competition.
The six Swim England National Performance Centres and associated universities looked back on the second year of the three-year agreement.
The collaboration revisited why the partnerships are needed and it was re-emphasised that the target is gets swimmers on the international podium.
The Coach 2024 programme continued with the fifth workshop and the pathway programme nominations have been sent to the respective candidates.
A total of 288 youngsters attended the first of the National Development Camps with 50 coaches supporting the development of these future performance potential swimmers.
The World Para-swimming Championships took place at the London Aquatics Centre with Great Britain finishing second in the medal table with a total of 47 – 19 golds, 14 silvers and 14 bronze. English swimmers contributed 38 medals to the tally.
Days after the championships had finished, we announced we would be expanding the Start Para-Swimming programme
Following successful pilots in the City of Manchester Aquatics Centre and Plymouth Life Centre, eight centres in London have agreed to join the programme, which acts as an introduction to para-swimming.
August
Hundreds of young swimmers took part in the 2019 Swim England Summer Meet at Sheffield's Ponds Forge International Sports Centre.
The five-day event was immediately followed by the Open Water National Age Group Championships, which took place at Rotherham's Thrybergh Country Park where swimmers competed in 2k, 3k and 5k races from ages 12-18 years.
Kayla van der Merle won a silverand bronze at the World Junior Swimming Championships in Budapest, Hungary. The Winchester City Penguins swimmer was second in the 50m Breaststroke and third in the 100m race. Great Britain finished 15th in the medal table after winning a total one silver and three bronzes. Michaella Glenister was a bronze medallist in the 400m Individual Medley, while Archie Goodburn was third in the 50m Breaststroke.
Great Britain's divers finished sixth in the medal table at the LEN European Diving Championships in Kiev, Ukraine. They picked up two silvers and four bronze medals, with Noah Williams winning three of those – bronze in the team event and Men's 10m Synchro alongside Matthew Dixon and a silver in the 10m Mixed Synchro with Eden Cheng.
Twelve teenagers travelled to Samorin, Slovakia, for the first ever FINA World Youth Artistic Swimming Championships. The squad gained valuable international experienced as they claimed top 20 finishes in the solo, duet and team events, all with personal best scores.
British swimmers won a total of 121 medals at the FINA World Masters Swimming Championships. The event took place in Gwangju, South Korea
July
Adam Peaty set a new world record in the 100m Breaststroke at the FINA World Championships in South Korea.
He became the first man to go under 57 seconds as he clocked 56.88 in his semi-final swim.
World Record – Adam Peaty lowered his own WR in the Men's 100m Breaststroke Semi Final to 56.88! All the action live on 💻 https://t.co/bEozhdW5qV#FINAGwangju2019#Swimming#FINApic.twitter.com/iFdXAweCwb

— World Aquatics (@WorldAquatics) July 21, 2019
Peaty became a triple double world champion as he took gold in the 50m and 100m Breaststroke for the third time.
Great Britain won a total of seven medals in the pool, including gold in the Men's 4x100m Medley Relay for the first time.
Kate Shortman achieved a top 10 finish in the artistic swimming competition in Gwangju.
Shortman and Isabelle Thorpe put on improved performances from the 2017 World Championships in the duet events but narrowly missed out on a final placing in both the technical and free competition.
Meanwhile, Britain won three medals – one silver and a bronze – in the diving competition.
There was a gold medal, however, for high diver Gary Hunt who topped the podium in the Men's 27m competition.
Jessica Macaulay claimed a bronze medal in the Women's 20m event.
In the open water event, Alice Dearing and Danielle Huskisson both finished in the world's top 25 in the Women's 10km race.
Jack Burnell was 12th in the Men's contest with Tobias Robinson 18th.
And Swim England Performance Squad member Maisie Macartney gained valuable experience as she finished 43rd in the 5km race.
Great Britain finished second in the medal table at the European Youth Olympic Festival in Baku.
The Brits won six golds, 11 silver and one bronze medal with Northampton's Ed Mildred the most successful English pathway swimmer
He won the 200m Freestyle and helped to secure gold in the Mixed and the men's freestyle relay. 
Mildred also won Silver medals in the 200m Butterfly and the Mixed and Boys medley relays. 
In all, a total of 31 best times were also achieved throughout the week by the GB team.
The Swim England Combo Cup took place at the London Aquatics Centre.
Reading Royals celebrated victory in the competition for the first time with a total of 51 points from six events.
The Swim England National Summer Meet also began at the end of July – with five days of action taking place at Sheffield's Ponds Forge.
June
The finals of the Swim England Diving National Age Group Championships took place at Sheffield's Ponds Forge International Pool.
Hundreds of divers took part in the three-day event that saw 28 national titles up for grabs.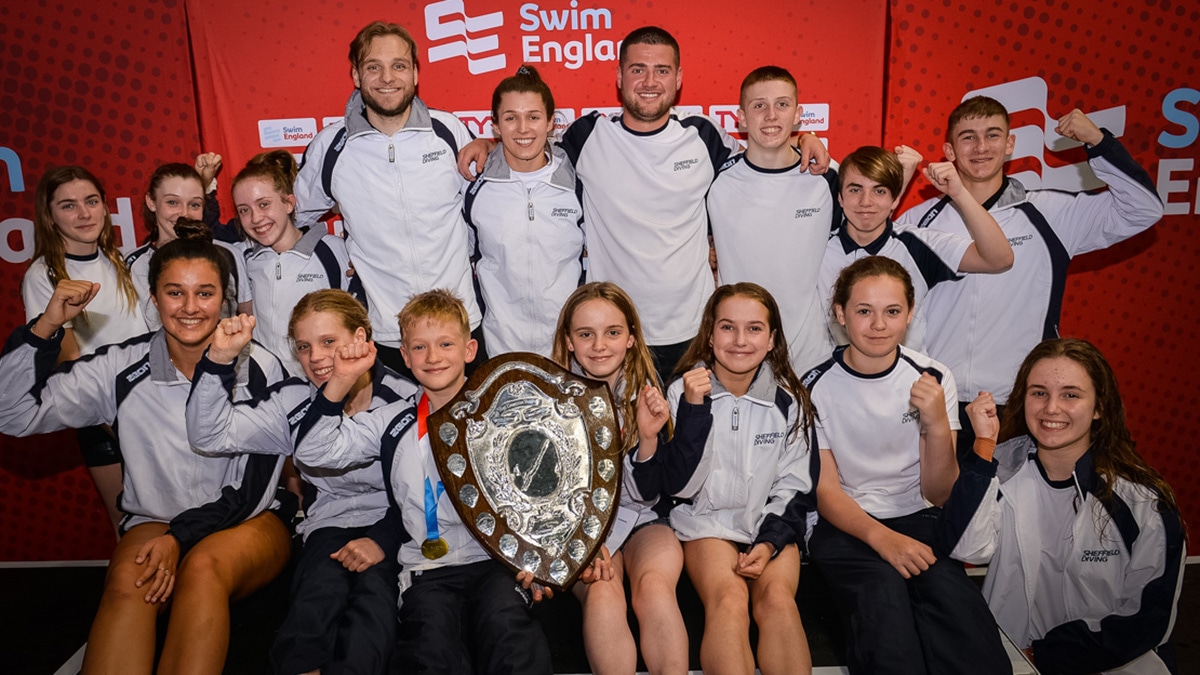 At the same time as the National Age Group Championships, Britain's top young divers were impressing on the international stage at the European Junior Championships.
They finished second in the medal table behind hosts Russia after winning 11 medals.
The British diving team for the World Championships in Gwangju, Korea, was confirmed.
It included Olympic champion Jack Laugher, world champion Tom Daley while Scarlett Mew Jensen and Noah Williams were set to make their World Championships debuts.
Great Britain's youngsters also showed the huge strides they are making at the European Junior Artistic (Synchronised) Swimming Championships in Prague.
Kate Shortman and Isabelle Thorpe narrowly missed out on a medal as they finished fourth in both the duet technical and duet free finals.
Shortman also set new personal bests in her solo events, while the team improved on their positions from the 2018 championships.
Meanwhile, Shortman also won two bronze medals in the FINA Artistic Swimming World Series competition in Barcelona.
She finished third in the solo technical and solo free competitions.
Adam Peaty continued his preparations for the World Championships with some record-breaking displays.
He broke the Mare Nostrum record in the Men's 100m Breaststroke on his way to first place in Canet,  before winning back-to-back gold medals at the 2019 Sette Colli Trophy in Rome.
Tom Dean was also a double gold medal winner in the final leg of the Mare Nostrum Series – triumphing in the Men's 200m Individual Medley and the 200m Freestyle.
Four swimmers from the Swim England Performance Squad boosted their preparations for the end of season summer meets, competing against an international field at the French Open 2019.
Dan Cross, Emily Barclay, Jakob Goodman and James McFadzen all represented Swim England in Chartres, taking on almost 300 swimmers from a host of nations including France, Brazil, Netherlands, Germany, Ireland and Australia.
British para-swimmers were also among the medals at the Para-swimming World Series finale in Berlin.
Alice Tai set four new world records during the course of the meet as she made a series of statements ahead of the World Championships in London in September.
May
The finals of the Swim England Water Polo National Age Group Championships took place at Sheffield's Ponds Forge International Pool.
England's senior women finished a creditable fifth in the 2019 EU Nations Water Polo Cup in Brno, Czech Republic.
Swimmers from the England phase three and performance squad teams competed at the Best Fest open water festival in Majorca with Nathan Hughes (three bronze), Jackson O'Rourke (one gold, one silver) and Amelia Rudd (one gold, one bronze) all returning with medals.
Para-swimmers Ellie Challis, Reece Dunn and Brock Whiston all progressed from our England Talent programme onto the World Class Podium Potential programme. They, along with Suzanna Hext, who we supported with her development, had all been selected to represent Great Britain at the World Para-swimming Championships in September.
The English duo of Kate Shortman and Isabelle Thorpe were confirmed as the Great Britain synchronised swimming duet bidding to win a place at the Tokyo 2020 Olympic Games.
Shortman and Thorpe and the Free Team impressed at the LEN European Cup in St Petersburg, Russia.
The FINA Diving World Series took place in London where Tom Daley sealed the World Series crown. The competition would help to inspire a 'new generation' of young divers.
April
It was announced that the London Aquatics Centre would host the World Para-swimming Championships in September after Malaysia were stripped of the rights to stage the event.
Members of the Swim England Performance Squad took part in a Reflect, Reset, Go camp in Glasgow after competing in the British Swimming Championships.
The British Squads were announced for the World Championships, World and European Junior Championships, World University Games and the World Para-Swimming Championships. All included a strong representation of English swimmers.
Young divers were competing at the British Elite Junior Diving Championships with qualification for major events this summer up for grabs as well as spaces on our Team Y Assessment Camp.
The Swim England National Synchronised Swimming Junior and Senior Championships were held at Nottingham's Harvey Hadden Stadium. There were 128 athletes from 15 clubs competing, including 20 of the Great Britain team The finals of the Free Teams event were streamed live by the BBC.
Kate Shortman and Isabelle Thorpe took part in the FINA Artistic Swimming World Series in Japan and also travelled to Italy to work with their choreographer before joining the senior and junior team for a five-day camp in Bristol ahead of the LEN European Cup in St Petersburg, Russia.
March
Commonwealth Games silver medallist Jacob Peters revealed he had completed his Level 1 Swimming Assistant (Teaching) qualification through the Institute of Swimming.
More than 100 young para-swimmers took part in the the National Junior Para-swimming Championships 2019, organised by the Activity Alliance in partnership with Swim England, at the Liverpool Aquatics Centre.
The Synchronised Swimming National Age Group Championships took place at the Manchester Aquatics Centre with 97 youngsters taking part in the competition.
The Great Britain Synchro team returned from the FINA Artistic Swimming World Series in Paris, France, with a silver medal – the first GB medal for synchro at an international competition. There were also impressive results for Kate Shortman and Isabelle Thorpe.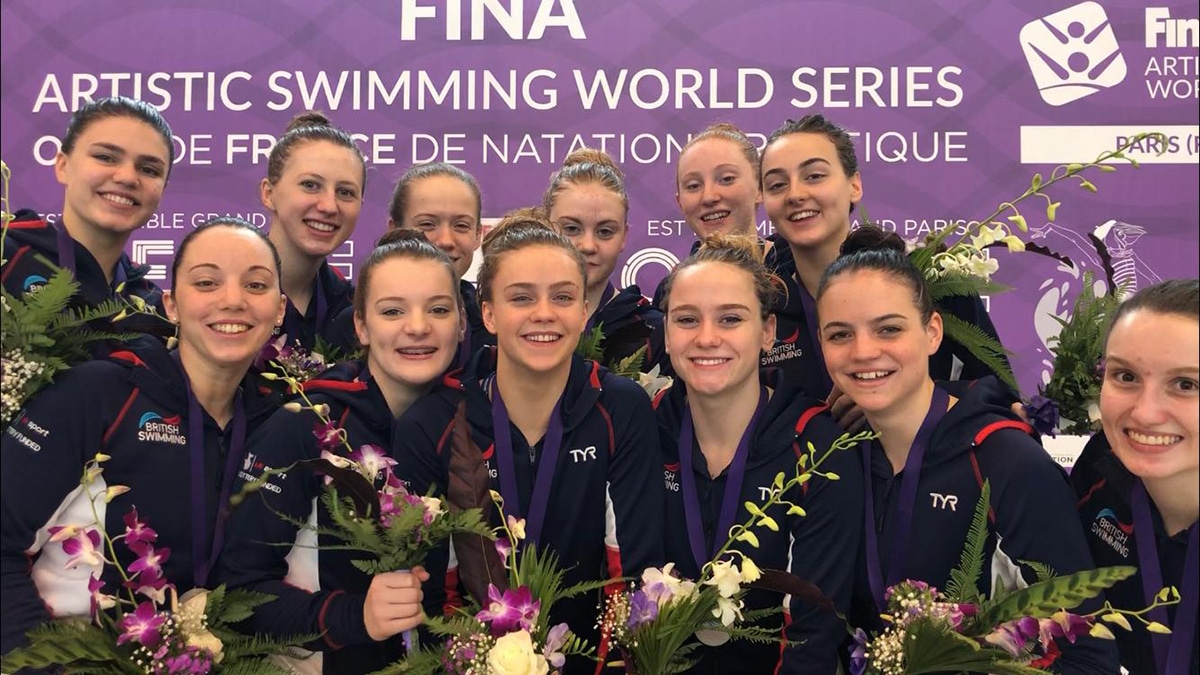 There was plenty of medal success for GB divers at the FINA Diving World Series in Japan and China ahead of the competition returning to London in May.
The qualification rounds of the Water Polo National Age Group Championships were held.
England's U17s girls bagged a bronze medal at the EU Nations Junior Women's water polo tournament in Brno, Czech Republic, and learned a valuable lesson ahead of this summer's European Championships.
Water polo was put in the spotlight as the BBC broadcast live coverage of the British Water Polo League's Super 5s final weekend.
February
The preliminary rounds of the Swim England Water Polo National Age Group Championships were held across the country.
Dean Walker was named as the England U19 Junior Men's water polo head coach.
Synchro received confirmation of funding worth £20,000 from the Olympic Solidarity project. The money would be used to fund training from an international expert and mentoring for their current coach.
Twenty swimmers from the Swim England talent programme went head to head with some of Europe's best at the FFN Golden Tour meet in Nice, France. They were praised for their professionalism after returning home with three medals.
Athletes from the five new Swim England Performance Centres made their presence known at the BUCS (British Universities and Colleges Sport) Long Course Championships.
Thirteen members of Team Y had taken part in the British National Diving Cup and achieved some excellent results.
January
More than 60 athletes attended the water polo National Academy in Northampton.
The South West Para-swimming committee held its second development event at the Plymouth Life Centre, where 12 eligible swimmers were identified and 10 coaches attended CPD training.
The second of six Coach 2024 meetings took place, with all 18 coaches on the programme attending. They looked at the INSIGHT profiles, working with the theme self-awareness.
Deliver a high quality, diverse and motivated workforce within swimming
Our workforce is vital to help us achieve our strategic goals.
December
Swim England Qualifications released the new Level 2 Teaching Swimming textbook – providing updated guidance to help swimming teachers create a progressive learning environment.
The previous edition of the textbook – ASA Level 2 qualification – was reviewed and re-written to be brought in line with current teaching, safety and safeguarding practises.
A total of 76 Aquatic Activity for Health instructors have been trained during the course 2019, with five in December.
Swim England technical official Helen Akers was appointed as one of seven European International Technical Officials for the Olympic Games swimming competition.
It will be her first Olympic Games as an official after 30 years of officiating. The event takes place at the Olympic Aquatics Centre, Tokyo, from 25 July to 2 August 2020.
November
The Swim England Teaching and Education Conference and Awards were held at VOCO St John's in Solihull, near Birmingham, and saw more than 350 people to network, learn about and discuss the key topics relating to swimming.
Olympian Steve Parry hosted the Swim England National Awards at Birmingham University's Great Hall, which recognised the vast contribution made by individuals and organisations from all aquatic sports.
October
In partnership with the Institute of Swimming, we announced plans to pilote a course aimed specifically at coaches of masters swimmers.
The pilot masters coaching course would be a valuable chance for coaches to learn specific skills that can help both them and their swimmers to improve.
We extended our partnership for another 12 months with CAP2, which allows swimming schools to more efficiently and effectively manage their lessons and gives parents access to their child's Learn to Swim experience, allowing them to celebrate their achievements.
September
Swim England Qualifications submitted its statement of compliance to Ofqual and Qualification Wales, highlighting plans for further developments to increase the quality of the aquatics workforce.
A total of 29 new trainee tutors had been recruited for the 2019 programme.
Young volunteers spoke of how they had gained valuable experience at the busiest event on the Swim England calendar.
Five youngsters from the North East Regional Young Volunteer Development Programme helped out at the National Summer Meet in Sheffield and said they had gained skills that would support them in their school work and prove beneficial in their club roles.
August
Thousands of new swimming teachers had taken part in more than 350 Swim England Qualification courses over the summer as part of the Jump into Teaching Swimming campaign.
BBC newsreader Naga Munchetty hailed 'impressive' swimming teachers as she learns how to swim. She said: "Swimming teachers give so much to people – confidence, fitness, safety, peace of mind, family time and a social activity to enjoy with friends. And at the heart of all that, they are teaching a basic life skill that we should all have. If you're someone who can do all that – for both adults and children – then that's marvellous and extremely impressive." 
July
The Level 3 Swim Coordinator qualification was launched to our Approved Training Centres.
A public launch is scheduled to take place later in the year.
Our Level 1 Swimming Assistant (Teaching) qualification has been endorsed by CIMSPA against their "Assistant Swimming Teacher" professional standard.
Swim England Qualifications are the only Awarding Organisation to have endorsement against this standard.
Delivery of the first Learn to Swim 8-10 Aquatics Framework (Diving) CPD has been confirmed for the West Midlands as part of the programme to inspire diving activity in the region.
A total of 43 people have now been trained in Aquatic Activity for Health so far this year.
This qualification allows people from fitness backgrounds to deliver aquatic activity sessions as part of our Water Wellbeing project.
Members of the Youth Panel were actively engaging in opportunities at Swim England national events, including the Combo Cup and the Summer National Meet.
June
Nominations opened for the Swim England National Awards.
The awards recognise all those involved in our sports, from members and volunteers to partners, teachers and athletes and would be presented at the The Great Hall at the University of Birmingham on 30 November.
Swim England supported UK Coaching Week by highlightingthe stories of coaches who have made an impact across the aquatic sport,
At the same time, our volunteers were also put in the spotlight during Volunteers Week.
The week saw our Young Volunteer programme funding allocated to six regions and one county.
May
It was revealed that more than 8,000 coaches and teachers from more than 950 aquatic clubs across the country have been signed up to the Coaching and Teaching Register.
The new qualification, Teaching Swimming to Babies and Toddlers, was officially launched.
April
Work continued with the Institute of Swimming to train 500 Activators through the new Disney CPD ahead of the programme officially launching on 1 June.
Olympian Sarah Barrow was appointed as the new Diving Development Officer for the West Midlands and will work to develop diving activity in the region ahead of the Commonwealth Games.
March
The final placements for Dubai trainees began. This marked the end of a successful 12 month programme which has seen eight new international tutors trained.
More than 80 delegates from clubs across the country shared top tips about starts and turns at the fifth Swim England Sport Science and Medicine Conference.
February
The new Expected Standards videos were released. More than 100 films are now available to download giving teachers, swim schools and operators a 'valuable tool' to use in lessons or to show parents or carers.
Two free online resources were launched by the Institute of Swimming – School Swimming and Water Safety and Mobile Devices in Swimming Lessons
The Swim England Volunteering Hub was redesigned and incorporated into the Careers in Aquatics website, providing information and an entry point to volunteering across England.
A new diving judge pathway was launched and the first National Judge School for Diving Officials was held. As a result, there are now six additional J2 judges in Diving.
January
New videos highlighting the rewards of being swimming teacher were launched on the Swim England Qualifications website. The videos highlight why Swim England Qualifications are the choice of the industry.
Swim England launched the Coaching and Teaching Register to provide a platform for better communication and support to coaches and teachers across all aquatic sports. It also demonstrates best practice in terms of recording and providing quality assurances on the delivery of sports.
The Institute of Swimming's new website went live on 9 January. The site features integrated booking and has a number of other user-friendly benefits, including an enhanced customer experience when searching, booking and paying for courses as well as sharing the home website of Swim England.
Several new partners signed new contracts with the Institute of Swimming including 1 Life, Sentinal Leisure, Gravesham Community Leisure, Doncaster Liberty Leisure and BH Live.
Strengthen our sustainability for future generations
December
Swim England has thanked members of the water polo community who gave their 'open and honest opinions' at a series of regional meetings.
More than 120 people attended the eight meetings across the country over two-and-a-half weeks, which were staged to give clubs, committee members, players, officials, volunteers and key stakeholders the chance to help shape the future of the sport.
November
We announced an exciting new partnership with inclusion charity Sporting Equals to help increase BAME participation in aquatic activity.
The new agreement will see the two organisations work closely together in a determined effort to help grow the numbers from under-represented communities enjoying the physical and mental health benefits of swimming.
October
The first inductees into our Hall of Fame were officially revealed.
The Hall of Fame was created as part of Swim England's 150th anniversary celebrations and a total of 26 athletes, coaches, officials and volunteers were included in the first induction.
Phase one of the Dive West Midlands Project was officially launched with 1,000 days to go until the Birmingham 2022 Commonwealth Games.
The aim of the scheme is to put plans in place for those who will be inspired by the Games to take up diving – and give them the chance to progress on the diving pathway.
Ian Mackenzie was named as Swim England President, succeeding Liz Sykes, and he said he was looking forward to meeting volunteers in all our sports.
September
We launched the Learn to Swim App to help youngsters fall in love with swimming and give parents a better understanding of the purpose of their child's lessons.
Children can scan their well-earned Learn to Swim certificates, transporting them into a magical experience as they unlock and play with their favourite characters, including Maisie the marlin and Harry the hermit crab.
Parents can also benefit from the enjoyable nature of My Learn to Swim, which seeks to make exercise a fun experience for children.
It was also announced we would be bringing in new guidelines for our affiliated clubs in a bid to show they have the highest standards of safe and effective practice in place.
The Stronger Affiliation process is being introduced so new and existing members know clubs are well run and their personnel have the necessary safeguarding checks in place to ensure members' safety.
August
Sheffield was confirmed as the venue for a sixth Swim England National Performance Centre. Five National Performance Centres were launched in High Wycombe, Leeds, Guildford, Manchester and Nottingham in 2018 but Swim England talent officers had also been working closely with City of Sheffield Swimming Club at that time. The City of Sheffield Swim Squad, Sheffield Hallam University and University of Sheffield are now working in partnership as the sixth National Performance Centre.
The Active Northumberland Aquatic Review was co-ordinated by the Strategic Partnership team, bringing in expertise from other teams, including Learn to Swim and Workforce Development.
July
The School Swimming Charter can now be purchased by sites on behalf of schools.
So far, we have had two multi sign-up forms – one from Gateshead Council for a total of 56 schools and one from Yarbrough Leisure Centre for 17 schools.
Both organisations are paying for the charter on behalf of the schools.
We launched an online aquatics archive as part of our 150th anniversary celebrations.
The site, www.swimminghistory.org, already contains thousands of pictures, documents, films and records dating from the 19th century onwards. It will be constantly updated with more items due to be uploaded over the coming months and years.
June
The Careers in Aquatics revised website went live at the start of June with updated features to improve the user experience for job seekers and employers.
The first six weeks has seen a 22 per cent increase in users, 28 per cent increase in page views and the highest number of jobs on site since launch in 2011
May
Our partnership with RLSSUK was officially launched on the opening day of the Elevate conference.
The Facilities Team were involved in several new-build projects in Cambridge, Bromley, Ealing, Westminster, Northumberland and Portsmouth.
April
The Club Support Hub, a one-stop shop for 24-7 support to out clubs went live.
Planning was approved for the Sandwell Aquatics Centre, which will host swimming and diving in the 2022 Commonwealth Games. Expertise from the Swim England Facilities Team helped save the Sandwell Aquatics Centre project more than £750,000, meaning the scheme was on budget.
The new Introduction to Volunteering web pages went live.
March
The Greater Manchester Swim Summit took place and was an opportunity for key partners and stakeholders to develop an aquatics action plan to help 2,000,000 people get active by 2025. More than 50 stakeholders attended the day, led by Steve Parry.
Latest SwimMark figures showed there were 560 essential accreditations, 50 accredited networks and 10 performance accreditations
Learn to Swim conference was held in Birmingham with 45 delegates attending from 20 different community trusts. Key topics included water safety and workforce provision considerations.
The Swim England Masters Facebook page went live. It is the forum we will use to engage with the Masters community on a wide range of subjects.
February
We announced a new partnership with Disney to encourage thousands of families to enjoy the water, with a programme featuring some of Disney's most recognisable, popular characters including Woody, Buzz Lightyear and the gang from Toy Story 4, the upcoming movie from Disney•Pixar.
January
A number of new items were launched including a refreshed online Frontiers Toolkit with improved imagery and user experience. The new School Swimming and Water Safety Charter portal went live with resource download areas.
Work continues with Sandwell Council to ensure the facilities for the Commonwealth games are relevant to both the games and the legacy plan. Several meetings were taking place across the Partnerships, Facilities and Sport Development teams to ensure we achieve beneficial outcomes for our sports and the future legacy of Sandwell.